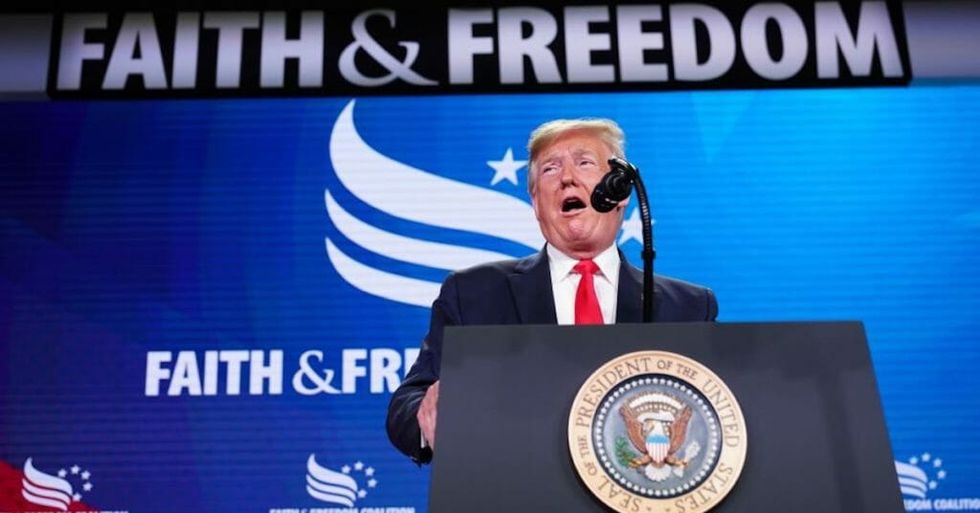 President Donald Trump speaks at the Faith and Freedom Coalition's Road to Majority Policy Conference at the Washington Marriott Wardman Park Hotel in Washington, DC on June 26, 2019. (Photo by Mandel Ngan/AFP/Getty Images)
Like many, Canadian artist Michael de Adder was saddened and appalled by the images of El Salvadoran migrants Oscar Alberto Martínez and his 23-month-old daughter, Angie Valeria, drowned on the bank of the Rio Grande river. So de Adder created a political cartoon to capture the way he felt about the tragedy and the reaction from President Donald Trump and his administration to the plight of migrants seeking a better life.
Martínez arrived along with his wife, daughter and a brother at a migrant camp, hoping for an appointment to petition for political asylum in the United States. The family spent two months waiting in temperatures that reached 113 degrees before they decided to try to cross the border. They first tried to enter at the international bridge, but were told the office was closed and to come back another day so they turned to the river.
Martínez and his daughter made it to the Texas side of the border, but when he returned to the river to help his wife cross, the little girl jumped into the water after her father. The current overwhelmed the two and they drowned clinging to each other while Martínez's wife and Angie mother watched, unable to help.
The political cartoonist—who signs his work deAdder—shared his response to the tragedy on his website and on Instagram.
From there it made it to Twitter where it was shared by Travon Free and others.
De Adder explained his choices in response to questions from those who saw his political cartoon.
People let de Adder know his work moved them.
And many found it devastatingly accurate.
People also pointed out others who were complicit in the crisis.
The political cartoonist who calls Halifax, Nova Scotia home, has targeted Trump before. Like his commentary on Sarah Huckabee Sanders...
...and the Trump administration response to climate change...
...and labeling the press as the enemy of the people.
Officials stated the bodies of Oscar and Angie Martínez will be repatriated on Thursday to El Salvador where his mother still resides. At least six migrant children have also died in US government custody since President Trump had the Justice Department enact a zero tolerance policy.
While de Adder is best known for his political cartoons, he enjoys humor as well. His book of cartoons, You Might Be From Canada If..., is available here.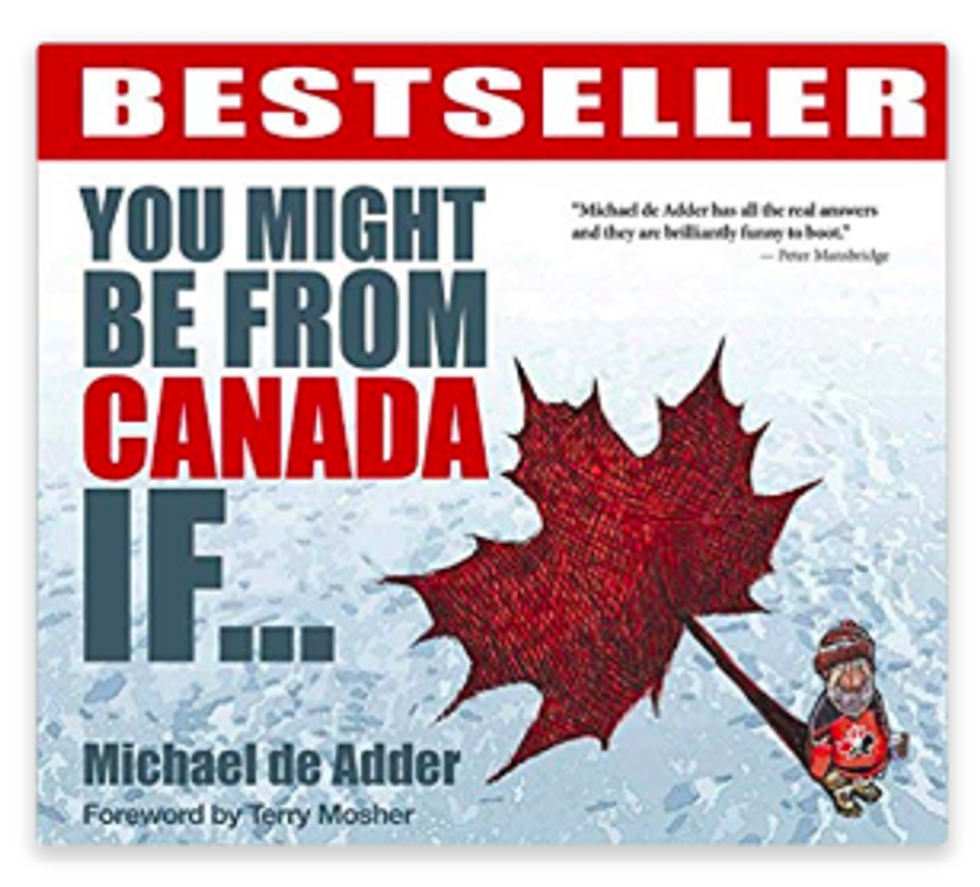 Amazon
Keep reading...Show less