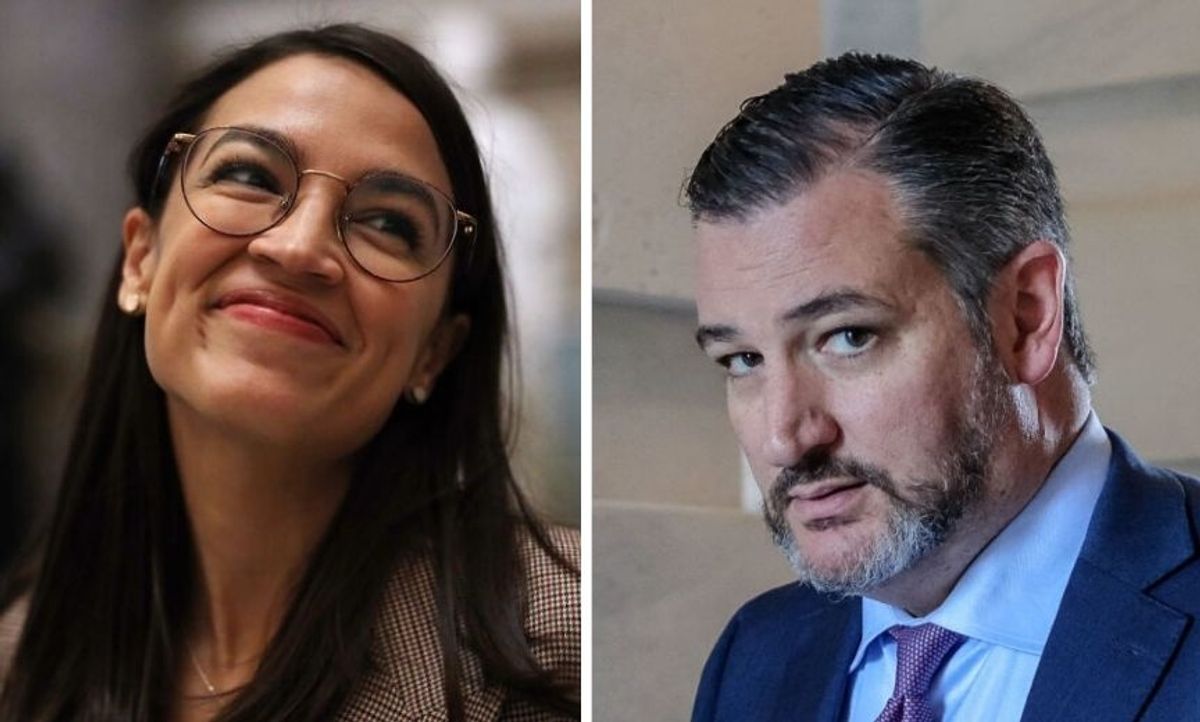 Alex Wong/Getty Images // Alex Wroblewski/Getty Images
Since her upset primary victory in the summer of 2018, Congresswoman Alexandria Ocasio-Cortez (D-NY) and her progressive agenda have become a favorite target of the Right wing.
The party that claims to champion people who "pull themselves up by their bootstraps" often derides Ocasio-Cortez's former career as a bartender in Manhattan—a position she took after college when her father's death put her family in dire financial straits.
The Congresswoman, known colloquially as AOC, recently criticized the appointment of Vice President Mike Pence as response director for the rapidly spreading coronavirus. She cited Pence's routine denial of science and poor record on health and medical issues during his tenure as governor of Indiana, tweeting that he "literally doesn't believe in science."
Senator Ted Cruz (R-TX) attempted to rebut her with a series of pedantic scientific questions.
As you are speaking as the oracle of science, tell us, what exactly is a Y chromosome? https://t.co/t4XVVzWr3A

— Ted Cruz (@Ted Cruz) 1582836221.0
2/x And at what age of gestation does science tell us that an unborn child feels physical pain?

— Ted Cruz (@Ted Cruz) 1582836333.0
3/x And, of the 195 countries on planet Earth, which country produced the greatest total reduction in CO2 emissions in 2019?

— Ted Cruz (@Ted Cruz) 1582836452.0
But as she's become famous for during her tenure in Congress, AOC smacked him down with a devastating clapback.
Sen. Cruz, while I understand you judge people's intelligence by the lowest income they've had, I hold awards from… https://t.co/2baJybslNB

— Alexandria Ocasio-Cortez (@Alexandria Ocasio-Cortez) 1582902635.0
Sincerely, an Intel global finalist, a fmr multi-year intern for Sen. Kennedy, a cum laude dual major in Economics… https://t.co/wkdBm1Mgcw

— Alexandria Ocasio-Cortez (@Alexandria Ocasio-Cortez) 1582903931.0
Ocasio-Cortez cited her extensive education and achievements in the scientific field. AOC came in second in the microbiology category of the Intel International Science and Engineering fair. She graduated from Boston University with honors in economics and international relations, in addition to a litany of other accomplishments.
People were living for her response.
It makes my day when @AOC pounces on these folks. https://t.co/ftlgdIPovi

— Rashida Tlaib (@Rashida Tlaib) 1582902965.0
i believe the term the kids use is "i stan a queen," correct? https://t.co/RiXj1L65ja

— Oliver Willis (@Oliver Willis) 1582903503.0
Twitter has naturally selected AOC over Ted Cruz due to this tweet. https://t.co/9mU1CINMSG

— Wajahat Ali (@Wajahat Ali) 1582903247.0
It's unclear to me why anyone would choose to come at AOC on Twitter. This is her place of power. https://t.co/tAHrTw8pzG

— Henrock (@Henrock) 1582903110.0
I'd like to report a murder https://t.co/AqDzE2TyXZ

— Oluwasegun Emenogu (@Oluwasegun Emenogu) 1582902820.0
AOC smoking republican senators/representatives is my favorite part of twitter https://t.co/qhGHVFtCRw

— Space Pirate (@Space Pirate) 1582902770.0
By anyone's account, AOC is an incredibly accomplished woman not just for her age but for any age. That her intelli… https://t.co/TUiwLcKxg0

— Karla Monterroso #CloseTheCamps (@Karla Monterroso #CloseTheCamps) 1582910212.0
AOC will soon be a guest judge on RuPaul's Drag Race. After these tweets, it's safe to say she'd hold her own in the reading challenge.

Keep reading...Show less