Miami Archbishop Thomas Wenski called out Florida's Senate Bill 1718, which is supported by Governor Ron DeSantis, for 'criminalizing empathy.'
14 April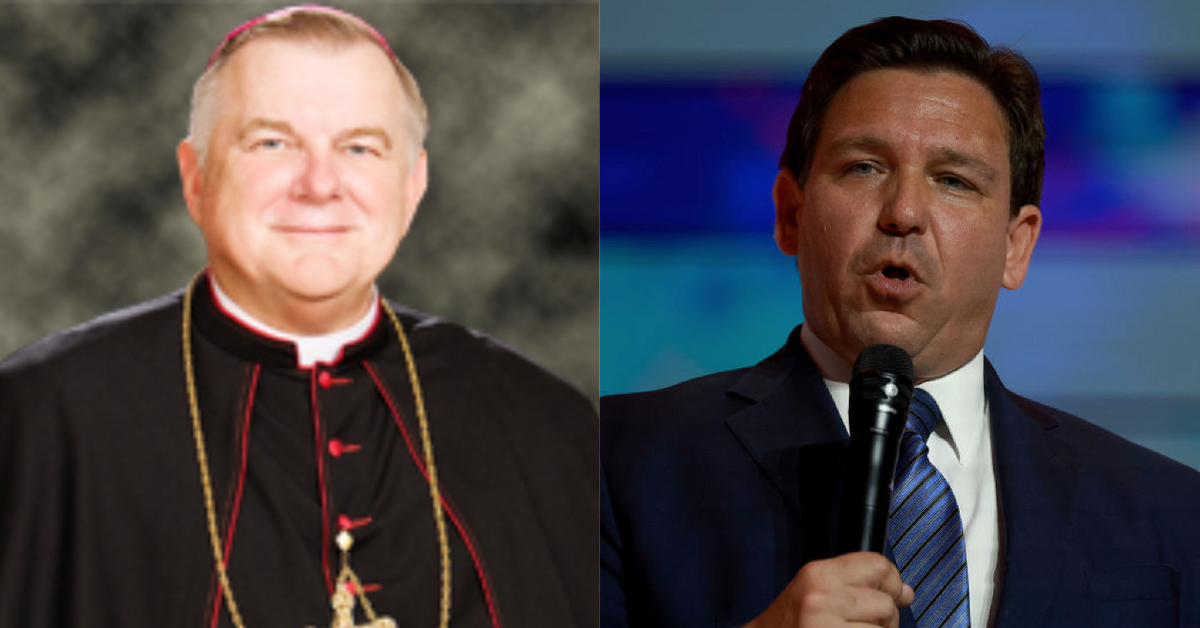 Archdiocese of Miami; Joe Raedle/Getty Images
Archbishop Thomas Wenski of the Archdiocese of Miami criticized Florida's proposal to criminalize offering transport to undocumented immigrants, describing it as "punitive" and an attempt to criminalize "empathy."
Wenski accused the bill's sponsors—including Republican Governor Ron DeSantis—of attempting to make the lives of migrants even more challenging by using "various punitive measures that unfairly demonize them."
In his statement, the Archbishop argued the proposed legislation—SB 1718—would make it illegal to be a good Christian, as it would broaden the definition of "human smuggling" to criminalize "empathy."
Wenski also raised objections to the provision in the bill that requires hospitals to check the immigration status of patients they treat. The Archbishop contended that this would "discourage migrants from seeking timely medical care," causing them to "end up overburdening hospital emergency rooms."

An official statement added:
"Our broken immigration system frustrates everybody."
"And in Tallahassee, Senate Bill 1718 is born from that frustration. For more than 20 years, the U.S. Congress has failed to enact a comprehensive immigration reform that would promote family stability and unification, ensure participation of newcomers in the rights and responsibilities of citizenship, and assure a legal workforce needed for economic growth and prosperity for all Americans." ...
"[The bill] offers no solutions to the real and growing concerns at the southern border but will bring real harm to Florida's businesses, houses of worship, schools, public health and safety as well as to the migrants themselves."
The proposed legislation has been met with criticism from other quarters as well.
Some have argued that it would make it difficult for immigrants to access basic services, including healthcare, education, and food. Others have said that it would criminalize ordinary people who are simply trying to help their fellow human beings.
Still, others have pointed out that immigration is a federal issue, and that the proposed legislation would only serve to create confusion and chaos at the state level.
Others echoed the Archbishop's concerns.
Florida has an estimated 772,000 undocumented immigrants.
Approximately 50 percent of them have lived in the United States for more than ten years, as per the Migration Policy Institute.

The Catholic Church has previously criticized DeSantis on immigration.
Archbishop Wenski made a statement in February 2022 accusing DeSantis of using dehumanizing language and unfairly differentiating between unaccompanied minors at the U.S.-Mexico border and Cuban refugees who had previously arrived in Florida. Wenski claimed that such rhetoric was "a new low in the zero-sum politics of our divisive times."