Today's modern buildings with synthetic plastics and chemicals release toxins that can be deadly for first responders.
09 November 2017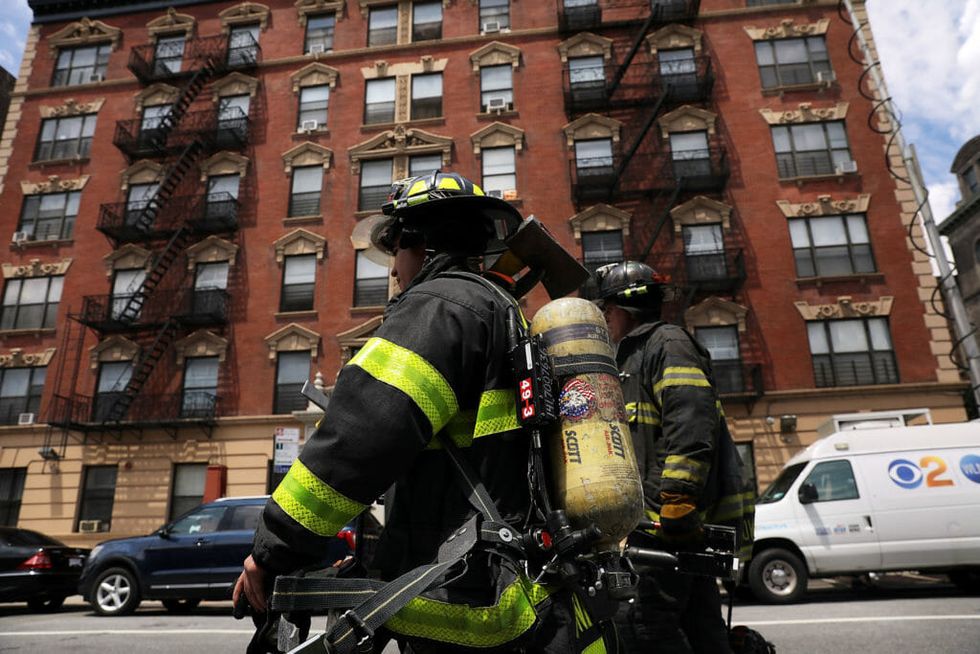 NEW YORK, NY - JUNE 27: Firefighters walk near a Harlem subway station where a morning train derailment occurred on June 27, 2017 in New York City. Thirty-four people suffered minor injuries in the subway derailment which causes major delays throughout the morning and afternoon. This is the latest incident for the MTA, the largest subway system in the country, and has city officials scrambling to make repairs and updates to the aging system. (Photo by Spencer Platt/Getty Images)
As if entering a burning building weren't dangerous enough, firefighters these days have another risk to contend with: cancer.
The International Association of Firefighters says cancer is now the leading cause of death in the industry.
"We're seeing a lot of younger members in their 40s, early 40s, who've got 20 years on the job, who are developing these cancers at a very young age," Boston Fire Commissioner Joseph Finn told NBC News.
Fire departments in Boston, New York, Chicago, Seattle, Los Angeles, San Francisco, Houston, Toronto and Calgary all report elevated cancer rates, which have been shown to only increase with length of service.
"The longer you're a firefighter, the greater your chance of getting some kind of cancer," Susan Shaw, executive director of the Marine and Environmental Research Institute and a professor at State University of New York in Albany, told The Atlantic. "These are people who have a gladiator mentality, and they're really tough. [But] now you have a different kind of danger."
While the risk of cancer among firefighters isn't new, the type of cancer being diagnosed is. Three decades ago, mesothelioma was the most common cancer, caused by asbestos found in dust and debris from older structures. Buildings built before the mid-1970s typically contained the dangerous mineral in floor and ceiling tiles, siding, insulation and joint compound. The fibers could then become airborne when disturbed, such as with a firefighter's ax during ventilation or forcible entry, and then inhaled or stuck to turnouts and helmets.
The link between asbestos and firefighter cancer was further strengthened during 9/11, when more than 2,500 first responders became ill with cancer — many of them with mesothelioma. An estimated 300 to 400 tons of asbestos fibers were used in the construction of the World Trade Center in the late 1960s and early 1970s.
Today, the most common cancers among firefighters are leukemia, lymphoma and myeloma. Contemporary structures contain more plastics, synthetic building materials and appliances than ever before, which are not only more flammable but release toxic gases deadlier than carbon monoxide, as well as carcinogenic soot. When the firefighters sweat, their pores can absorb this soot, allowing chemicals to enter the bloodstream.
Wildland firefighters, too, face increased risk from wood smoke. Though studies are scarce due to the seasonal nature of the job, the particulate matter and carbon monoxide released through burning trees and brush have long been recognized as carcinogenic, and can also cause cardiovascular problems.
Congress is currently considering the creation of a National Firefighter Cancer Registry to consolidate epidemiological data, but in the meantime, fire departments are taking steps to reduce risks.
According to NBC, fire departments are now buying oxygen tanks with 45 minutes' worth of oxygen rather than the typical 30, and are requiring firefighters to keep their masks on until the men and women have been washed down and decontaminated.
"I've buried way too many friends over my 33 years," said Finn, the Boston commissioner. "Too many friends...so I tell them, 'Think about your wife, your husband, your boyfriend, your girlfriend before you take that mask off your face."
Once the firefighters have returned to the station, their turnouts are then immediately cleaned in an industrial washing machine — many of which, as it turns out, are marketed specifically toward fire stations in reducing their staff's cancer risk.
"I can remember laying gear down and taking a garden hose and washing it off," says Fred McKinney, a firefighter in Cleverdale, N.Y., in a press release by Continental Girbau, a maker of industrial washing machines. "[Today] our guys are expected to keep gear clean. It's their protection against disaster."
Keep reading... Show less