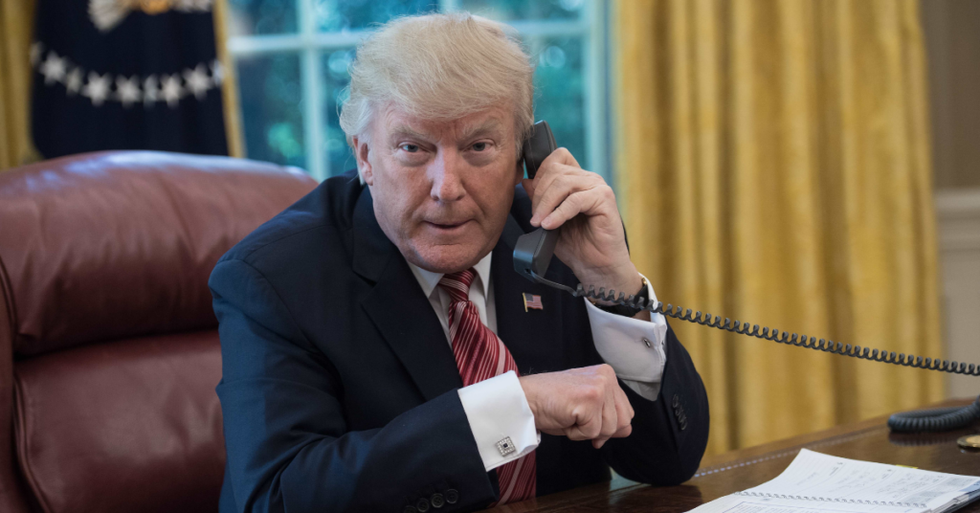 US President Donald Trump waits to speak on the phone in the Oval Office at the White House in Washington, DC, on June 27, 2017. (Photo by Nicholas Kamm/AFP/Getty Images)
In 2016, it was not clear which entities would play a major role in the pending presidency of Donald Trump, but hardly anyone guessed the dictionary would be one of them.
Whether the classic Merriam-Webster or the modern dictionary.com, the humble dictionary has been a contributor to the public discourse regarding the Trump administration.
In their latest salvo, Merriam Webster shot one across the bow of the embattled POTUS. After days of fielding questions and fending off speculation over a House obstruction of justice inquiry, a reported whistleblower and possible impropriety by the President in a call to a foreign leader, the legacy of George and Charles Merriam and Noah Webster selected misprision as their word of the day for Friday, September 20, 2019.
"misprision ~ concealment of treason or felony"
Good morning! Today's #WordOfTheDay is 'misprision' https://t.co/kmxDY1Q1eS https://t.co/BkF30gbzaj

— Merriam-Webster (@Merriam-Webster) 1568980801.0
The selection left many wondering if the dictionary was trolling the President.
Again.
📈'Dastardly' is a top search today. It means "cowardly" or "characterized by underhandedness or treachery." https://t.co/m8Pxyw0FOh

— Merriam-Webster (@Merriam-Webster) 1568905296.0
People appreciated Merriam Webster's input.
Trump getting trolled by a dictionary is the only thing keeping me going right now. https://t.co/LVrA8vPq5b

— Amee Vanderpool (@Amee Vanderpool) 1568982269.0
@girlsreallyrule Do you think he has ever used a dictionary? 😂😂😂 Trump: This Webster woman is nasty !

— Kim Quigg (@Kim Quigg) 1569012176.0
Best. Twitter. Ever. https://t.co/9WKsHaXpXx

— Melissa Quinn Amour (@Melissa Quinn Amour) 1568981507.0
Webster's Dictionary is trolling Trump. https://t.co/rVPXBe7Glc

— Bull Moose (@Bull Moose) 1568981909.0
2019: When the dictionary is helping Americans with the daily vocabulary to discuss what Trump's enablers are doing. https://t.co/k9QyMxWZnO

— Dean Gloster (@Dean Gloster) 1568994804.0
When a dictionary starts trolling you ... #Trump #Whistleblower https://t.co/y5F43stxin

— Amit Phansalkar (@Amit Phansalkar) 1568990981.0
And despite Betsy DeVos, it looks like Americans are getting an education.
I love it when the dictionary teaches me a new word to describe what Trump does...this Presidency has been such an… https://t.co/qRvMKNf35d

— chefsbride (@chefsbride) 1569010473.0
Some even suggested a few other words.
@Hoosiers1986 @RudyGiuliani Trump stood on the world stage and went down on his knees before Putin, "He told me he… https://t.co/mGv2dlXxLL

— Debra Lynn (@Debra Lynn) 1568949416.0
When you look up "inappropriate" in the dictionary you see a picture of #DerangedDonald 🍊 #trump.

— RickyAppleseed ☮🍎 (@RickyAppleseed ☮🍎) 1568924263.0
And even an alternative dictionary had a reference to President Trump. Thanks to Chrissy Teigen.

@CapitalTales/Twitter
Although, not everyone was able to learn something.
This would be more helpful if Trump knew the definition of "dictionary" https://t.co/0qAmkC7u6F

— Frank Lesser (@Frank Lesser) 1569005967.0
Some were anticipating a counter strike.
Gotta love those tweeters at @MerriamWebster! Can't wait for Trump to attack the dictionary... https://t.co/x4f83MZr91

— Mark Elliott (@Mark Elliott) 1568993841.0
@MerriamWebster I can hear it now.... "That loser dictionary is making up lies about words, just to make me look b… https://t.co/ax31q4IPUs

— Grow in Peace (@Grow in Peace) 1568984619.0
But even if there is a forthcoming Twitter rant, people gave kudos to the humble dictionary.
The two biggest Trump slayers our right now are The Trio (@IlhanMN @AOC @RashidaTlaib) and the goddamned dictionary… https://t.co/e8r1zuyj7j

— Amanda C. Aubrey Esq (@Amanda C. Aubrey Esq) 1568996306.0
Bravo, kudos and laudation Merriam Webster. Keep up the great work.
Looking to build your vocabulary? Intellinitiative Webster's Word Sweep game is available here is for ages 10 and up.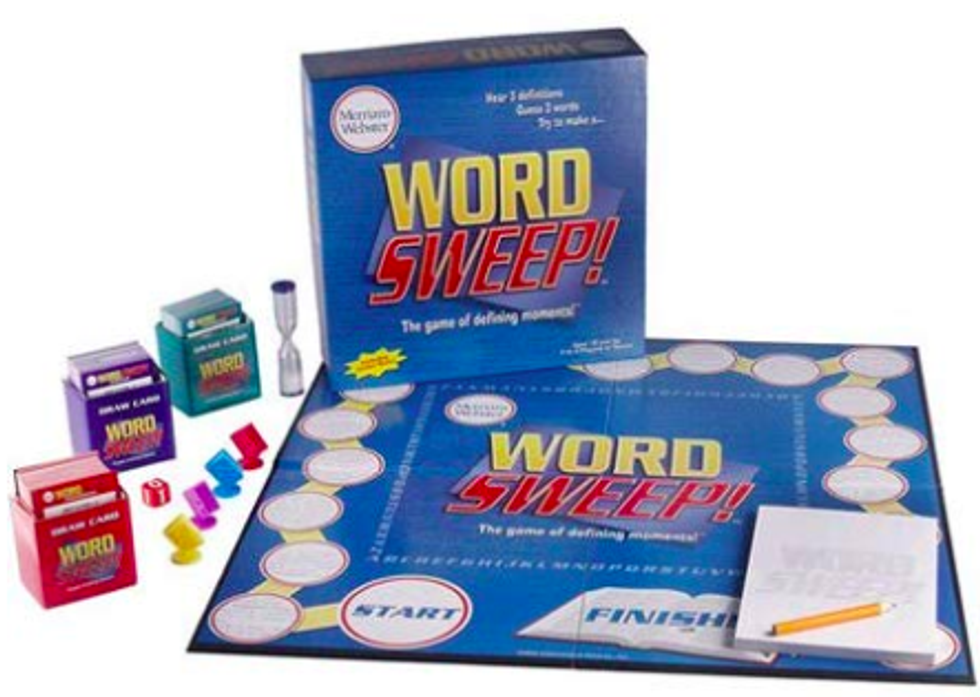 Amazon
*****
Listen to the first season of George Takei's podcast, 'Oh Myyy Pod!' where we explore the racially charged videos that have taken the internet by storm.
Be sure to subscribe here and never miss an episode.
Keep reading...Show less