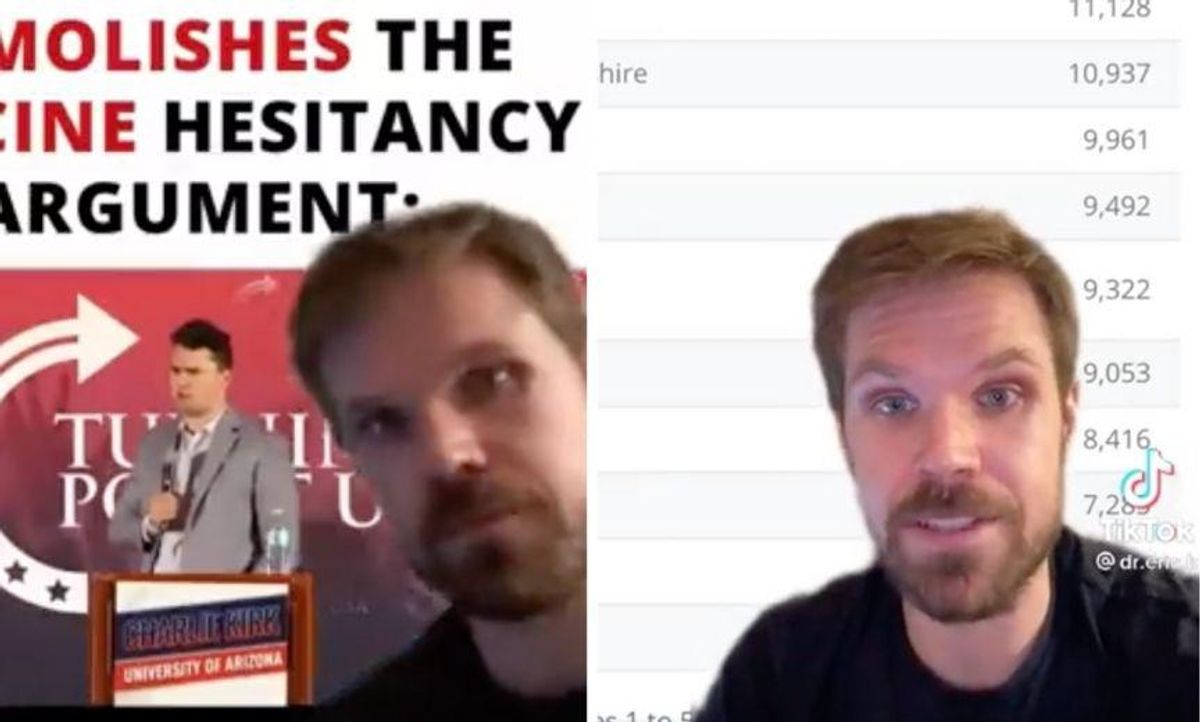 dr.eric.b/TikTok
Since the early days of the pandemic that's killed more than 750 thousand Americans and completely upended daily life in the United States for nearly two years, the Republican party has dismissed its severity, downplayed the need for vaccines, and promoted conspiracy theories about the virus and potential treatments.
Even as lifesaving COVID-19 vaccines offered a pathway out of the variant, conservatives across the country claimed the vaccines were a method of government control, that they were magnetized or the biblical "mark of the beast."
Medical experts have worked hard to combat this rampant disinformation, and one doctor—known on TikTok as dr.eric.b—is going viral for doing just that.
Watch below.
Dr. B's target was a video of conservative group Turning Point USA founder Charlie Kirk, in which Kirk made a series of completely false claims he suggested indicated an ineffectiveness in the vaccines. Kirk falsely claimed that Vermont, the most vaccinated state in the Union, had the highest per capita rate of COVID transmission. He said the same of Israel, a heavily vaccinated country.
After Kirk promoted Ivermectin, a medication embraced by conservatives despite showing no effectiveness in fighting COVID, a visibly Dr. B said:
"Y'all must get the same newsletter because everything you say is just the same regurgitated nonsense we've been hearing for the past few months. If y'all had an original thought in your head, you'd be dangerous."

He went on to conclude:
"There was not one thing in that three minutes of incoherent rambling that even resembled a rational thought. Like, please. Do better. Wow."
People shared the doctor's frustration.
They celebrated the doctor's debunking.
Sadly, Kirk continues to spread disinformation like this.