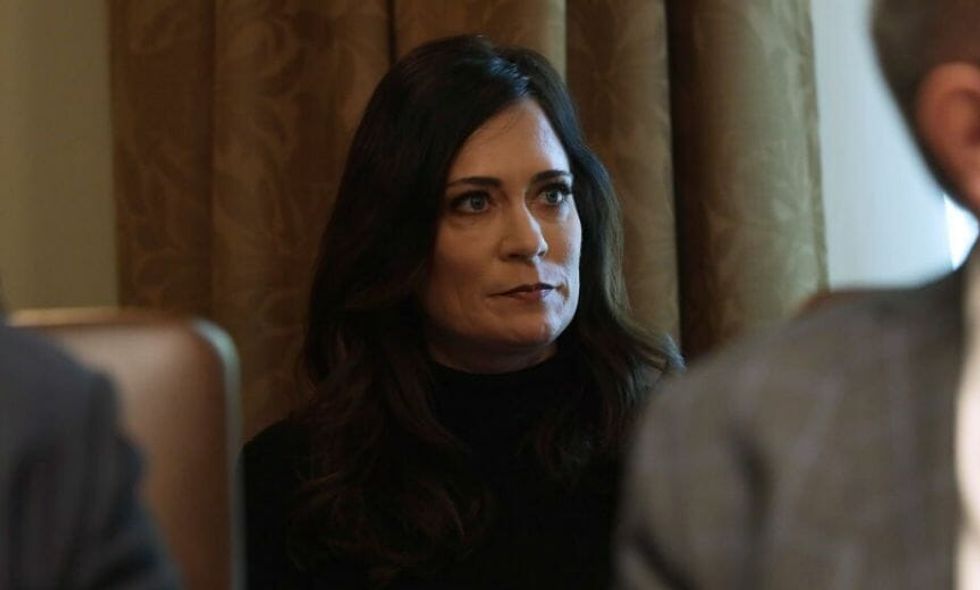 Alex Wong/Getty Images
A peaceful transfer of power is crucial for any Democracy. From Clinton to Bush to Obama to Trump and long before, the succession of power—especially between two opposing parties—is an American tradition.
But now, almost three years after our most recent transfer of power, White House Press Secretary Stephanie Grisham is claiming that Obama staffers made that transition quite bumpy.
Grisham claimed that outgoing Obama staffers left mean notes for incoming Trump staffers shortly after the President's inauguration.
In an interview with a Virginia radio station, Grisham claimed Obama staffers left notes reading "You will fail" and other taunting messages.
The Press Secretary said:
"We came into the WH, I'll tell you something. Every office was filled with Obama books and we had notes left behind that said 'you will fail,' 'you aren't going to make it.'"
Now, prominent Obama officials are contesting her claim.
This is another bald faced lie. https://t.co/E1U9KtdL77

— Susan Rice (@Susan Rice) 1574171909.0
100% false. I left a note wishing them good luck serving the American people and offering to be a resource. https://t.co/JMjk0HoExa

— Liz Allen (@Liz Allen) 1574175240.0
This is an outrageous lie. I know. I handed over the nuclear office at the NSC. Shameless and disgusting. @PressSec… https://t.co/YV6oFK8w09

— Jon B. Wolfsthal - aka a Globalist (@Jon B. Wolfsthal - aka a Globalist) 1574172051.0
Produce the notes that back this up. I cannot imagine a single one of my former colleagues who would do this. Fr… https://t.co/JyeP1sQP2D

— Valerie Jarrett (@Valerie Jarrett) 1574177454.0
Some are even sharing the notes they left their own successors.
This is the note I left my successor. Really dispiriting to hear this from @PressSec, a person with whom I spent a… https://t.co/VEKASJWY54

— Peter Velz (@Peter Velz) 1574176820.0
The note I left my East Wing successor, now @PressSec Stephanie Grisham. https://t.co/38mclNs0fE https://t.co/vkNrXl32PZ

— Joanna/JoJo Rosholm (@Joanna/JoJo Rosholm) 1574181380.0
Grisham later responded, writing "I don't know why everyone is so sensitive!"
Grisham response to former Obama staffers pushing back on her comments that nasty notes were left behind during the… https://t.co/3HXjJICADX

— Jim Acosta (@Jim Acosta) 1574179181.0
Though asserting she'd been honest, people were skeptical, because the Trump administration repeatedly dwells on the shortcomings of Obama's tenure in office.
It's strange at best that the White House would keep mum for three years at a chance to sully the Obama administration.
Weird claim to first hear about 3 years later. If it happened, they would have taken lots of pictures. Of course th… https://t.co/BMNwHh9pow

— Neal Katyal (@Neal Katyal) 1574187638.0
How is this the first we're hearing about these notes then, almost three years into the Trump presidency? https://t.co/MuvTTWPhLA

— Kyle Griffin (@Kyle Griffin) 1574174411.0
Obviously the first thing they'd do with these notes is never take pictures of them and never talk about them for n… https://t.co/M3Te7FgMfP

— Dave Weigel (@Dave Weigel) 1574172047.0
How is this first it's been told of? https://t.co/zsmidROEU0

— Maggie Haberman (@Maggie Haberman) 1574175896.0
Stephanie Grisham has yet to give a once-daily White House press briefing.
Keep reading... Show less