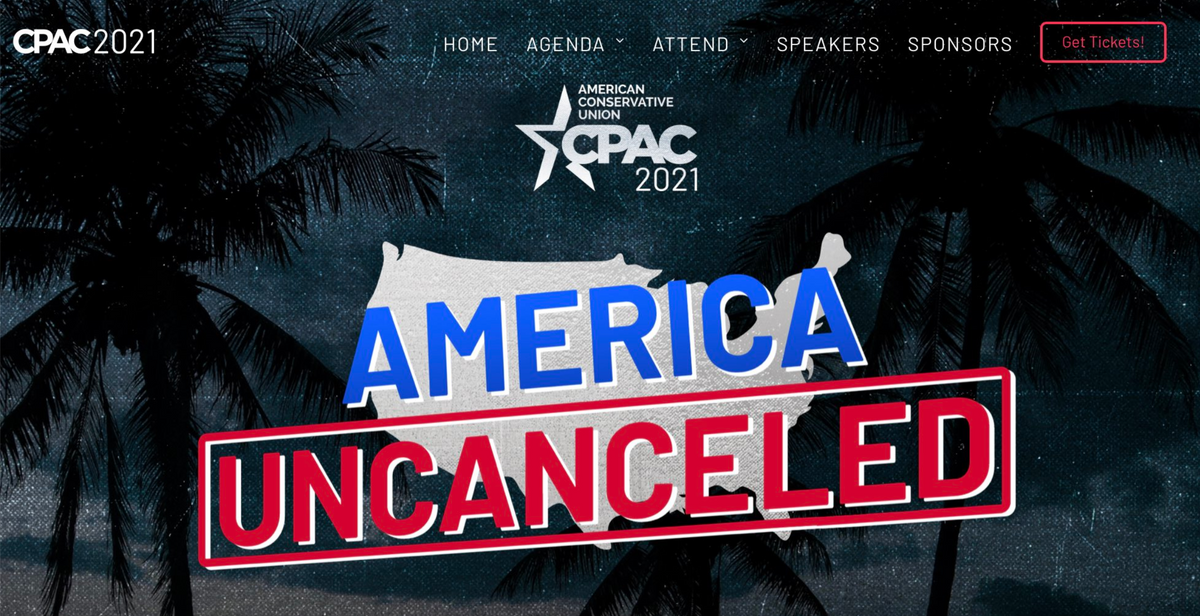 CPAC
Over the last year or so, the United States has grappled with two impeachment trials, a devastating pandemic, mass unemployment, and a failed insurrection.
But an unignorable faction of GOP lawmakers have claimed that "cancel culture" is the most substantial threat facing Americans today.
The term is used to characterize the mass withdrawal of support from public figures or entities, usually for criminal actions or despicable comments. Republicans have repeatedly deployed the phrase to demonize even the most basic accountability measures.
Such was the case for former President Donald Trump's second impeachment for inciting an insurrection, as well as for Congresswoman Marjorie Taylor Greene (R-GA), who was stripped of her committee assignments after past support for deranged conspiracy theories came to light.
Congressman Jim Jordan (R-OH) recently said that cancel culture was the "most dangerous" threat facing the United States.
And this weekend, the Conservative Political Action Conference (CPAC) commenced, with the theme America Uncanceled.
CPAC is the most prominent annual gathering of conservatives in the country—a mainstay for Republican presidential hopefuls, GOP politicos, conspiracy theorists, and right wing extremists.

CPAC 2021 will feature a host of notable Republican guests, including former President Donald Trump as the keynote speaker in one of his first public appearances since vacating the White House.
Another guest was supposed to be musician Young Pharoah. He was slated to be a featured speaker until reporting from Media Matters for America brought attention to his history of wildly anti-Semitic remarks, calling Judaism a "complete lie" and Jewish people "thieving fake Jews."
As a result, CPAC rightly canceled Pharoah's appearance at America Uncanceled.
The conference was predictably skewered for highlighting the absurdity of its own theme.
CPAC Chairman Matt Schlapp elaborated on the decision to Dave Weigel of the Washington Post.
The lengthy statement didn't do much to help his case.

While the warranted cancellation and rebuke was certainly questionable considering the conference's theme, it once again proved that conservatives themselves are some of so-called cancel culture's biggest proponents.

As recently as last year, Schlapp gleefully disinvited Senator Mitt Romney (R-UT) from the conference for voting to convict Trump in his first impeachment trial.
Romney was a favorite CPAC attendee, winning more presidential straw polls at the conference than any other Republican presidential hopeful, but by 2020, Schlapp said he would have been "afraid for [Romney's] physical safety" at the conference.
Cancel culture, indeed.