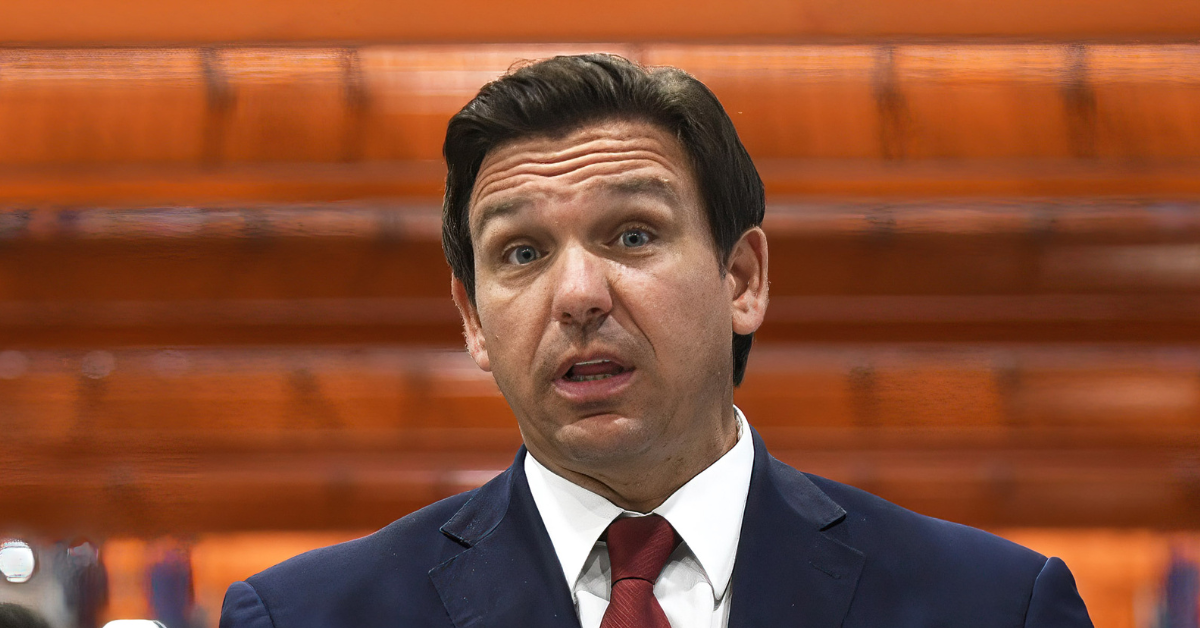 Paul Hennessy/SOPA Images/LightRocket via Getty Images
Something about the migrant "relocation" flight to Martha's Vineyard, orchestrated by the DeSantis administration this past summer, has always bothered me, even beyond the inhumanity of it all: the price tag.

The charter flight company that actually flew the migrants, Vertol Systems, received a contract worth over $1.5 million from the state of Florida. That single flight cost the state a whopping $615,000, or around $12,500 per person. Vertol received a second payment of $950,000 just two weeks later.
This didn't go unnoticed by the Florida Center for Government Accountability (FLCGA), a non-profit that sued the DeSantis administration in October of 2022 for withholding records relating to the migrant flight operation. The FLCGA brought its suit under a "sunshine" law designed to maintain transparency in government.
DeSantis's office bitterly fought the suit but eventually lost, finally releasing records right before the Christmas weekend, no doubt hoping to avoid a big press story.
Media nevertheless began picking up what could become a major scandal swirling around Larry Keefe, DeSantis's so-called "czar" of public safety in Florida.
And long time critics of the DeSantis administration, such as lawyer Daniel Uhlfelder, took to social media to amplify Keefe's apparent corruption.
Larry Keefe appears to be crooked AF
It turned out, probably to no one's surprise, that Vertol Systems has connections to the DeSantis administration. Vertol was a longtime client of Keefe when he was a partner at a Florida corporate law firm, and Keefe was very close to its CEO, James Montgomerie.
Here's how crimey these two guys apparently were. According to records finally released by the governor's office, the two men exchanged bid proposal language in advance of Vertol winning the $1.5+ million deal from the Florida Department of Transportation.
To keep this on the down low, Keefe even used a private email address with the alias "Clarice Starling" (yes, from Silence of the Lambs, you can't make this up) to send messages to Montgomerie's AOL account. The email address also used the phrase "Heat 19," which was a call sign given to Keefe by a former U.S.A.F. Special Operations commander.
It's hard not to get the sense Keefe is really into special ops cosplay.
One of those emails from Keefe contained eight paragraphs of proposed language for the contract bid. Two days later, Montgomerie sent Keefe an email attachment containing the draft of Vertol's bid for the contract with the same eight paragraphs copied nearly verbatim into it.
Some 45 minutes later, Montgomerie texted Keefe, "Draft sent." Two weeks later, Vertol won the contract. In sum, it seems clear that Keefe provided Montgomerie information helpful to winning the bid, and that Montgomerie used it.
Compounding their problems is that Montgomerie appeared to lie about this interaction under oath. When asked in deposition what he meant by the "draft sent" text, Montgomerie testified that it referred to a draft he had sent Keefe of the consent form that the migrants were asked to sign before being flown.
It now seems likely that "draft sent" actually referred to the document Montgomerie didn't want anyone to know about—the blueprint for winning the bid. Lawyers for the FLCGA now want to recall Montgomerie back into deposition to explain his prior response.
Insider dealings like this always raise other questions, too.
For example, who else was in on the scheme? Did someone within the Department also conspire to ensure Vertol won this huge contract? Was there any discussion about kickbacks of the profits from Vertol?
To underscore the shady nature of their deal, it now appears Keefe and Montgomerie communicated via the encrypted app Signal—hardly the kind of open and transparent communication expected of government officials involved in awarding taxpayer-funded contracts.
Michael Barfield, director of public access for FLCGA, blasted their behavior in an interview with the Miami Herald.
"Our open government laws were designed to prevent backroom deals and keep the public informed. This is the antithesis of open government. Using encrypted apps and military lingo, it doesn't square with doing things in the sunshine," Barfield said.
"Worse, both Mr. Keefe and Mr. Montgomerie knew what they were doing. They are very well versed in the public records laws. Communicating in this way sure makes it more difficult for the average citizen ... to uncover what was really going on behind the scenes."

Keefe may face other legal problems
Another weird thing about the migrant flight to Martha's Vineyard was that it originated not in Florida, but in Texas. Along with DeSantis's chief of staff James Uthmeier, Keefe flew out to Texas to help coordinate what amounted to a kidnapping of migrants under false pretenses.
"I'm back out here," Keefe wrote on September 5, 2022 to Uthmeier. "Conditions are quite favorable." A few days later, on September 8, 2022, Keefe elaborated, "Current plan is for event to occur next Wednesday…Will be more precise about ETA there as event approaches."
The fact that Keefe was there on the ground in Texas could matter. The sheriff of Bexar County, Javier Salazar, has launched a criminal investigation and noted that his Organized Crime Division has identified suspects, but "only those who were physically in our jurisdiction at the time of the offense" could potentially face charges.
Keefe was responsible for overseeing those physical operations. In keeping with his special ops shtick, Keefe had hired Perla Huerta, a former U.S. Army counterintelligence agent, to recruit and entice migrants to take the trip.
Huerta could face pressure should the current criminal investigation produce any charges. Further, anyone who conspired with her to carry out the plan, including Keefe and Uthmeier, could potentially face legal exposure.
Where things go from here
This political caper could get rather interesting moving forward. Keefe is in deep with DeSantis in his efforts to turn Florida into his own autocratically-run state, so any legal peril for Keefe has broader implications for DeSantis, who is preparing a bid for the presidency in 2024.

DeSantis critic Uhlfelder wrote an excellent summary of Keefe as DeSantis's favorite hatchet man. Keefe himself is a former U.S. Attorney who, despite having no experience as a prosecutor, was appointed to his position during the Trump administration.
In a true den of thieves twist, Keefe also has close ties to Rep. Matt Gaetz, who worked in his law firm as an associate. Back in 2018, the two of them tried to involve the Justice Department in election fraud investigations in Florida, even pitching the idea to then President Trump directly.
U.S. Attorney General Bill Barr angrily shot down the idea, purportedly warning Keefe, "If I ever hear of you talking to Gaetz or any other congressman again about business before the department, I am going to fucking fire your ass."
Keefe is also infamous for having demanded the resignation of State Attorney Andrew Warren, a Democrat whom DeSantis removed from his position back in August because he would not enforce Florida's draconian new abortion laws.
According to Warren's testimony, in a case Warren filed to get his job back, Keefe met Warren at his office on the day of his termination and demanded he leave immediately. Keefe later testified on the stand that he was the "primary driver" in getting Warren suspended.
If there are other Florida state attorneys sympathetic to Warren's case and unhappy with Keefe, the fact that Keefe now has significant criminal legal exposure may be of strong interest.
Whether the DeSantis administration moves to protect Keefe from the fallout of the migrant flights, or whether DeSantis lets him be the fall guy, remains to be seen.
There still remain many unanswered questions about the rigged bid and the $1.5 million paid out from that project, and until there are clearer answers to those, the full extent of the apparent crimes won't be known.