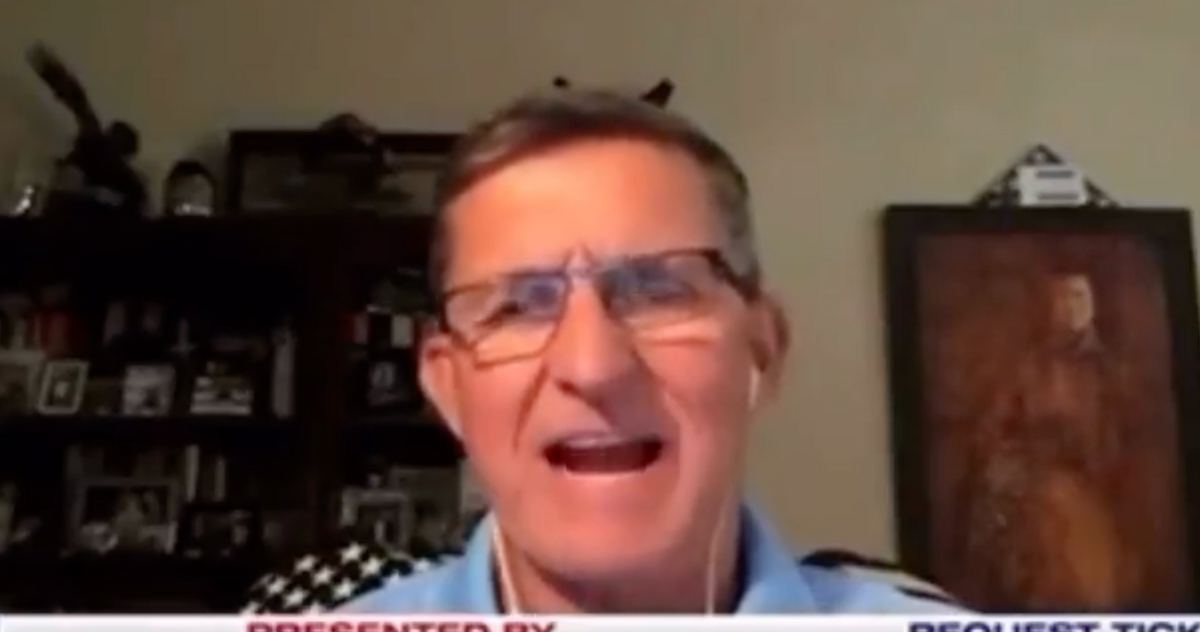 @RonFilipkowski/Twitter
Far-right General Mike Flynn went from the national security advisor in the first days of former President Donald Trump's administration to the major proponent to deranged far-right conspiracy theories that he is today.
Flynn, who pled guilty to lying to investigators about his communications with Russian diplomats (only to later be pardoned by Trump), repeatedly promoted the QAnon conspiracy theory, apparently pledging allegiance to it in a video posted to his social media. He also absurdly suggested that scientists were exploring a way to administer the lifesaving COVID-19 vaccine through salad dressing.
More recently, Flynn claimed that Democrats would inflict a controlled financial collapse in order to seize power by canceling the 2022 midterms.
Watch below.
Michael Flynn says Democrats are plotting to cancel the 2022 elections to seize control of the national govt. He says they are intentionally orchestrating a controlled financial collapse of the American economy so they can enact strict govt control of every aspect society.pic.twitter.com/zJYFfenMN9

— Ron Filipkowski (@Ron Filipkowski) 1637442398
Flynn said:
"All of this is leading to a major decision in 2022 for national elections, which I believe are at risk. ... I am not convinced that we are gonna have national elections in 2022 and the reason why I believe that is the left doesn't want to risk losing to the conservative movement that has clearly grown in the country. ... They don't want anybody paying attention to exactly this issue that we're talking about right now, which his the financial system in the country ... that's the thermometer they are raising and lowering in order to gain greater control of society here in the United States of America."
As a constant promoter of Trump's delusion that the 2020 election was stolen from him, it's actually Flynn who longs for national elections to be disregarded in order to keep his party in power. In fact, he's explicitly called for it multiple times.
Last December, Flynn approvingly retweeted a press release from a right-wing conspiracy group urging then-President Trump to declare martial law so the Military could oversee an election do-over. Flynn himself repeated these calls just days later.
As recently as this past summer, Flynn told a crowd of supporters that a Military coup "should happen here."
When it comes to seizing control through undemocratic means, Flynn is on the record as a supporter, and people soon called out his projection.
WARNING: He is describing what *he* and Repubs want to do. This is the right-wing playbook used in Chile. See #Strongmen for details. You manipulate supply chain, hype inflation, & use psych warfare to create a crisis "solved"
by authoritarian takeover. https://t.co/OEMVRwdlhu
— Ruth Ben-Ghiat (@ruthbenghiat) November 21, 2021
there is absolutely no reason to believe any Dems are considering such a thing

however, this does sound like the type of things republiQans would consider, especially given their attempts to overturn the 2020 election

lots of projection from Flynn here https://t.co/QWsKWwOebo
— c lewis silberman (@silbecl) November 22, 2021
Given Flynn's influence and prior access to national security intel, people were disturbed by his unhinged rant.
How many service members is this guy still influencing? I see signs of many, in the military, who seem willing to be disloyal to the U.S.A., in either words or actions. I live in a Navy area. Are Flynn and his minions working to erode their loyalty?@SecDef @DepSecDef https://t.co/DjtTBJY5t1
— Who In Congress Helped the Insurrection Happen? (@JustitiaMatrona) November 21, 2021
This grifter is a continuous embarrassment and not one of the many mentors and bosses that nurtured him in the Army have ever admitted their abject failure as leaders. https://t.co/0hUdmdanzq
— Fred Wellman (@FPWellman) November 21, 2021
The 2022 midterms are very much still on.