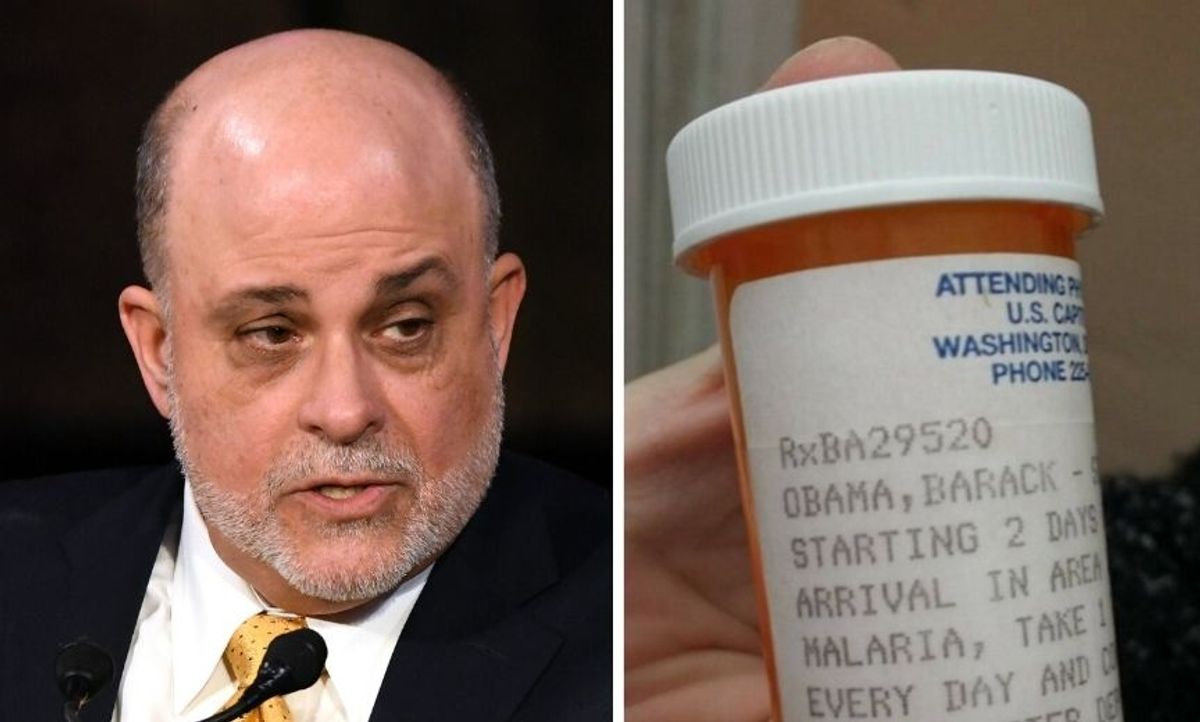 Michael Kovac/Getty Images for Radio Hall of Fame // @marklevinshow/Twitter
For months, President Donald Trump has sworn by the effectiveness of the anti-malarial drug hydroxychloroquine as a treatment for the virus that's killed over 130 thousand Americans.
Despite overwhelming skepticism from experts regarding the antiviral medicine's use in treating the virus, a shortage of the drug occurred due to an uptick in prescriptions following his endorsement. Some even took poisonous variations of chloroquine, mistakenly believing it was a similar enough substance to the kind touted by Trump.
Soon, belief in the unproven drug's effectiveness became a political statement, and far-right radio host Mark Levin's recent tweet is proof of that.
Levin tweeted an unverified photo alleging to be of former President Barack Obama's prescribed hydroxychloroquine supply.
Obama's hydroxychloroquine from 2008 https://t.co/OdnmltDCBU

— Mark R. Levin (@Mark R. Levin) 1594428128.0
Apparently unbeknownst to Levin, hydroxychloroquine has been used for years against malaria. What's more, the bottle appears to be malarone, a different anti-malarial drug.
Not to mention, it's highly unlikely that someone took a picture of a then-sitting President's prescription drug bottle.
People began pointing out these facts to Levin.
Dumbass....besides the fact that hydroxychloroquine is a real medicine used for real purposes (to prevent malaria, thus required for traveling to certain countries) this *isn't hydroxychloroquine!* It's Malarone - a *different* antimalarial that no one has suggested for COVID.
— Kurt Eichenwald (@kurteichenwald) July 13, 2020
Let's assume this photo is authentic...

The bottle indicates the prescription was filled in July 2008. That month, Obama went to Afghanistan which has a high rate of Malaria.

So he took an anti-Malarial to avoid contracting Malaria. https://t.co/hRiKAHjFs8
— Yashar Ali 🐘 (@yashar) July 13, 2020
Wow. So hydroxychloroquine has been *not treating coronavirus* for decades.

Blockbuster, dude. Clear shelf space for your Pulitzer.
— The Hoarse Whisperer (@HoarseWisperer) July 13, 2020
Hydroxychloroquine has been proven effective for Malaria since 1955. It has NOT, at least yet, been proven effective for COVID-19.

FACTS MATTER!
— Mrs. Krassenstein (@HKrassenstein) July 13, 2020
Isn't it illegal to disseminate someone's private medical information, including prescribed medications?
— Formerly Good YouTuberMan601 (@Ferrariman601YT) July 11, 2020
Mark, I'm a fan of yours and also a pharmacist. This is a different antimalarial and standard for overseas travel to Africa and some parts of Asia. Nothing to see here.
— Catherine (@cfirenze4) July 11, 2020
People soon began roasting Levin.
At first I thought you were just racist but you're also genuinely profoundly stupid. Obama took this for malaria. Hydroxychloroquine didn't treat coronavirus in 2008 or 2020. So what did you think this proved when you stumbled upon it and thought "Got em!"? Walk us through it.
— Andrew Wortman (@AmoneyResists) July 13, 2020
The fact that @marklevinshow doesn't know the difference between hydroxychloroquine and Malarone (atovaquone and proguanil hydrochloride) should be brought up every time he farts out more garbage about COVID-19. He's an ignorant grifter who has no idea what he is talking about. https://t.co/v6pED4XS7t
— Brooke Binkowski (@brooklynmarie) July 13, 2020
Levin tweeted the photo to the millions of followers he's gained on Twitter due to extensive retweets from Donald Trump. He has yet to delete it, correct it, or acknowledge the disinformation.