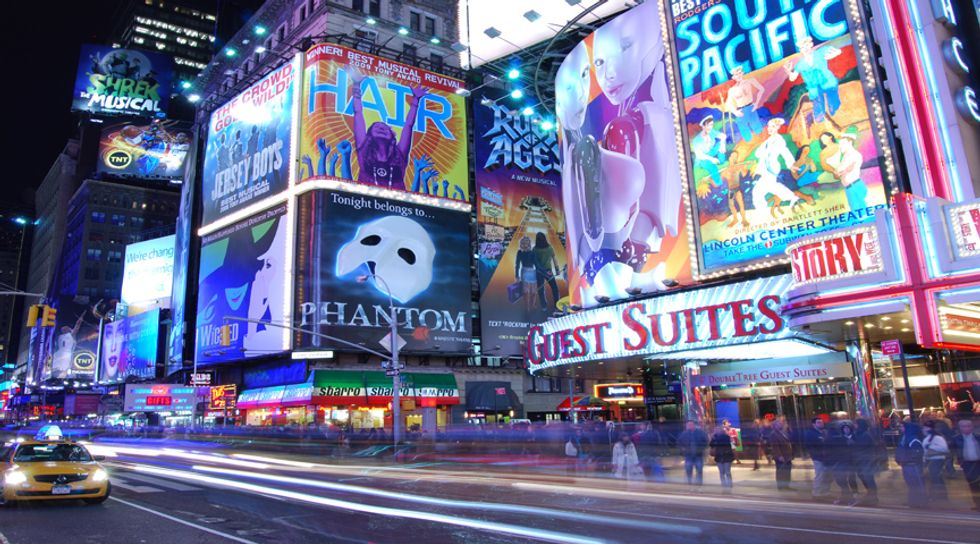 via Wikipedia
SECOND NEXUS PERSPECTIVE
As the news of violence against African Americans continues and the debate over immigration rages on, a ray of hope appears this week in an unexpected place: the Broadway musical.
Of the eleven musicals set to open this season on the Great White Way (seven new shows and four revivals), six have either book, lyrics or music written by a minority. That's more than the total number of minority-created musicals on Broadway over the last five years.
Why now? And why Broadway? As the white book writer of one of these minority-written shows (Allegiance), I was eager to discover what accounted for this thrilling and unprecedented historic shift.
Leading the pack is the much-anticipated Hamilton, which began previews on July 13th. Hamilton is the brainchild of Lin-Manuel Miranda, the Tony Award-winning composer and lyricist of In the Heights, which was informed by Miranda's own Puerto Rican heritage. Hamilton's acclaimed off-Broadway run at the Public Theatre has already earned the show five different Best Musical awards. And it's already selling well, making tickets scarce and pricy.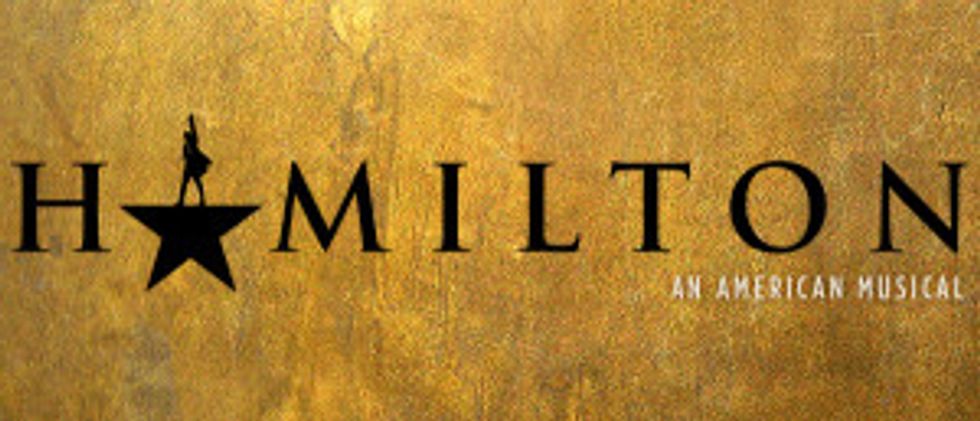 Hamilton Broadway
As described by Miranda, Hamilton is "the story of America then, told by America now." It's a hip-hop reimagining of the life of Alexander Hamilton with a multi-racial cast in which the slave-owning founding fathers George Washington, Thomas Jefferson and James Madison are each played by African Americans.
Prior to Miranda's ascent to theater stardom with In the Heights in 2008 (with a book by 2012 Pulitzer Prize winner Quiara Alegría Hudes, also of Puerto Rican descent), only a handful of Latinos had ever written Broadway musicals. The most notable was Nicholas Dante, who co-wrote the book for A Chorus Line with James Kirkwood. Joining that roster now are Guatemalan-born Arthur Giron, the co-bookwriter of Amazing Grace, and the Cuban-born husband and wife pair, Gloria and Emilio Estefan, whose true-life love story inspired the musical On Your Feet, which opens November 5.
Another encouraging milestone will occur just three days after the opening of On Your Feet. That's when Allegiance marks the Broadway debut of Jay Kuo, the first Chinese American composer and lyricist of a Broadway musical and only the second Asian, after the part-Filipino Bobby Lopez who wrote the hugely successful Avenue Q and Book of Mormon. Allegiance will also be the first musical about Asian Americans actually composed by an Asian American.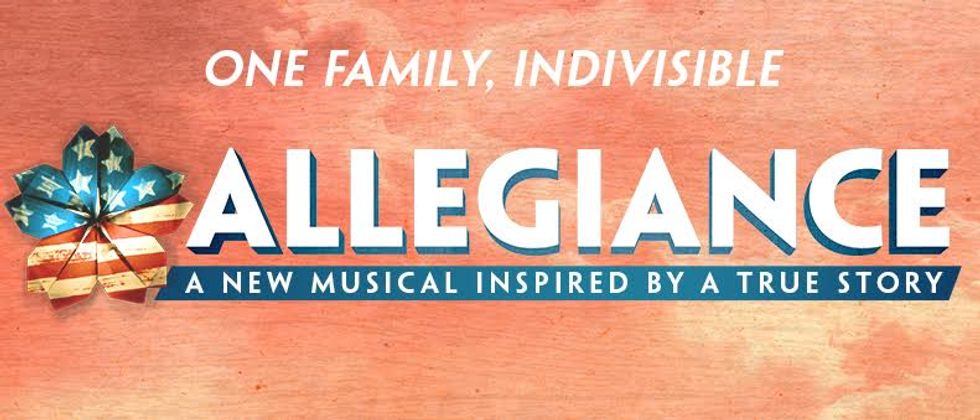 Allegiance Musical
Allegiance takes its inspiration from the true-life experience of its star, sci-fi legend and internet phenomenon George Takei. It tells the story of a family striving to stay together during the wrongful imprisonment of Japanese Americans in World War II. Takei also stars, providing a rare opportunity to witness someone who lived history re-live it on stage. The cast, which is over 80% minority, includes many with direct connections to the Japanese
internment camps. Director Stafford Arima (an Olivier-award nominated director for his work on Ragtime in London's West End) is himself the son of an internee.
Rhythm and Jews
This cluster of growing Latino and Asian influence reflects a demographic shift that began in 1965 when immigration quotas that favored Europeans were dropped. Until then, the largest influx of foreigners was the arrival of Eastern Europeans between 1880 and 1914. Among the 19th century immigrants was Israel Baline, the son of a Russian cantor who would incorporate the "ragged" syncopations of African-American rhythms into his annual Music Box Revues.
Renaming himself "Irving Berlin," he paved the way for Jewish composers and writers—including Richard Rodgers & Oscar Hammerstein (Oklahoma, The King & I), Leonard Bernstein (West Side Story) and Stephen Sondheim (Sweeney Todd, Into the Woods)—to create the Broadway musical as we know it and dominate the field for the bulk of the 20th century.
This "Golden Age" of the American musical culminated in 1964 with Fiddler on the Roof, a celebration of Jewish heritage which ends with Jewish families fleeing the pogroms of Czarist Russia. So it's fitting that a revival of Fiddler returns to Broadway this season, now that we celebrate a new wave of immigrants.
The Great Non-White Way?
Considering the seismic influence Eastern European Jews had on the 20th century musical, it's likely that Latinos and Asians will make a similar impact on the 21st, perhaps even transforming Broadway into the "Great Non-White Way." With minority birth rates in the United States outpacing Caucasian birth rates, non-whites are expected to become a "majority-minority" nationally no later than 2043. In five years, white children under 18 will be in the minority.
So, just as George Gershwin, a first-generation American, embraced African American jazz to create Porgy and Bess, another first-generation American, Lin-Manuel Miranda, has embraced African American hip-hop to create Hamilton. And there are bound to be more to come.
But where does that leave African Americans themselves? In birthing and developing both jazz and rock n' roll, their cultural influence is incalculable. Yet in the 21st century, Broadway has only seen two original scores written by African Americans: Passing Strange (2008) by
musician Stew (of the band Stew and the Negro Problem) and The Color Purple (2005), by pop composers Brenda Russell and Stephen Bray, which is also being revived this season.
Incidentally, the remainder of the creative team behind The Color Purple are white women (composer Alee Willis and bookwriter Marsha Norman). The only other female creatives announced for Broadway musicals so far are Gloria Estefan and playwright Claudia Shear, librettist of the children's fantasy Tuck Everlasting. So, while there is an emerging trend toward racial diversity, Broadway is still a long way off from gender parity.
Other than The Color Purple and Passing Strange, the music of black artists in the 21st century has been confined to so-called catalogue shows, in which a story is crafted around existing music and lyrics. Examples include Motown (with songs from the record label catalog), the short-lived Harlem Renaissance revue After Midnight, and the even shorter-lived Holler if Ya' Hear Me, which used the songs of rapper Tupac Shakur.

The Color Purple
There is something profoundly sad and disturbing to me that the only African American hip-hop composer of a Broadway musical is dead of gangland gun violence.
Apologists for this lack of diversity say that the Broadway audience is 80 percent white and so what can you expect? But the issue goes beyond fairness. The Broadway musical is one of America's great native traditions; isn't it time that the artists creating those stories look like America?
Black to the Future
As if on cue, enter writer-director George C. Wolfe.
For over twenty years, Wolfe has worked on Broadway, becoming one of America's most distinguished directors (Tony Kushner's Angels in America; Bring in 'Da Noise, Bring in 'Da Funk; Nora Ephron's Lucky Guy starring Tom Hanks). But this season marks Wolfe's return as a writer as well. His musical adaptation Shuffle Along, or, The Making of the Musical Sensation of 1921 and All That Followed explores the backstory of a historic 1921 stage show written, produced and performed entirely by African Americans, an event as rare then as it is today.
With the lead played by the beloved Audra McDonald, who has won more Tony Awards than any other actor, Shuffle Along will certainly garner attention. But attention should also be paid to a theatrical event occurring the same week Hamilton begins previews.
On July 16th, Amazing Grace formally opens after three weeks of previews. The new musical examines the incredible true story of John Newton, the 18th century slave trader whose transformation to an abolitionist inspired him to write the beloved hymn. The timing of President Obama's stunning rendition of "Amazing Grace" during his eulogy of Reverend Clementa Pinckney, the pastor recently slain in Charleston, South Carolina, highlights the relevance of Newton's redemption. But the creation of the show itself speaks volumes about modern America.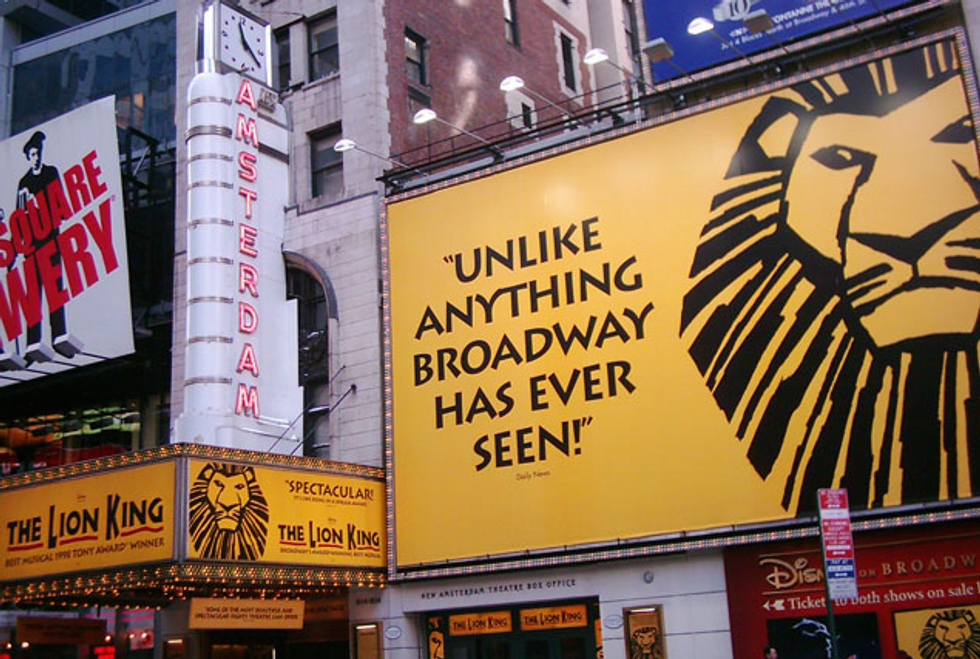 via Flickr user Thomas Crenshaw
Amazing Grace was conceived and written by Christopher Smith, a Philadelphia-area police officer with no prior theatrical experience. What's more, he's an entirely self-taught musician. That a white police officer can address the legacy of slavery during an era of police brutality (which resulted in deaths like those of Eric Martin in New York City and Michael Brown in Ferguson, MO) sends a hopeful message about our culture's "conversation about race."
New York's Theater District is a compact neighborhood—less than a square mile—so Amazing Grace, Hamilton, On Your Feet, Allegiance, The Color Purple,Shuffle Along and Fiddler on the Roof literally will be neighbors. Seen separately, they provide Broadway theatergoers with an opportunity to examine our shared history. Together, they show what it means to be American today.
Marc Acito is the book writer of Allegiance, which opens on Broadway this fall. In addition to his work as an award-winning playwright and novelist, he has provided cultural commentary for NPR's All Things Considered and the New York Times.
Keep reading...Show less