A clear message for the president.
12 July 2018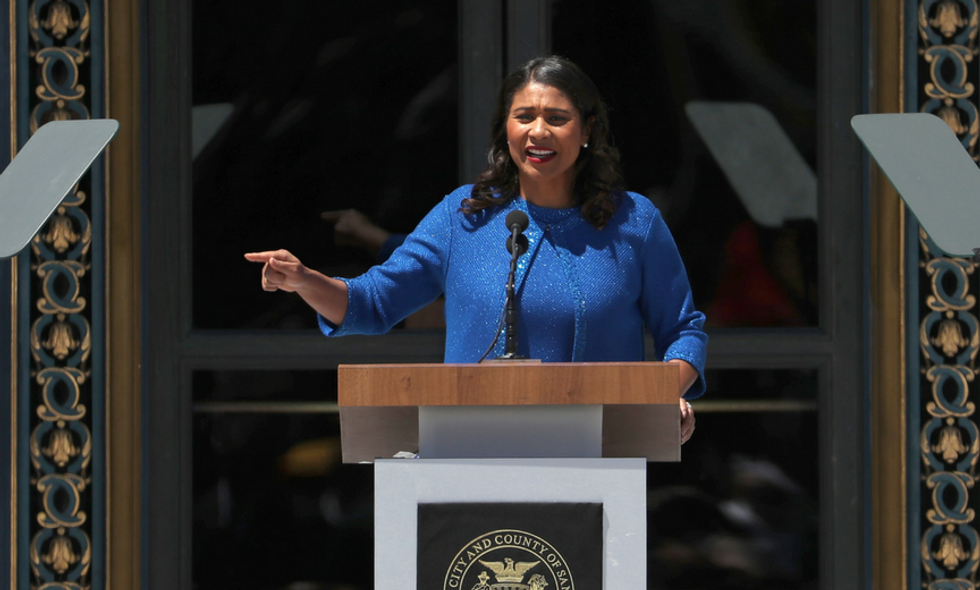 SAN FRANCISCO, CA - JULY 11: San Francisco mayor London Breed speaks during her inauguration at San Francisco City Hall on July 11, 2018 in San Francisco, California. London Breed made history after being sworn in as the first black woman to be elected as mayor of San Francisco. Breed will finish out the term of former San Francisco mayor Ed Lee who died unexpectedly last year. (Photo by Justin Sullivan/Getty Images)
San Francisco's first black female mayor, London Breed, was sworn in on Wednesday and issued a powerful message to President Donald Trump during her swearing-in speech.
Breed took aim at the Trump administration's policy of detaining the children of immigrants and asylum seekers, saying: "We are going to tell the president that here in San Francisco we don't put children in cages, we put them in the classrooms."
At her swearing-in ceremony, new San Francisco Mayor London Breed, a strong advocate of the city's sanctuary polici… https://t.co/ap3yuc72NU

— ABC News Politics (@ABC News Politics) 1531375692.0
Breed was sworn in by California's Lieutenant Governor Gavin Newsom (D).
The Trump administration's "zero tolerance" border policy, which was enacted by Attorney General Jeff Sessions in April, has resulted in thousands of migrant children being separated from their parents at the U.S.-Mexican border.
Last month, San Diego U.S. District Judge Dana Sabraw ordered the administration to reunite children under five with their families within 14 days. That deadline has passed. Hundreds of kids, many under the age of five, remain in government detention facilities. Sabraw gave a 30-day time frame for older children, but that time too has come and gone.
Numerous reports from a litany of news outlets showed immigrant children being held in cage-like enclosures inside government detention facilities across the country. Lawmakers have regularly been denied access by the Department of Homeland Security.
Twitter offered its congratulations to the new mayor and its support for her jab at the president.
@ABCPolitics Thank You and Congratulations!

— Marian Cruz (@Marian Cruz) 1531404189.0
CONGRATULATIONS, London Breed!!! So extraordinarily PROUD of, and for You!! Bravo!!

— delroy lindo (@delroy lindo) 1531373571.0
Congratulations @LondonBreed! Continue to rise and lift others up. #SanFrancisco https://t.co/OBdN7hWHb1

— Donna Brazile (@Donna Brazile) 1531399024.0
Someone even shot down a troll who tried to claim that in no U.S. city are "citizen children" locked in cages.
"We only torture children who weren't born here," one follower of Breed wrote.
@geesright1 @ABCPolitics You're right. We only torture children who weren't born here. Which I guess is an importa… https://t.co/5ZfEZo8aBJ

— 𝔻𝕒𝕟𝕪𝕖𝕝𝕝 𝕋𝕙𝕚𝕝𝕝𝕖𝕥 🍂 (@𝔻𝕒𝕟𝕪𝕖𝕝𝕝 𝕋𝕙𝕚𝕝𝕝𝕖𝕥 🍂) 1531403240.0
California freshman Senator Kamala Harris (D) said Breed represents "the best of who we are as a city, county, state, and country."
Congratulations to my dear friend London Breed on being sworn in as Mayor of San Francisco. You have always represe… https://t.co/0gxCh7raj3

— Kamala Harris (@Kamala Harris) 1531335339.0
House Minority Leader Nancy Pelosi (D-CA) also weighed in, saying Breed upholds "the values that are held so closely by our SF community: equality, inclusivity & justice."
Wishing the very best to San Francisco's @LondonBreed as she historically becomes the first Black woman to serve as… https://t.co/BU1L4llW0f

— Nancy Pelosi (@Nancy Pelosi) 1531347510.0
"We need more working-class people of color in office."
Breed's speech emphasized the importance of education and training students to be prepared to compete in the economy.
Growing up in the Western Addition neighborhood, it never seemed possible that I could one day serve as Mayor. I wo… https://t.co/pEpYpJ5vsr

— London Breed (@London Breed) 1531336254.0
"I am committed to making sure all kids in high school have an opportunity for a paid internship, for job training," Breed said, "so that they are a part of the future of this city."
Breed, a 43-year-old Democrat, grew up in public housing and served as a supervisor for San Francisco's District 5 before getting elected the Board of Supervisors in 2015. Breed became acting mayor in 2017 following the death of Mayor Ed Lee. She was elected to the mayorship in a special election on June 5.
"I've been a renter all my life," Breed added, citing her working-class roots during her speech. San Francisco has some of the highest home prices in the country, its new mayor has never been able to afford to own a home in the city she now runs.
Her speech also touched on the city's housing crisis and its growing homeless population.
@SFyimby @lindsey_brink @LondonBreed This is great news. Politics in the US is a true mess right now, but housing a… https://t.co/b6Bq1MQ2d8

— recollection refreshed (@recollection refreshed) 1531406795.0
"The politics of 'no' has plagued our city for far too long — 'not on my block, not in my backyard.' We have made mistakes in the past by not moving housing production forward all over this city. I plan to change the politics of 'no' to the politics of 'yes,'" the Breed added. "Yes, we will build more housing."
New SF Mayor London Breed: "I've been a renter all my life." That's how tough it is to own a home in the Bay Area.… https://t.co/u0EZFL2wBy

— scott budman (@scott budman) 1531335789.0
"I am excited about the future, about what we will accomplish because on this day, we are committed to rolling up our sleeves and working together," Breed said.
Keep reading... Show less