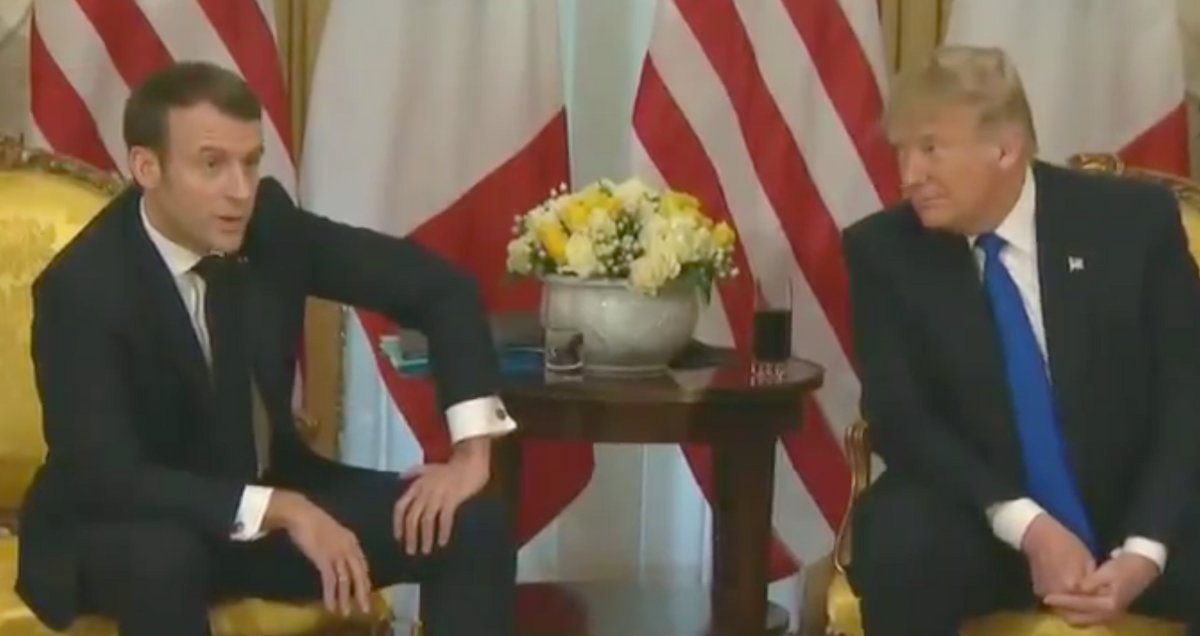 MSNBC
President Donald Trump's abrupt decision to pull U.S. troops out of Northern Syria earlier this year paved the way for Turkish fighters to invade the region, resulting in the deaths of U.S.-backed Kurdish soldiers and the escape of numerous imprisoned ISIS fighters.
The possible resurgence of ISIS came up today in a bilateral discussion between Trump and French President Emmanuel Macron at a NATO summit in London on Tuesday.
In the face of escaping ISIS militants, Trump has frequently called on European nations to take custody of militants from Europe. Trump reiterated those calls in his meeting with Macron, and the French President was having none of it.
Watch below.
French President Macron confronted President Trump over his assertion that ISIS has been vanquished from Syria and… https://t.co/7UWx9FGvN6

— POLITICO (@POLITICO) 1575390167.0
When Trump asked Macron if he'd "like some nice ISIS fighters," Macron responded:
"Let's be serious. The very last numbers of fighters on the ground are the fighters coming from Syria, from Iraq. It is true that you have foreign fighters coming from Europe, but this is a tiny minority of the overall problem we have...The number one problem are not the foreign fighters. This is the ISIS fighters in the regiment and you have more and more of these fighters due to the situation today."
Macron then alluded to Trump's decision to pull out of Syria with a complaint that "destabilization" of the Middle East hindered the suppression of ISIS fighters.
Trump conceded that France had taken custody of some ISIS militants, but responded:

"This is why he's a great politician, because that was one of the greatest non-answers I've ever heard, and that's OK."
People appreciated Macron's willingness to correct Trump to his face.
When was the last time a foreign leader publicly and in person told a #POTUS to "be serious"? https://t.co/JI3gbkEJVQ

— Bruce Mirken (@Bruce Mirken) 1575390935.0
Macron puts the gangster in his box. - #NATOEngages / #TrumpFail https://t.co/DwyWpHmJpI

— Dr. Alan T - #FilmEducation 🎥 🇮🇪 🇪🇺 🦂 (@Dr. Alan T - #FilmEducation 🎥 🇮🇪 🇪🇺 🦂) 1575390439.0
Macron schools Trump. Our President is an embarrassment https://t.co/8GQMSKG7rp

— Chris Secor (@Chris Secor) 1575394169.0
the official Parisian beat down https://t.co/zLpTxrLezJ

— paul chile mwewa (@paul chile mwewa) 1575390687.0
Wow, Macron is better able to express himself than Trump in English, despite it being Trump's native language https://t.co/PlBGiKqemA

— David Pakman (@David Pakman) 1575398815.0
What fun!! A dementia toddler discussing real issues with an intelligent adult in real time for the world to see. https://t.co/9v5mhUSusy

— Debra Ray (@Debra Ray) 1575391347.0
If you want to see how far this country has fallen on the world stage, we have the French doing what our own politi… https://t.co/1fGSwT4lFo

— Mike Nolte (@Mike Nolte) 1575395454.0
Trump later admitted that France has been "very, very helpful" in efforts to stabilize the region.
Keep reading...Show less