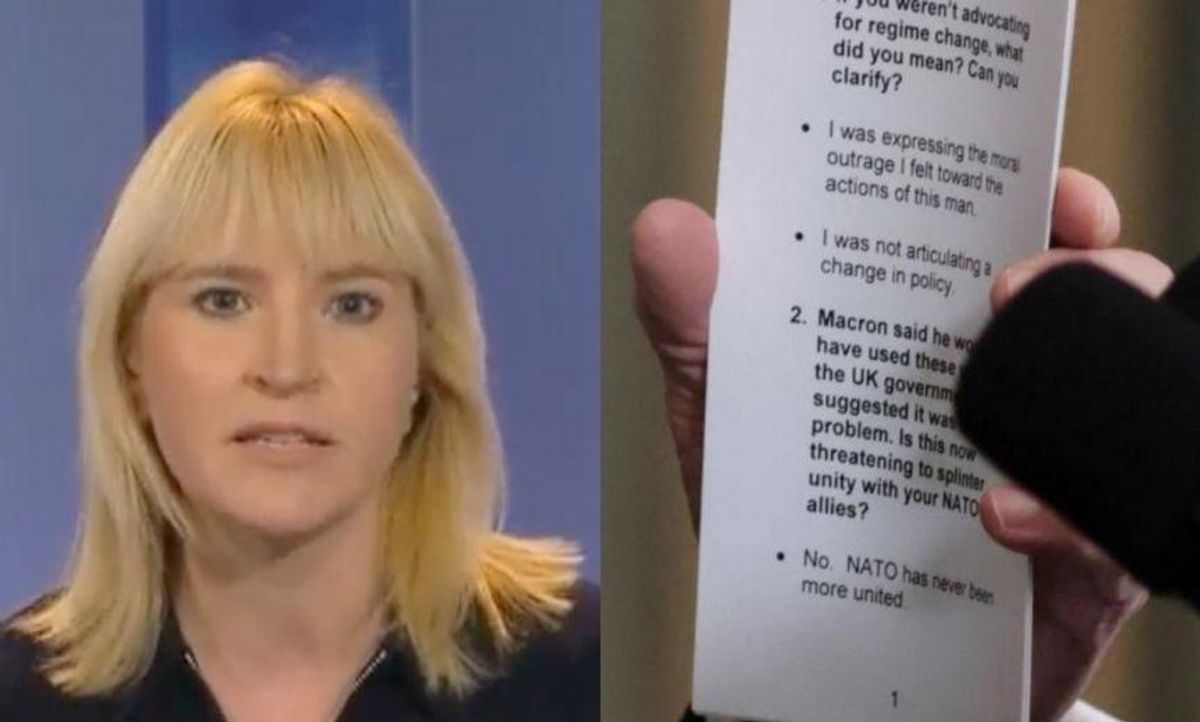 WFLA News Channel/YouTube // jacobkschneider/Twitter
President Joe Biden was met with heavy criticism from conservatives after a recent press conference.
During a rousing speech in support of Ukraine amid Russian President Vladimir Putin's ongoing invasion, Biden said of Putin, "For God's sake, this man cannot remain in power."
The comment was unplanned, and in a press conference on Monday, Biden clarified that, while he makes no apologies for the remarks, he was not calling for regime change, but expressing "moral outrage" at Putin's atrocities.
Like many public officials, Biden held a list of talking points for reference, anticipating questions regarding the remarks. The use of the "cheat sheet" prompted outrage from conservatives, including former President Donald Trump's current spokeswoman, Liz Harrington.
Harrington called for the 25th Amendment to be invoked, which would require the signatures of Vice President Kamala Harris and at least half of Biden's senior cabinet members on a statement saying the President is unable to fulfill his oath of office, sidelining him.
Harrington apparently forgot the numerous times her current boss used a cheat sheet while serving as President—and his notes, scrawled in his signature permanent marker, were far more embarrassing.
In 2018, as Trump met with traumatized survivors of American mass shootings, Trump kept a cheat sheet of empathetic statements, such as:

"I hear you."
In 2019, as Trump was facing impeachment for a damning phone call with Ukrainian President Volodymyr Zelenskyy, an eagle-eyed photographer captured Trump's talking points, one of which reminded him to say:
"They want to impeach me over acts that they did
Dems have no achomlishments [sic]'"
In 2020, as the COVID-19 pandemic and hate crimes against Asian Americans raged across the United States, Trump crossed out the "corona" in "coronavirus," replacing it with
"CHINESE"
These are but some of the many times Trump's notes were captured on camera.
If Harrington had really forgotten, social media users were quick to remind her.
Their criticisms didn't end there.
How soon they forget.