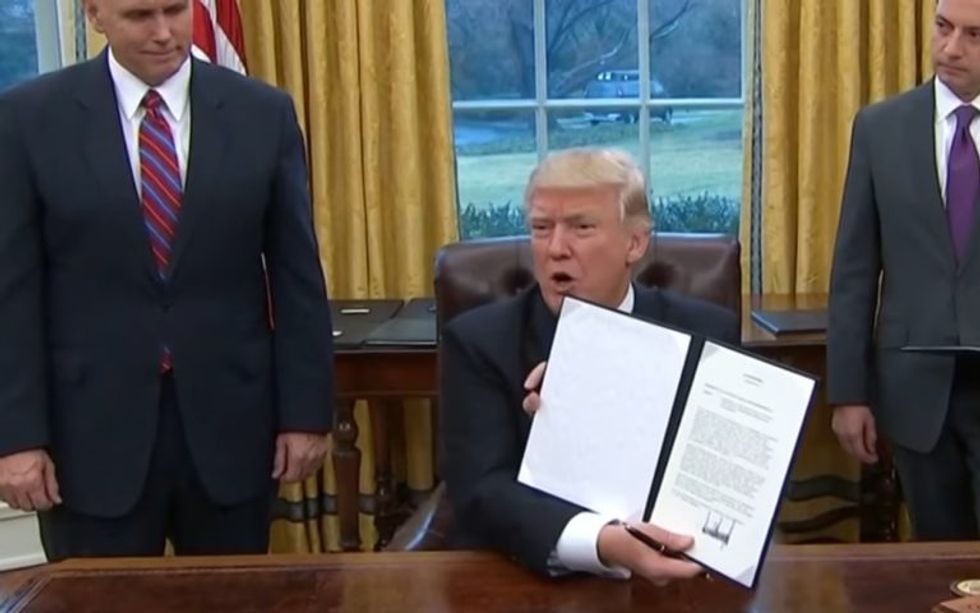 Two actions yesterday by the administration belied Trump's oft-repeated claim that he is a friend to the LGBT community.
LGBT AMERICANS INVISIBLE IN THE CENSUS
The Census Bureau announced yesterday it would not include questions related to sexual orientation or gender identity, even though an earlier draft of subjects planned for the 2020 census initially included a proposal to include sexual orientation and gender identity. But when the final report issued, these inclusions were not listed in the long-awaited document, which outlined new categories presented to Congress this week. In a statement, the Census Bureau said the report including the proposed addition of sexual orientation and gender identity was released "inadvertently" and had been "corrected" before it was sent to Congress.
"The Subjects Planned for the 2020 Census and American Community Survey report released today inadvertently listed sexual orientation and gender identity as a proposed topic in the appendix," the statement reads. "The report has been corrected."
The National LGBTQ Task Force has published an unredacted copy of the report (read it HERE) and posted a photograph of the initial report and the redacted one which followed it.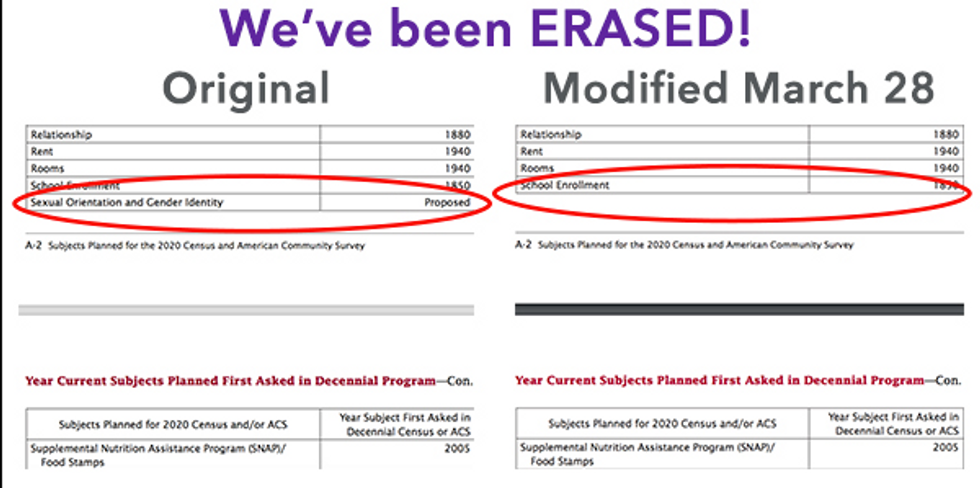 Credit: Source.
LGBT advocates had pressed for the inclusion of the questions. The census, conducted every ten years since 1790 to collect population demographics, has never included questions about sexual orientation or gender identity, even though the census had first tallying same-sex unmarried couples in 1990. Until the now corrected draft, there had never been specific questions aimed at identifying LGBT individuals.
Meghan Maury, criminal and economic justice project director at the National LGBTQ Task Force, issued a sharp rebuke, calling the latest move by the Trump administration an attempt "to deny LGBTQ people freedom, justice, and equity."
"LGBTQ people are not counted on the Census ––no data is collected on sexual orientation or gender identity," Maury said. "Information from these surveys helps the government to enforce federal laws like the Violence Against Women Act and the Fair Housing Act and to determine how to allocate resources like housing supports and food stamps. If the government doesn't know how many LGBTQ people live in a community, how can it do its job to ensure we're getting fair and adequate access to the rights, protections and services we need?"
In an indication the Trump administration's decision could face legal challenges, Jennifer C. Pizer, law and policy director at Lambda Legal, promised to take action.
"Social science researchers, health professionals, educators, and so many others striving to meet the needs of our communities for years have been decrying the lack of population-based data about who and where we are, the elevated rates of poverty we endure, and other serious challenges," she said. "This is an assault on science as well as on a uniquely vulnerable group of Americans. It only strengthens our determination to be visible and counted in our communities, in town halls, in the streets, and in courtrooms nationwide. We number in the millions and we aren't going back."
The Census Bureau is required by law to submit its planned subjects for the survey three years in advance. Congress will receive actual questions for the survey by March 31, 2018.
"Our goal is a complete and accurate census," Census Bureau Director John H. Thompson said. "In planning for the 2020 Census, the Census Bureau has focused on improving its address list by using imagery, finding ways to increase household self-response, leveraging resources inside and outside the government, and making it easier and more efficient for census takers to complete their work. Furthermore, for the first time ever, the decennial will offer an online response option with the ultimate goal of improving question design and data quality while addressing community concerns."
LGBT WORKPLACE DISCRIMINATION
On Monday, President Trump signed an executive order that revoked prior orders that provided anti-discrimination protections for  federal LGBT employees. Specifically, the president's decree revokes three previous orders signed by former President Barack Obama, including Executive Order 13673, the "Fair Pay and Safe Workplaces Order."
Credit: Source.
Obama's order required large federal contracts be able to demonstrate that they have complied for at least three years with 14 federal laws and regulations. Several of these laws prohibit discrimination based on sexual orientation, gender stereotyping or gender identity, including Title VII of the Civil Rights Act, which prohibits discrimination based on sex in employment, and the Americans with Disabilities Act and the Rehabilitation Act, which prohibit discrimination based on HIV status and other disabilities.
By removing the requirement that federal contractors demonstrate that they have not violated these federal laws, "[t]his administration has made it extremely difficult to enforce these federal laws as applied to federal contractors," Camilla Taylor, a Lambda Legal attorney, said. "It's sending a message to these companies that the federal government simply doesn't care whether or not they violate the law."
Taylor vowed Lambda would utilize its resources to "make sure companies understand their obligation not to discriminate."
Keep reading...Show less