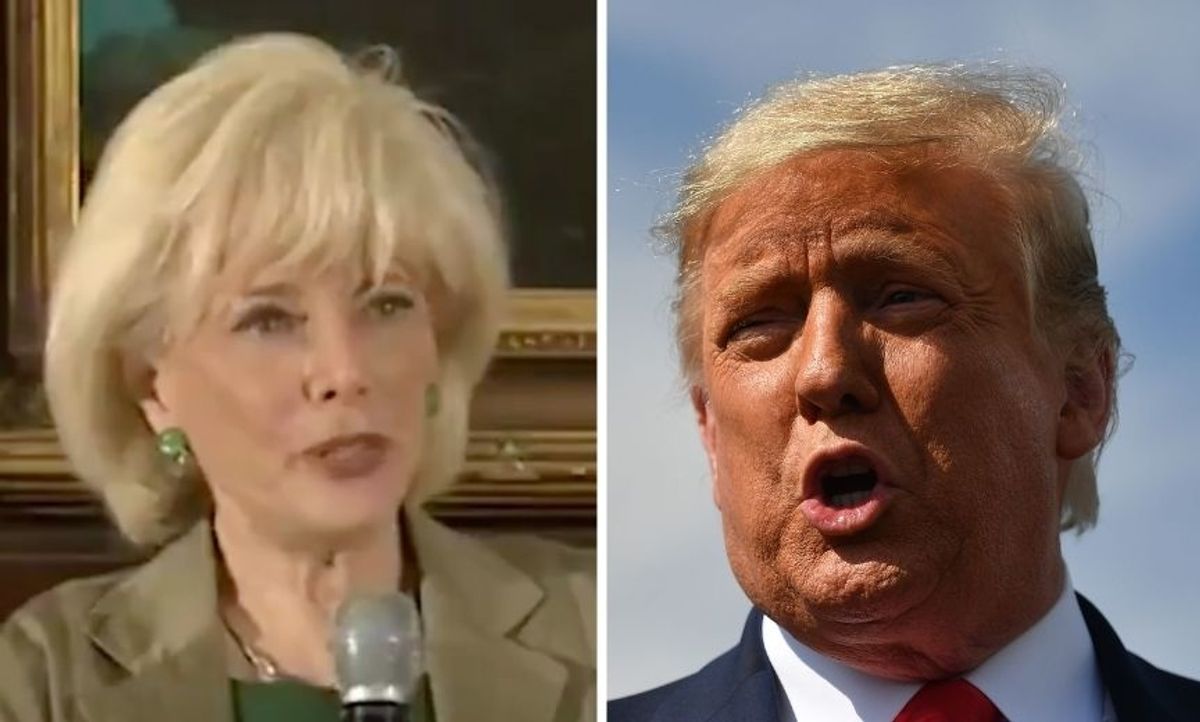 NowThis // MANDEL NGAN/AFP via Getty Images
CBS Journalist Lesley Stahl has been in the business for nearly 50 years, with decades under her belt reporting for CBS' 60 Minutes.
On Tuesday, news broke that President Donald Trump had abruptly ended an interview with Stahl at the White House, after reportedly objecting to her line of questioning after 45 minutes.
Trump seemed to confirm the reporting in a bizarre series of Twitter attacks against the veteran journalist.

The President first tweeted a six second video of Stahl not wearing a mask, though the New York Times reported Stahl was wearing a mask for nearly the entire interaction except for the interview portion.

The video tweeted by Trump shows Stahl in the immediate moments after the interview.
He then threatened to release the interview early, citing "the sake of accuracy in reporting."
White House Press Secretary Kayleigh McEnany also tweeted a picture of her handing Stahl a book purportedly containing "just a small part" of what the President has done for healthcare.
McEnany claimed Stahl was amazed.

Stahl is the latest target of a years-long string of attacks from Trump and his allies against the press. Trump's Twitter screed against her came just weeks after Trump cast aspersions on CNN's Kristen Welker and NBC's Savanna Guthrie, calling the latter a "crazed lunatic."
But a resurfaced video from 2018 largely explains why Trump attacks the press so frequently—and it's from a story recounted by Stahl herself.
Watch below.

Stahl described meeting Trump in his office after the 2016 election, where he continued berating the press even when there were no cameras, just him, Stahl, and a CBS producer in the room.
Stahl claimed she admonished Trump for his constant derision toward the free press and asked him the reason for it.
According to Stahl, Trump said:

"You know why I do it? I do it to discredit you all and demean you all so that when you write negative stories about me, no one will believe you."
People weren't surprised.
People pushed back against Trump's Twitter attacks on Stahl.
It's unclear what happened in the interview to prompt such an attempt to preemptively discredit Stahl—an attempt not just from the President but the White House press secretary as well.
The interview is set to air Sunday, unless Trump shares it first.