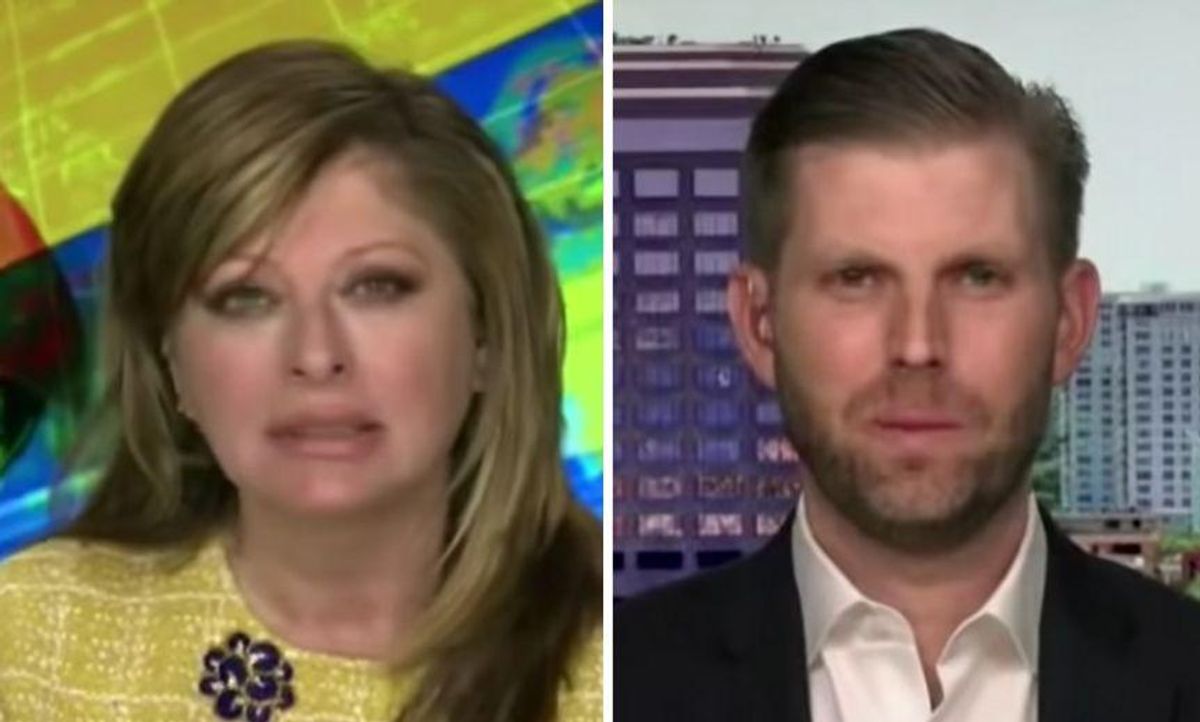 Fox News
During the 2016 presidential campaign, then-candidate Donald Trump insisted that he wouldn't "have time to play golf" because he'd be busy working for the American people.
But over the course of his four years in office, former President Donald Trump played golf or visited one of his golf courses almost 300 times in just over 200 weeks.
Trump assured people that he was networking on the links and that they could be counted as working.
With President Joe Biden now in office, Republicans are deeply concerned that he's taking too much leisure time, visiting his home in Delaware for the fifth weekend in over nine weeks as President.
Far-right Fox News host Maria Bartiromo—currently in litigation for broadcasting lies about the 2020 election—interviewed one of Trump's sons, Eric Trump, who also serves as an executive for the Trump Organization.
Watch below.
Fox News host complains to Eric Trump about Biden's weekend trips to Delawareyoutu.be
Bartiromo said:

"It's worth noting that Biden spent this weekend in Delaware, his fifth trip home since becoming President. That's his sixth weekend away from the White House. We're not even a hundred days in. Your reaction to this new administration, Eric?"

Trump's son responded:
"I don't know where to begin. It's heartbreaking to us. I know how much time and effort my father put into the job."
It's worth noting that Trump golfed at least 19 times in the first 100 days of his Presidency, compared to only one time from his predecessor—former President Barack Obama, zero times from the 43rd President George W. Bush, and seven times from the 42nd President Bill Clinton.
People didn't hesitate to remind Eric Trump of his father's leisure record.
At this point in his presidency, Eric's dad had already made 35 visits over 21 days to five separate Trump properties that he still owned and profited from as president.

But, yes, please tell me more about Biden going to his house in Delaware. https://t.co/FkdYpBNDoY
— Robert Maguire (@RobertMaguire_) March 29, 2021
After repeatedly promising never to do so,...Trump went golfing NINETEEN times in his first 100 days. https://t.co/1YCMSRTC68

— Roshan Rinaldi (@Roshan Rinaldi) 1616976048.0
Trump has visited one of his propertylied on 428 days of his presidency, or one visit every 3.4 days. Unlike a t… https://t.co/NkTnvcGt1E

— pwithm11 (@pwithm11) 1616958309.0
The former guy had 19 golf outings in his first 100 days that's almost one every five days and President Biden goin… https://t.co/QtLdIHrjzP

— #MakeAmericaAmericaAgain - #MAGA is killin' us (@#MakeAmericaAmericaAgain - #MAGA is killin' us) 1616965618.0
They mocked the pair for their attempt at calling out Biden.
Comedy hour at the Laugh Factory https://t.co/49Ev9SViah

— Chetto (@Chetto) 1617007875.0
"I don't even know where to begin Maria. He's not using these trips to line his pockets. It's a wasted opportunity." https://t.co/dHtZwQVs1b

— David Barrett (@David Barrett) 1617030039.0
If you watch Fox News, your goal is complete ignorance. They don't even pretend anymore. Biden's orphaned grandchil… https://t.co/eWER8xZqfs

— ShellyGivan, RN, TNCC (@ShellyGivan, RN, TNCC) 1617012637.0
Fortunately, no one has to monitor Trump's leisure anymore.