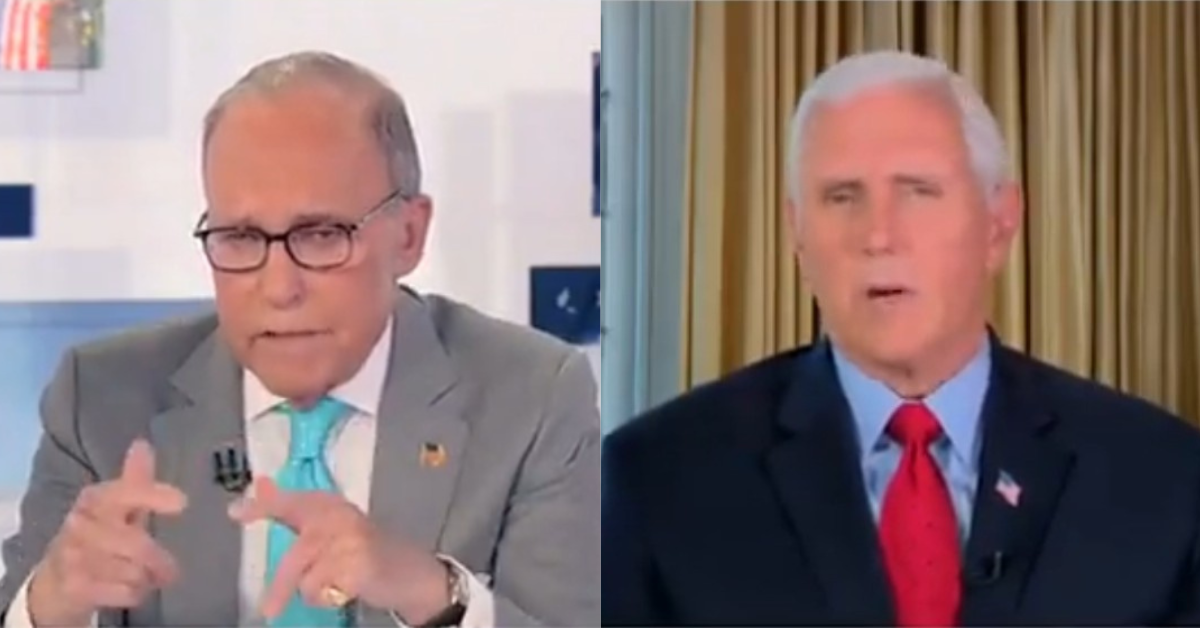 Fox Business
Former Republican Vice President Mike Pence spoke with Fox Business host Larry Kudlow on Monday.
Kudlow made some dubious comments about Democratic President Joe Biden then asked Pence if he'd ever seen a President who "commits so many falsehoods."

You can see the excerpt here:
Kudlow who served as former Republican President Donald Trump's Director of the National Economic Council said:
"Have you ever seen a President who refuses to accept blame, and I want to add to that, commits so many falsehoods?"
"I'm being very polite here, calling it falsehoods—falsehoods, you know, on any given day."
"He's out there saying stuff that just ain't true. Have you ever seen anything like that?"
Pence who has indicated he has his eyes on the Oval Office in 2024 but still publicly supports Trump, responded:
"Never in my lifetime."
"I said today that there has never been a time in my life where a President was more disconnected from the American people than we see today."
People were left wondering where Pence and Kudlow were from January 20, 2017 - January 20, 2021—Trump's tenure as President.
Presidential candidate Trump lied so often during his campaign that major news organizations in the United States and internationally set up fact checking and lie tracking apparatus to handle the volume.

As stated by one of Canada's largest newspapers, The Toronto Star, they decided the President's "outright lies, misinformation or ignorance of facts" would be a "major story of the Trump presidency."
Scales were created to express the size or scale of the Trump lies—from slight spin to complete falsehoods withno basis in reality.
The Washington Post—which put Trump's total lie count as he left office at over 30,573—developed the Pinocchio scale and eventually went with bottomless Pinocchios for the complete falsehoods Trump repeated over 20 times.
Apparently Kudlow and Pence missed them all.