While sitting on a Davos panel, Senators Kyrsten Sinema and Joe Manchin high fived to celebrate their continued opposition to ending the filibuster.
18 January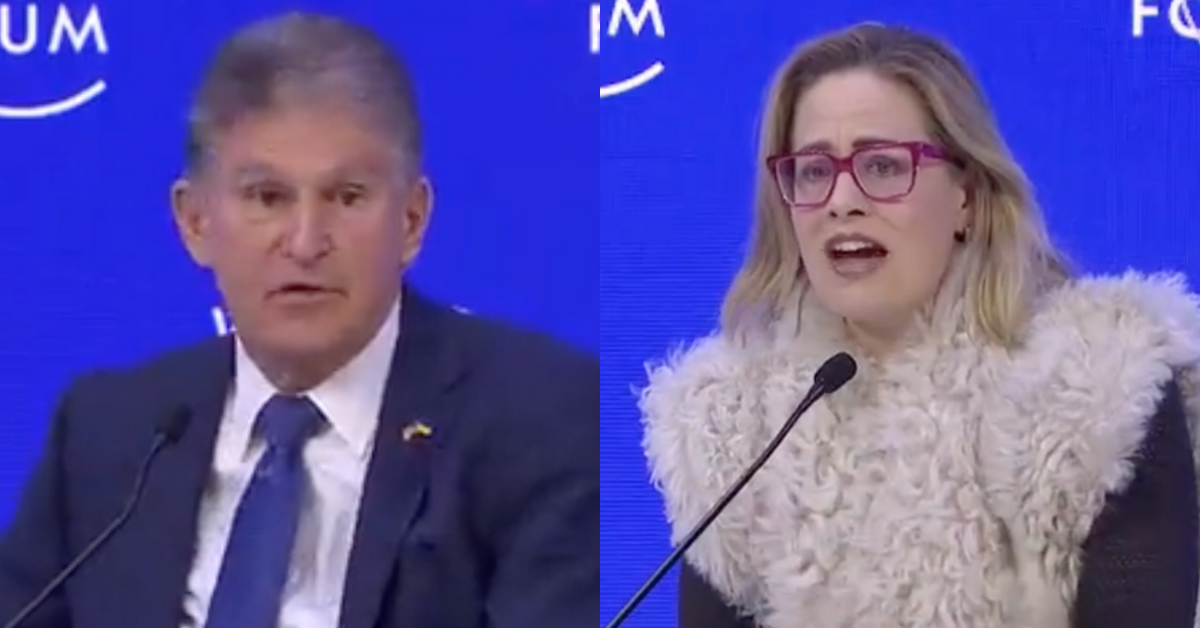 @theinformantofc/Twitter; @therecount/Twitter
West Virginia Democratic Senator Joe Manchin and Arizona Independent Senator Kyrsten Sinema high-fived over their efforts to block Senate filibuster reform while onstage during the World Economic Forum in Davos, Switzerland.
The two politicians high-fived after Manchin proudly declared that they "still don't agree" with Democrats in the Senate "on getting rid of it."
Before that, Manchin argued against the First Amendment, saying "the problem" the United States has "is the open press system and basically all platforms."
Sinema complained that high levels of partisanship are "not healthy for democracy" and said that contrary to suggestions that there members of Congress who were "reluctant" to work together—at this point she gestured to Manchin—she said she feels their relationship formed "the basis of the productivity for some incredible achievements."
You can hear what Manchin said in the video below.
You can hear what Sinema said—and see the high-five at the end of her remarks—in the video below.

Manchin said:
"The problem we have is the open press system and basically all platforms, so if you're able to have five platforms, social platforms, that you can basically [use to] personify the extremes, somebody who is extremely right and extremely left, and it seems like that is the majority is speaking... they're not the majority."
"But they're basically driving everybody to make a decision. What side are you on? Are you on this side or this side?"
"And in America, there's only one side: the American side. It's not the Republican side or Democrat. We should be coming together to solve the problems from a different angle."
Sinema reiterated Manchin's thoughts on partisanship, saying:
"They go 'My way or the highway.' [Former House Speaker Nancy] Pelosi did it. [House Speaker Kevin] McCarthy's doing it. This is not healthy for democracy."
"So I think this is an opportunity for us a country to look back and say, 'Is this partisanship serving us?' I would posit to you that it's not."
"While some would say that there were reluctant folks working in Congress in the last two years, I would actually say that was the basis for the productivity for some incredible achievements that made a difference for the American people in the last two years."
It was at this moment when they high-fived.
The clip of the moment quickly went viral and exposed both politicians to scathing criticism.
Manchin and Sinema angered millions last year for their refusal to support abolishing the filibuster.

Manchinin in particular refused to back the "Build Back Better" agenda, an effort by House and Senate Democrats to codify much of their economic and social policy via a major spending bill.
Manchin said he was opposed to abolishing the Senate filibuster as a workaround to increasing the nation's borrowing limit, dealing a blow to more progressive members of Congress who have suggested it as a viable path forward. He also nearly tanked the bill after he voiced his opposition to a widely popular provision mandating paid family leave.
Democratic President Joe Biden met with Manchin and Sinema several times to hear their concerns, meetings that no doubt contributed to the plan being slashed considerably.
While elements from "Build Back Better" would later be incorporated into the Inflation Reduction Act of 2022, Democrats largely accepted that Manchin and Sinema's opposition meant the bill was dead on arrival despite Biden's vocal support for abolishing the filibuster.
Voting rights took center stage afterward amid widespread concerns about Republicans' continued parroting of former Republican President Donald Trump's "Big Lie" that the 2020 general election was stolen from him and efforts in GOP-led states to limit the ability of their constituents to exercise their right to vote.
However, both Manchin and Sinema actively blocked Democrats' attempts to pass comprehensive voting rights legislation and saw no irony in their refusal to abolish the filibuster, which has historically often used to block racial equity in the United States much as it's been used today to stop the passage of voting rights, which would significantly help communities that have historically been denied access to the voting booth.