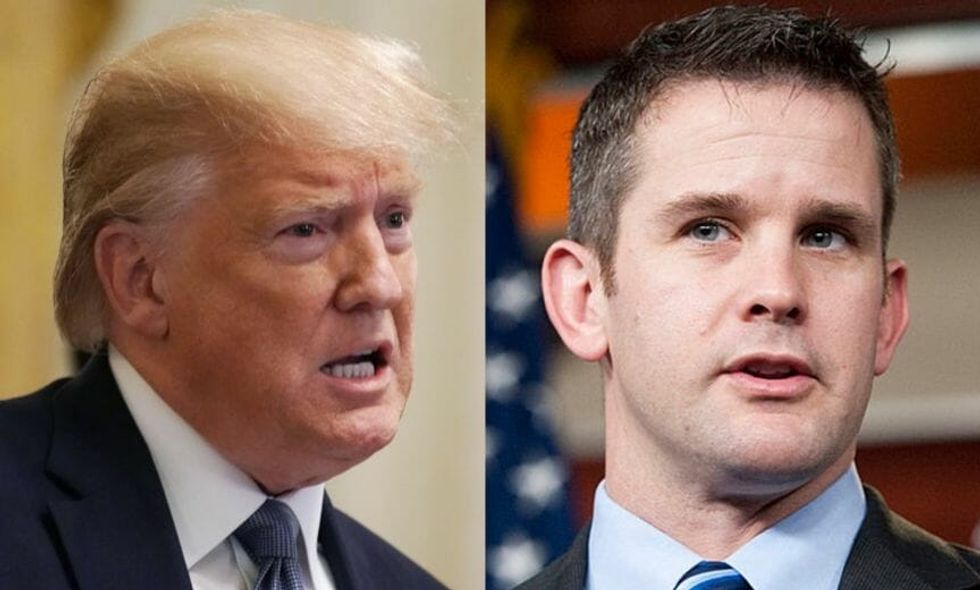 Chip Somodevilla/Getty Images // Bill Clark/CQ Roll Call via Getty Images
Until President Donald Trump's decision to abandon Kurdish allies to—who were crucial in U.S. efforts to contain ISIS—to Turkish aggression, Republicans were hesitant to ever speak out against him.
The decision to withdraw U.S. troops from Northern Syria led even the most devout of Trump's allies like Senator Lindsey Graham (R-SC) and Congresswoman Liz Cheney (R-WY) to speak out against the decision. However, few if any, Republicans who spoke out against the decision were brave enough to tag Trump's Twitter account in their objection.
@SenatorRomney So @SenatorRomney, as a certified account holder, I'm pretty sure you know when you tag @POTUS the l… https://t.co/gtWinobUu3

— Brian Sims (@Brian Sims) 1570736407.0
That changed today when Congressman Adam Kinzinger (R-IL) tagged the President's account in a tweet decrying the decision as "weakness" and beneath the honor of the United States.
Kinzinger was replying to a tweet that implied the Kurds could be deliberately releasing ISIS prisoners in their custody in an effort to get the United States involved.
I just.... i mean.... what? @realDonaldTrump I thought you were going to defeat ISIS, that is why people voted for… https://t.co/mYkETrrNwM

— Adam Kinzinger (@Adam Kinzinger) 1571058220.0
People applauded Kinzinger's willingness to call the President out directly. Soon, #SayHisName was trending on Twitter.
Bravo. Other Republicans should #SayHisName, just like this. https://t.co/RimCgUFMLC

— George Conway (@George Conway) 1571062209.0
@RepKinzinger @realDonaldTrump Long overdue but we'll take it. More of this from Republicans, please. #SayHisName… https://t.co/8kFcVBySxo

— Holly Figueroa O'Reilly (@Holly Figueroa O'Reilly) 1571065124.0
Bravo, sir, for having the courage to stand up to him and #SayHisName. I wish more of the @GOP would find their voi… https://t.co/aPc76Ue5VZ

— AB Trebing (@AB Trebing) 1571066150.0
Keep speaking out @RepKinzinger Where are the rest of your GOP colleagues? #SayHisName @Honestly_Tara https://t.co/65luLVgEos

— Tara Setmayer (@Tara Setmayer) 1571063278.0
Meanwhile, others continued to call out Republicans who criticized the decision without criticizing the President who made it.
Dear Republican leaders, #SayHisName! Here's a hint... it rhymes with grump. (Feel free to add to the hints) Sincerely, The Resistance

— Angela Belcamino (@Angela Belcamino) 1571072184.0
hey @GeraldoRivera your forgot to tag the person responsible for all of this: @realDonaldTrump #SayHisName… https://t.co/dxnaA3LFzi

— Tonya B (@Tonya B) 1571065566.0
#SayHisName or you own this too https://t.co/aCWfVMLVEp

— Menace to Sobriety (@Menace to Sobriety) 1571001089.0
.@realDonaldTrump your friend @marcorubio has some thoughts for you and Your failed foreign policy. #SayHisName https://t.co/ZWMpEfCLZM

— Don "Do Us A Favor, Though" Williamson (@Don "Do Us A Favor, Though" Williamson) 1571069776.0
Instead, many GOP leaders have made sentiments like "we can only hope" things work out for the Kurds or, astoundingly, that Democrats' focus on impeachment is to blame.
Their tactics don't appear to be working.
Keep reading...Show less