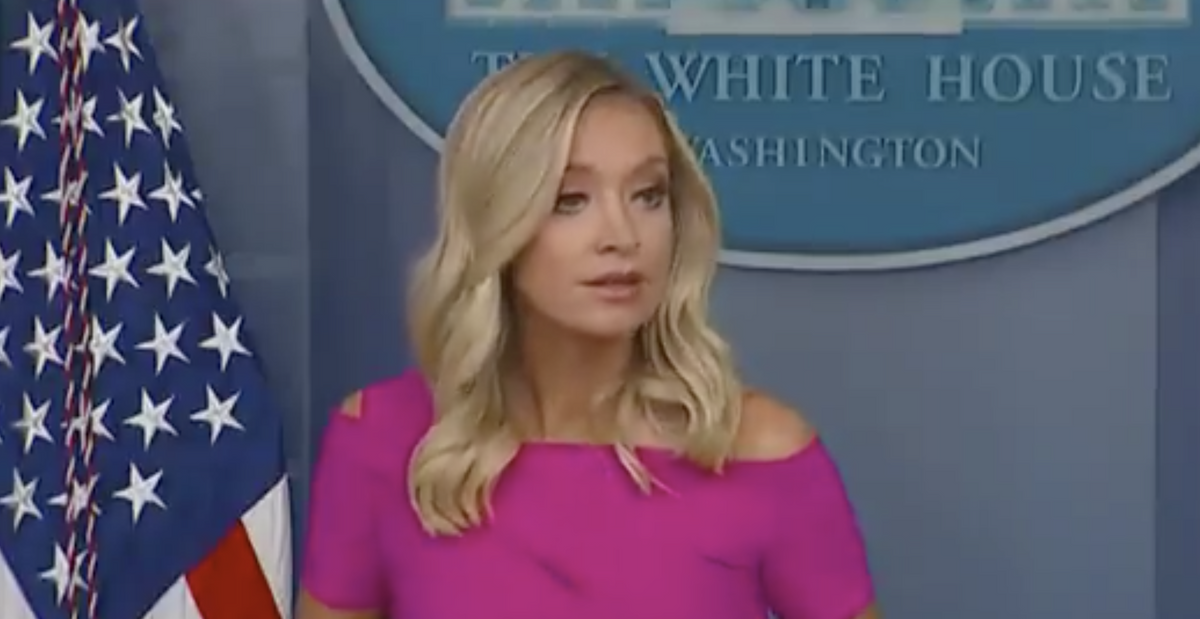 Fox News
President Donald Trump's fourth White House Press Secretary—Kayleigh McEnany—took the podium for her first briefing (and the first White House Press Briefing in over a year) early last month.
She began with a pledge never to lie to the White House correspondents or to the American people. Given that McEnany's job is to defend a man who's made a documented 18,000+ "false or misleading claims" since his inauguration, people took the pledge with a grain of salt.
Sure enough, McEnany proceeded to tell multiple lies minutes later.
Now, her most recent briefing on Monday afternoon indicated that she had no intentions of stopping.
McEnany was addressing the President's use of the term "Kung Flu"—a racist nickname for the virus that's upended daily life in the United States—at his rally on Saturday night.
Watch him use the term below.
According to McEnany however, the President doesn't use the term.
McEnany said:

"The President doesn't [use the term]. What the President does do is point to the fact that the origin of the virus is China. It's a fair thing to point out as China tries to ridiculously rewrite history."
People instantly recalled the Press Secretary's first-day promise as she denied to reporters that the President used the term, despite him repeating it to cheers from his supporters at the rally.
The exchange is even more notable when the context is considered.
CBS News White House correspondent Weijia Jiang was the one to ask McEnany the question about Trump's use of the term.
The words "Kung Flu" came to national attention in March when Jiang, who is Chinese American, said on Twitter that a White House official used the term in her presence.
White House officials immediately began implying that Jiang was lying, and Presidential Counselor Kellyanne Conway demanded that Jiang reveal the official who said this to her, calling the usage "wrong" and "hurtful."
Watch below.

Only three months later, Trump would be using it onstage at his rally.
While McEnany insisted that Trump was just highlighting that the virus originated in China, Jiang rightly pointed out the spike in hate crimes against Asian Americans correlating with Trump's usage of terms like "Chinese virus" and other differentiations from the virus's scientific name.
PBS News Hour correspondent Yamiche Alcindor and others asked McEnany to elaborate on the comments as well, to no avail.

People noticed.
Jiang recently exchanged tense words with Trump at a White House briefing where he told her to "ask China" about the virus.