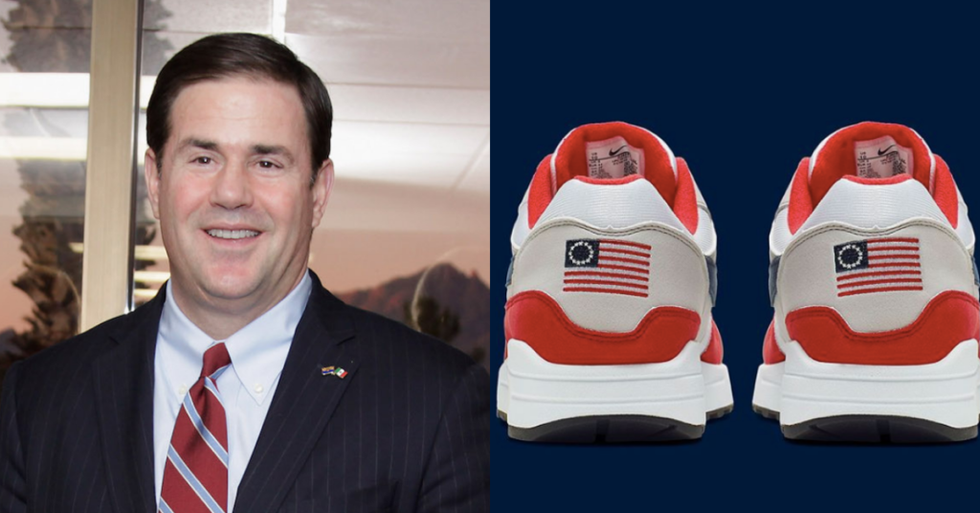 Mike Moore/Getty Images for Leisure Opportunities; Nike
Different symbols mean different things to different people. Unfortunately, a symbol can become coopted to represent hate. So it was with the swastika, a symbol once used in Asia and the Americas but largely abandoned after becoming the emblem of the Nazi party in the early 20th century.
White supremacists in the United States also coopted symbols as emblems of their hate groups. One such symbol is the "Betsy Ross" flag. Created around the time of the American Revolution, it is now used as a symbol by some White supremacists like the Confederate battle flag.
When Nike designed an Independence day shoe, they incorporated the Betsy Ross flag. However a number of activists in the civil rights movement, including Nike spokesperson Colin Kaepernick, alerted Nike to the flag's ties to White supremacy.
Nike made the decision to pull the shoe from stores.
Not everyone responded favorably to Nike's decision.
Republican Governor Doug Ducey of Arizona went as far as removing his state from consideration for a new Nike facility. In a series of Twitter posts, Ducey explained his decision.
People pointed out why Nike made the decision they did.
Governor Ducey was not alone in trying to curry political favor by criticizing Nike's decision.
Neither Nike nor the man being blamed by conservatives, Colin Kaepernick, has yet addressed the controversy.
To learn more about the mindset of White supremacy, the book Rising Out of Hatred: The Awakening of a Former White Nationalist, is available here.
Keep reading...Show less