He doesn't care about the law.
09 April 2019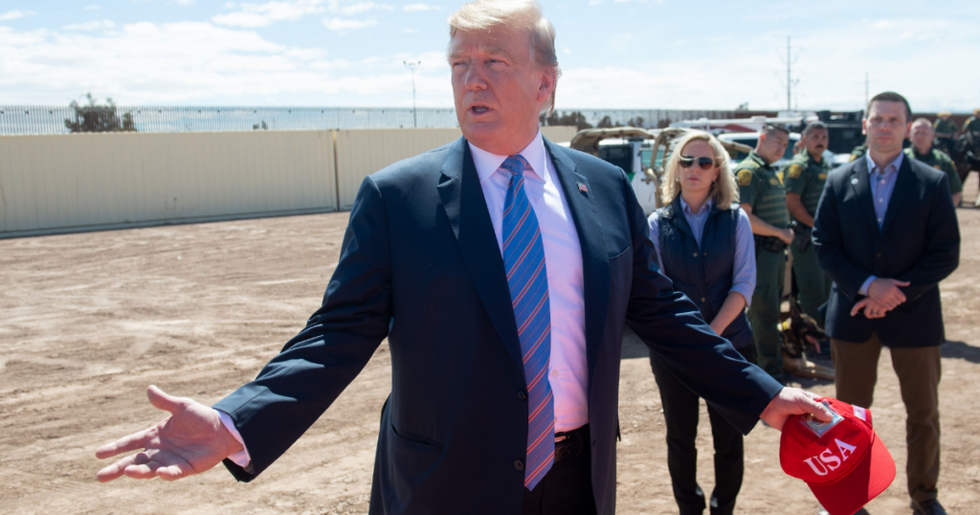 US President Donald Trump speaks with members of the US Customs and Border Patrol as he tours the border wall between the United States and Mexico in Calexico, California on April 5, 2019. - President Donald Trump landed in California to view newly built fencing on the Mexican border, even as he retreated from a threat to shut the frontier over what he says is an out-of-control influx of migrants and drugs. (Photo by SAUL LOEB / AFP) (Photo credit should read SAUL LOEB/AFP/Getty Images)
President Donald Trump reportedly instructed border agents to stop all migrants from entering the United States after he declared that "our country is full" during a visit to Calexico, Calfornia last week.
"This is our new statement- the system is full," Trump proclaimed on Friday. "We can't take you anymore. Whether it's asylum or anything you want – illegal immigration – we can't take you anymore. Our country is full. Our area is full. The sector is full. Can't take you anymore, I'm sorry. Turn around. That's the way it is."
CNN's Jake Tapper said Monday that two sources revealed to him that Trump tried to pressure them into blocking anyone from crossing the border.
"Tell them we don't have the capacity," Trump allegedly said to the agents. Trump also encouraged agents to defy the courts, adding that if "judges give you trouble, say, sorry judge, I can't do it, we don't have the room."
Sources told Tapper that after Trump left the room, the president's homeland security chiefs explained to the agents that they had to follow the law, which Trump ordered them to break.
Furthermore, over the last four months, Trump has "been pushing his administration to enforce a stricter and more widespread family separation policy," even though Trump last summer signed an executive order ending the cruel practice.
Now, however, Trump "wants an expanded version of this policy," Tapper reported, even if families "come in at a legal port of entry... are legal asylum seekers... even if they are apprehending within the United States."
Seeking asylum in the United States is legal and must be allowed, per international law.
Administration officials informed Tapper that prior to her ouster on Sunday, Homeland Security Secretary Kirstjen Nielsen, along with Health & Human Services Secretary Alex Azar, refused to comply with Trump's demands because of the various legal constraints. Others tried to explain to Trump that ripping families apart - again - would be an "unmitigated PR disaster."
Trump "just wants to separate families," one senior administration official told Tapper.
Trump's lawlessness is escalating.
@jaketapper @Harryslaststand The rule of law means nothing to Trump, or his apes. 😐

— Sheik Yah bouti (@Sheik Yah bouti) 1554685519.0
@jaketapper Doesn't the President swear an oath to faithfully execute the laws of the United States? Telling border… https://t.co/U7eHlONJg7

— Freddie Johnson (@Freddie Johnson) 1554680398.0
@jaketapper If he gives an illegal command, they are not obligated to follow it. In fact, I think they have a duty… https://t.co/fT6n1cD1n4

— RFriend2012 (@RFriend2012) 1554686252.0
@jaketapper Those of us with sense know that border agents try to follow the law. Fraud trump cannot be expected t… https://t.co/edZdZBUX5S

— Norman Dong (@Norman Dong) 1554744939.0
Are people surprised though?
So much for the "law and order" candidate.
@jaketapper hold on, let me put on my shocked face

— Mexican Joker (@Mexican Joker) 1554677048.0
@jaketapper Straight from the Declaration of Independence, regarding one of many of King George III's repeated inju… https://t.co/K5tEzVMbxM

— Dr. Jack Brown (@Dr. Jack Brown) 1554775843.0
@jaketapper When law and order means ignoring the law.

— Ben Randle (@Ben Randle) 1554678582.0
@jaketapper Since when did he show respect for the law....moral or otherwise?

— Mary Walters (@Mary Walters) 1554699791.0
@jaketapper Nothing more than Trump racism. He began when he came down the escalator at Trump Tower & called Mexica… https://t.co/S7z4reSuJ3

— Howard Prince (@Howard Prince) 1554758987.0
On Monday it was reported that White House aide Stephen Miller, an outspoken white nationalist, is now overseeing the administration's immigration policies.
Thus, people are concerned about what might be coming down the road.
@jaketapper Does he wants them to shoot asylum seekers? Because that's where this is headed

— Winston (@Winston) 1554702953.0
@jaketapper So, who's stopping the wrecking ball operator?

— StandUpAgain! (@StandUpAgain!) 1554691224.0
@jaketapper @conniewhitehome Seriously folks, trump's 'Teflon Don' attitude is beyond 'it's just trump.' There's… https://t.co/fWEBvGQ7X1

— Dale 'you got some splainin to do' (@Dale 'you got some splainin to do') 1554777799.0
@jaketapper LAWS Never Stop @realDonaldTrump from doing whatever he wants. NOW he owns the @GOPSenate & 2/9ths of… https://t.co/4KmUlKpPqV

— Nic (@Nic) 1554680868.0
Every day we stray further from being the shining city on the hill.
Keep reading...Show less