Karma may just come back to bite her.
07 December 2017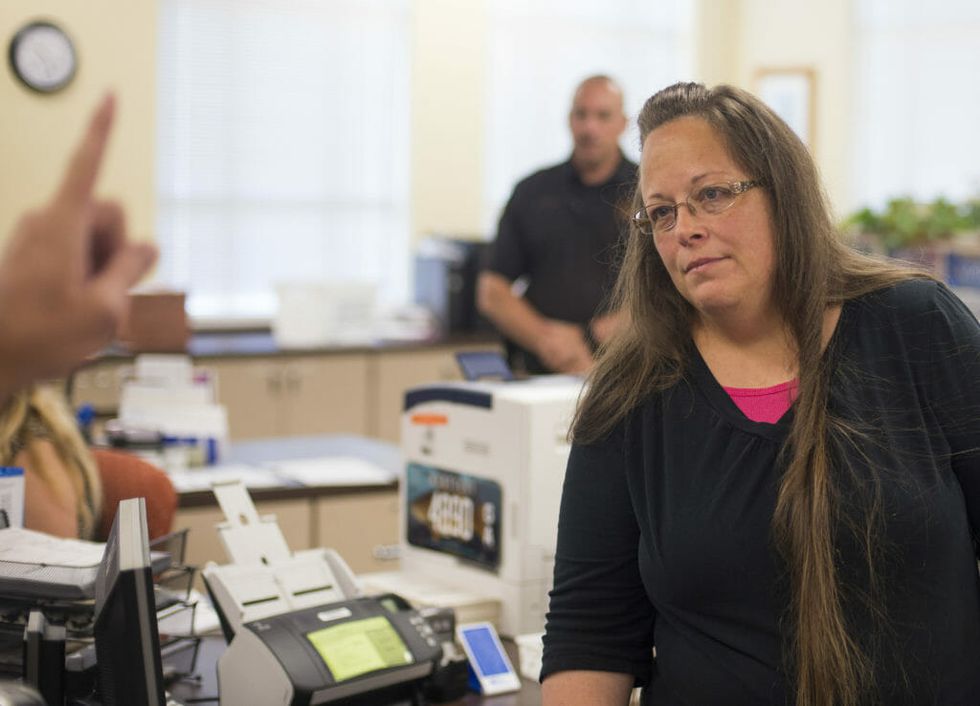 MOREHEAD, KY - SEPTEMBER 2: Kim Davis, the Rowan County Clerk of Courts, listens to Robbie Blankenship and Jesse Cruz as they speak with her about getting a marriage license at the County Clerks Office on September 2, 2015 in Morehead, Kentucky. (Ty Wright/Getty Images)
A gay man who was twice denied a marriage license by Kim Davis has decided to run against her for county clerk. David Ermold, who teaches English at the University of Pikeville, announced he plans to run against Davis for the position of Rowan County Clerk in Kentucky.
Reporters with The Associated Press joined Ermold and his husband as he filled out the paperwork to run for office. Davis sat across from him:
Davis smiled and welcomed them, chatting with them about the state retirement system and the upcoming Christmas holiday. She made sure Ermold had all of his paperwork and signatures to file for office, softly humming the old hymn 'Jesus Paid It All' as her fingers clacked across a keyboard.

"When it was over, she stood and shook hands with Ermold, telling him: 'May the best candidate win.' "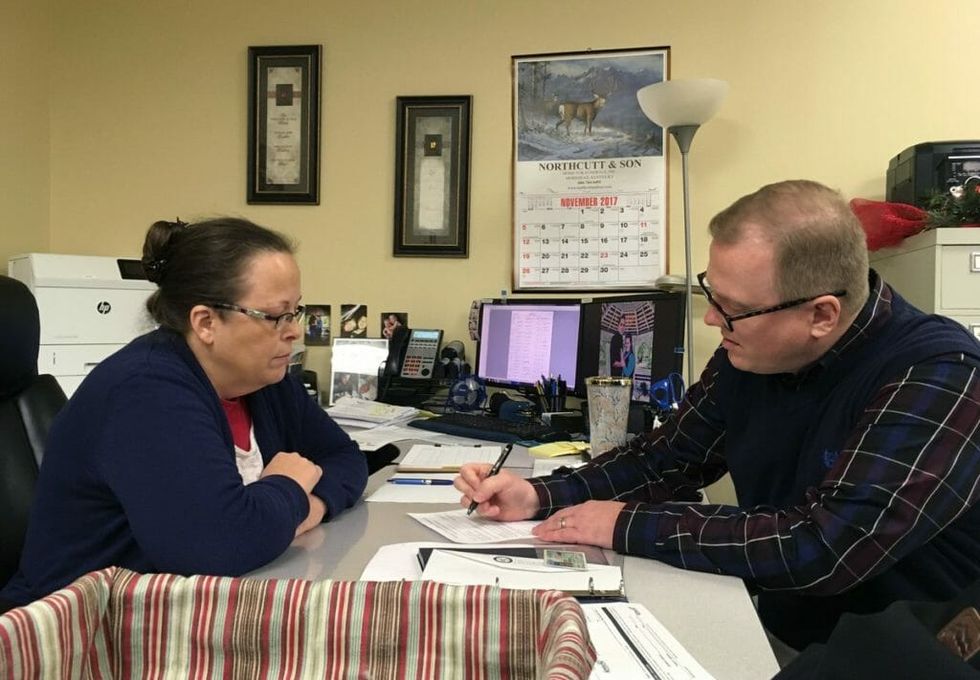 Kim Davis looks on as David Ermold fills out his paperwork confirming his decision to run for her position in the next election.
Davis, the county clerk for Rowan County, Kentucky, who garnered international attention in 2015 after she defied a federal court order to issue marriage licenses to same-sex couples following the Supreme Court's decision to effectively legalize same-sex marriage. She later served five days in jail, only to be heralded as a hero by conservatives who viewed her imprisonment as an attack on religious freedom.
The video below shows Davis denying Ermold a marriage license.
"I have an obligation here, really, to do this and to set things right," Ermold said in a statement to The Associated Press. "I don't think the other candidates are looking at a larger message."
He also posted an announcement on a brand new Facebook page.
"That was just a disappointing day," Ermold said of the experience. "And then it just got so tiresome. We went back three times, and it was just exhausting."
Ermold has lived in Rowan County for 14 years. The county, voted for Donald Trump by a 58-37 margin last year. "We have some minds to change, and that's going to be difficult," Ermold said. "One of the politicians doesn't think Rowan County is ready... That day was the day in my mind that I thought, You know what, I'm going to prove all these people wrong."
Keep reading...Show less