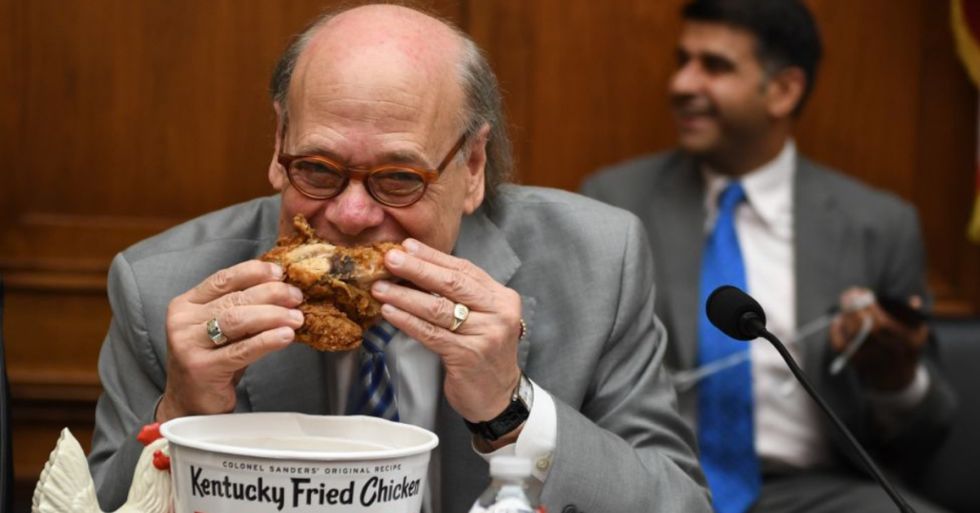 JIM WATSON/AFP/Getty Images
Representative Steve Cohen (D-TN) brought a ceramic chicken and ate from a bucket of KFC during Day 2 of Attorney General William Barr's House Judiciary Hearing. Barr has refused to submit to another round of testimony, objecting to Democratic plans to use staff attorneys in addition to lawmakers to question him about the Mueller report.
"The president is not above the law and if the president thinks the special counsel's investigation is a 'witch hunt,' he cannot stop it, but our attorney general thinks so," Cohen told reporters.
Holding up the ceramic chicken, he added:
"'Chicken Barr' should have shown up today and answered questions... an attorney general picked for his legal acumen and his abilities would not be fearful of any other attorneys questioning him for 30 minutes. This man was picked to be Roy Cohn, and Donald Trump's fixer. The Black Sox look clean compared to this team. This is a sad day in America."
Democratic Rep. Steve Cohen, who brought a ceramic chicken and ate from a bucket of KFC during the House Judiciary… https://t.co/HH9TbvMaU9

— CNN Politics (@CNN Politics) 1556805919.0
Cohen did indeed eat chicken during the hearing, even offering some to his colleagues...
Rep. Steve Cohen brought a bucket of Kentucky Fried Chicken to today's hearing, apparently to suggest that Barr is… https://t.co/Pp6kBLPYO8

— Kyle Griffin (@Kyle Griffin) 1556803811.0
...and set the ceramic chicken in front of the empty seat where Barr would have sat for his hearing.
WATCH: Rep. Steve Cohen (D-TN) brings out a chicken statue and places it in front of empty seat where Attorney Gene… https://t.co/HYlgr8JhYk

— CBS News (@CBS News) 1556805154.0
It wasn't a subtle jab at all, but it got the job done.
Real subtle. Rep. Steve Cohen places a chicken in Attorney General William Barr's empty seat. Via @thehill https://t.co/0xGQMKyqfg

— Greg Hogben (@Greg Hogben) 1556807573.0
This Steve Cohen guy bringing a bucket of KFC and a plastic chicken to troll Barr for not showing up for questionin… https://t.co/T4jg1qdu2e

— Word_Girl 💋❄️🌊 (@Word_Girl 💋❄️🌊) 1556803714.0
Bravo Rep. Steve Cohen! Why did Chicken Barr cross the road? To get to the definition of "suggest."

— ohiopaleo (@ohiopaleo) 1556803281.0
Barr's appearance yesterday came less than 24 hours after it emerged that Special Counsel Robert Mueller had pushed Barr twice to release more of his report's investigative findings, saying Barr's initial summary "did not fully capture the context, nature, and substance of this Office's work and conclusions." The news sparked outrage among Democrats who've accused Barr of misrepresenting the probe's findings since March 24, when Barr released his summary.
Barr told the committee that Mueller was unhappy with the media coverage surrounding his report, saying that he and Mueller spoke by phone after Mueller submitted his letter. Barr says Mueller was "very clear with me that he was not suggesting that we had misrepresented his report." These statements will likely increase public pressure for Democrats to call Mueller in to testify.
Yesterday's hearing became embroiled in further controversy after Barr maintained that President Donald Trump ordering his associates to lie to the special counsel did not meet the definition of obstruction of justice. Now House Speaker Nancy Pelosi (D-CA) has accused him of lying to Congress.
"What is deadly serious about it is the attorney general of the United States of America was not telling the truth to the Congress of the United States. That's a crime," she said. "He lied to Congress. And if anybody else did that, it would be considered a crime. Nobody is above the law. Not the President of the United States and not the attorney general."
Representative Jerry Nadler (D-NY), who chairs the House Judiciary Committee, says he will move to hold Barr in contempt "if he stalls or fails to negotiate in good faith."
"Yes, we will continue to negotiate for access to the full report for another couple of days, and yes, we will have no choice but to move quickly to hold the attorney general in contempt if he stalls or fails to negotiate in good faith, but the attorney general must make a choice," he said. "The choice is simple, we can stand up to this President in defense of the country and the constitution and the liberty we love, or we can let the moment pass us by."
White House Press Secretary Sarah Huckabee Sanders rebuked Nadler and criticized the decision to have staff attorneys question Barr, saying Nadler has "lost confidence in himself and his capability to do his job."
"I think what we're seeing from Chairman Nadler is he's incapable of holding power," Sanders told reporters, adding:
"If he and his committee aren't capable of actually asking the attorney general themselves and need to staff that out, it seems like a pretty pathetic moment for the chairman of that committee and look — we lost confidence in Jerry Nadler a long time ago but it's surprising to find out he's actually lost confidence in himself and his capability to do his job. If he can't and he's not capable of asking the attorney general questions- maybe he should step down and resign and allow somebody else that can."
Barr was seen leaving his home in McLean, Virginia, presumably on his way to his office at the Department of Justice, at 9 a.m. His hearing was underway by 9:05 a.m.
Keep reading...Show less