ketanji brown jackson confirmation hearings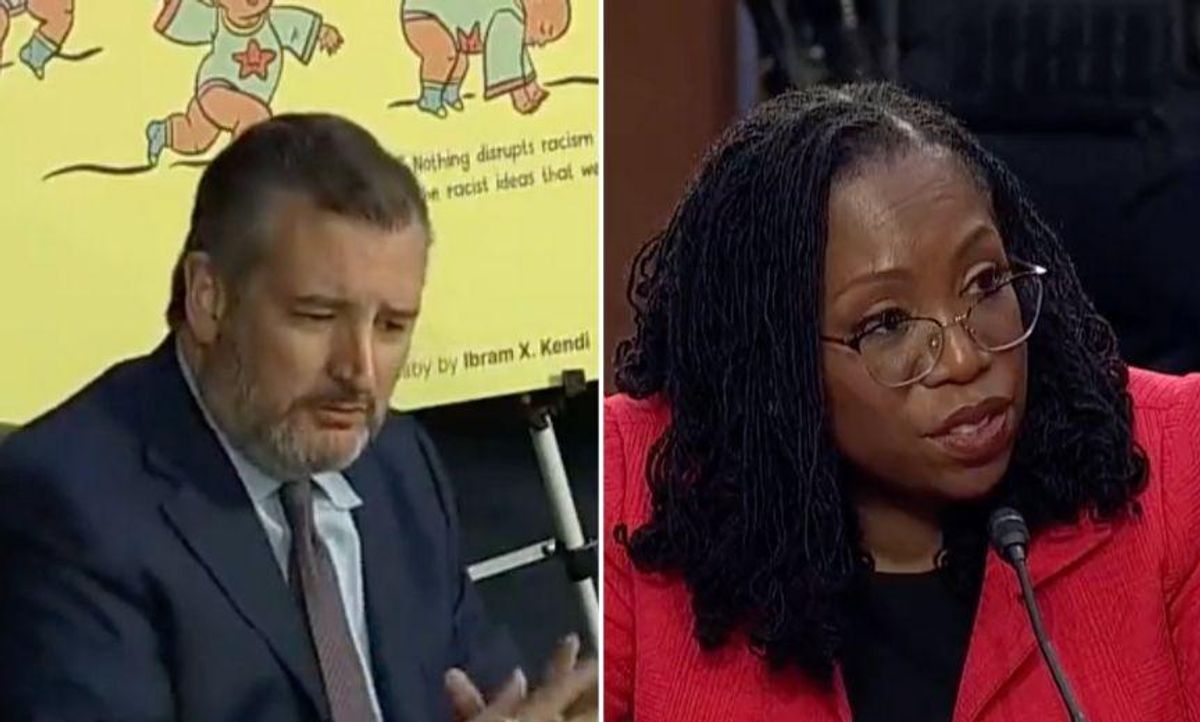 C-SPAN
The Senate Judiciary Committee is on its third day of hearings considering the nomination of Judge Ketanji Brown Jackson to the United States Supreme Court.
Though Republican members devoted a significant portion of the first day's opening remarks to dredging up grievances from the hearings of Trump-nominated Justices Brett Kavanaugh and Amy Coney Barrett in 2018 and 2020, promising they would be more subdued than their Democratic counterparts at the time, the hearings haven't been without their tense moments and combative lines of questioning.
One such moment came from Republican Senator Ted Cruz of Texas, who invoked conservative hysteria over critical race theory while interrogating Judge Jackson.
Cruz pointed to Jackson's position on the Board of Trustees at the pricey Georgetown Day School, the curriculum of which he claimed is "filled and overflowing with critical race theory." He particularly focused on a 2020 children's book, Antiracist Baby by Ibram X. Kendi.
Watch below.

Though Cruz falsely claimed the book posits that babies are racist, its description says its goal is toward "providing the language necessary to begin critical conversations at the earliest age, Antiracist Baby is the perfect gift for readers of all ages dedicated to forming a just society."

As Washington Post book critic Ron Charles points out, the 24 page book argues the opposite of Cruz's point, that it makes the "perfectly reasonable contention that people are not born racist; they learn racist attitudes from the society around them — and far earlier than most of us want to admit."
Kendi, the book's author, soon reacted to Cruz's screed on Twitter.
Cruz's hysteria may have backfired, as Antiracist Baby, which debuted two years ago, has taken multiple top spots in subsets of Amazon's children's books bestsellers list. At the time of writing, it's currently number one in sales for children's books on Difficult Discussions, on Prejudice and Racism, number two in Geography & Cultures Books, number six in Growing Up & Facts of Life, and number 15 on the overall bestseller list.

Social media users were quick to share the news.
Others expressed their intentions to buy Antiracist Baby and other books Cruz decried from the dais.
Awkward.