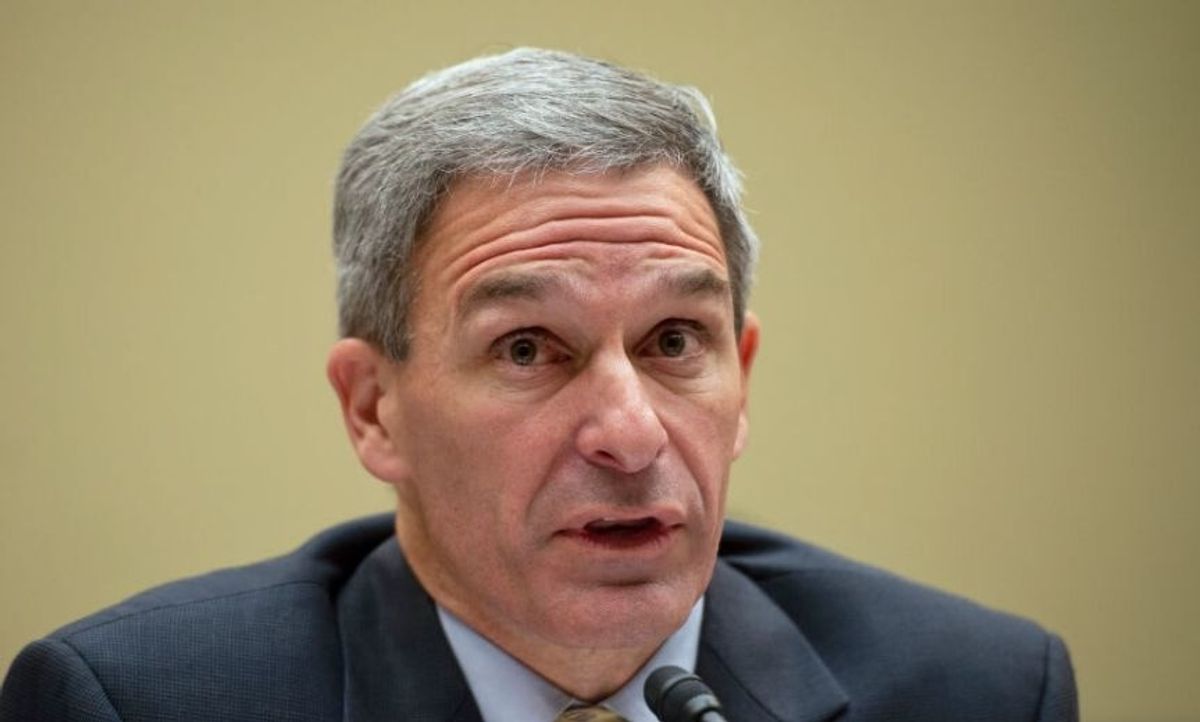 Caroline Brehman/CQ-Roll Call, Inc via Getty Images
President Donald Trump began his presidential campaign in 2015, describing Mexican immigrants as "rapists" and "murderers."
Though there's no evidence to support a connection between undocumented immigrants and violent crime, the President gleefully uses murders committed by undocumented immigrants to drum up a fear of all undocumented immigrants.
It appears that tradition doesn't stop with Donald Trump.
On the seventh night of Hanukkah, a man wielding a machete-like weapon stabbed five people at a rabbi's home as part of an anti-semitic attack in Monsey, New York.
According to the Acting Director of the United States Citizenship and Immigration Services, Ken Cuccinelli, in a now-deleted tweet, this attack happened due to an immigration law from the 1980s. That law was signed by Republican President and GOP icon Ronald Reagan.
Cuccinelli, without any explanation, has since deleted his tweet claiming the Monsey stabbing suspect is the "US Ci… https://t.co/EjJujxLuxP

— Justin Baragona (@Justin Baragona) 1577726435.0
Cuccinelli said in the tweet:

"The attacker is the US Citizen son of an illegal alien who got amnesty under the 1986 amnesty law for illegal immigrants. Apparently, American values did not take hold among this entire family, at least this one violent, and apparently bigoted, son."

Cuccinelli's assertion that it was a lack of "American values" responsible for the man's anti-semitism was bizarre at best. Despite racist and xenophobic attacks committed in Charlottesville, El Paso, and elsewhere this year by American citizens, Cuccinelli seemed determined to drum up more fear and hatred of immigrants. The suspect in the Monsey, New York attack has been identified as Grafton Thomas, an American citizen with roots in Ghana, Africa.
People weren't having it.
@HomelandKen publicizes his disgusting character on a daily basis. He can't hide from his well-deserved reputation… https://t.co/WKK3iU0Ewd

— Vishal V. Iyer (@Vishal V. Iyer) 1577733505.0
@justinbaragona @gtconway3d Spreading hate, that's what they are good at.

— Sharon Schatz (@Sharon Schatz) 1577733282.0
@justinbaragona @jaketapper Cucinnelli himself and Family come from a long line of Immigrants who immigrated to the… https://t.co/aX2bYgbf3f

— My Info. (@My Info.) 1577733420.0
@justinbaragona @gtconway3d Here is another totally unqualified Trump servant

— GotoGo (@GotoGo) 1577735714.0
@justinbaragona @jaketapper Odd that cowardly @HomelandKen would delete a seemingly xenophobic and white nationali… https://t.co/s7j7w25S5B

— Doug Wicks (@Doug Wicks) 1577727060.0
It was not lost on people that Cuccinelli chalked this attack up to immigration and "American values" since it's a black attacker, while many Republicans continue to minimize a growing number of massacres committed in the name of white nationalist ideologies.

@justinbaragona @jaketapper I stop reading/listening anytime a GOP member speaks about 'American Values'... we all know what 'that' means...

— Linda Cipriano (@Linda Cipriano) 1577727611.0
@justinbaragona @jaketapper They never want to say anything about the white Christians when they shoot up a school… https://t.co/yrd5eMuF2o

— UncleTummy (@UncleTummy) 1577726836.0
@justinbaragona @jaketapper What about American values of white supremacists?

— Canuduh (@Canuduh) 1577727158.0
Cuccinelli has yet to address the deleted tweet.
Keep reading... Show less