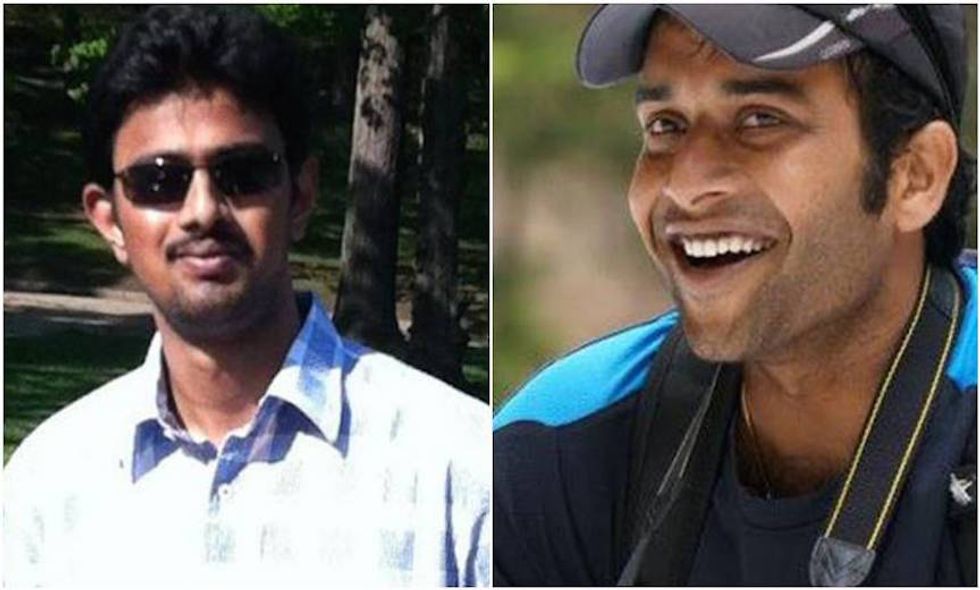 Wednesday after work, Srinivas Kuchibhotla and Alok Madasani went to Austins Bar and Grill to watch a college basketball game and have a drink. The engineers for Garmin reportedly visited regularly. This visit ended when Adam Purinton allegedly shot both men killing Kuchibhotla and injuring Madasani and Ian Grillot.
A bartender claims that Purinton used "racial slurs," assuming they were Muslim, and another witness says he shouted "get out of my country" before shooting the men.
The men were born in India and had studied and worked in the United States for more than 10 years.
Madasani's father, Madasani Jaganmohan Reddy, said in an interview that "[Purinton] picked up an argument with them and asked them why they were staying in the US illegally. They tried to tell him that they had done their MS (master's degree) in Kansas in 2006 and had been staying there with valid work permits. When the American continued to shout at them, they complained to the restaurant manager who sent him out. But he returned within no time and started firing at them, resulting in the killing of Kuchibhotla."
Grillot said he hid under a table until he heard nine shots. Then, assuming that the gun was empty, he said, "I got up and proceeded to chase him down, try to subdue him. I got behind him and he turned around and fired a round at me."
Purinton left the bar, and police set up roadblocks as they searched for him. He was found in an Applebees in Missouri where he reportedly told a bartender he needed a place to hide because he had killed two Middle Eastern men. He has been charged with one count of premeditated first-degree murder and two counts of attempted premeditated first-degree murder.
The FBI is working with local authorities to investigate the crime and to determine whether it fits the legal definition of a hate crime. Moussa Elbayoumy, chairman of the Kansas chapter of the Council on American-Islamic Relations, called on authorities to file state and federal hate crimes charges to "send a strong message that violence targeting religious or ethnic minorities will not be tolerated."
Kansas senator Jerry Moran condemned the attack.
I strongly condemn violence of any kind, especially if it is motivated by prejudice & xenophobia―my statement on th… https://t.co/06wPAXEFV1

— Senator Jerry Moran (@Senator Jerry Moran) 1487895895.0
Indian officials have also spoken out against the attack. India's external affairs minister, Sushma Swaraj, has said that authorities are working to bring Kuchibhotla's body back to India. She tweeted:
I am shocked at the shooting incident in Kansas in which Srinivas Kuchibhotla has been killed. My heartfelt condolences to bereaved family.

— Sushma Swaraj (@Sushma Swaraj) 1487907224.0
Reddy, in the same interview, said he has asked his son to return to India. "The situation seems to be pretty bad after Trump took over as the US President. I appeal to all the parents in India not to send their children to the US in the present circumstances."
Keep reading...Show less