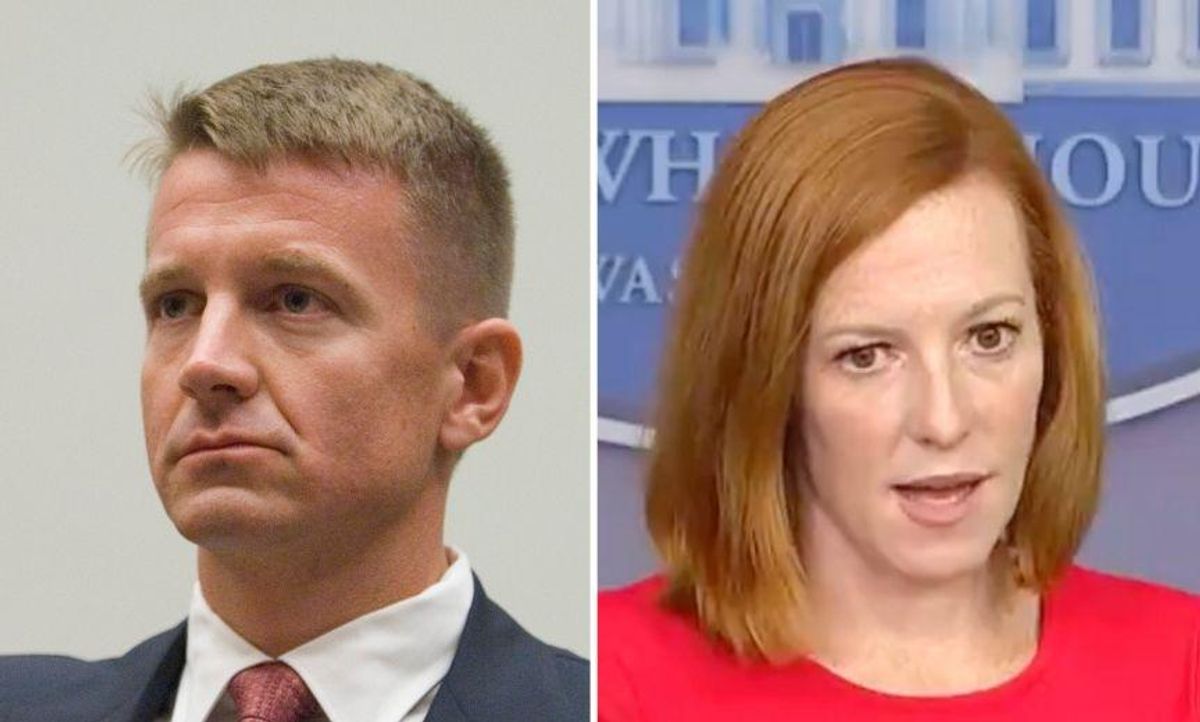 Bill Clark/Roll Call/Getty Images // @thehill/Twitter
The Biden administration is scrambling to get Americans and our Afghan allies out of Afghanistan after the recent withdrawal of U.S. troops resulted in the fundamentalist Taliban regime overtaking the presidential palace of Kabul and retaking Afghanistan in the wake of the Afghan government's collapse.
Fearful of the Taliban's retaliation and aggression, thousands are inundating the Kabul International Airport, desperate for a flight out before the withdrawal date the Taliban is enforcing at the end of the month.
Enter Erik Prince.
Prince was the founder and CEO of Blackwater, a private military company whose stock price has soared in the 20 years since the war in Afghanistan began. Before Prince sold the company in 2010, Blackwater reached a high that was nearly six times greater than its original price. That number has since become almost 25 times greater.
But apparently Prince—who is also the brother of Trump-era Education Secretary Betsy DeVos—isn't content with his paltry $2 billion net worth. After decades of reaping profits from a war that killed hundreds of thousands of U.S. troops and Afghan civilians, Prince is now exploiting their desperation to escape by charging exorbitant amounts for flights out of Kabul, according to a report from the Wall Street Journal.
Prince is demanding $6,500 per seat, or 0.00000000325 percent of his net worth, from Americans and Afghans scrambling to escape to safety.
White House press secretary Jen Psaki excoriated Prince for his greed and heartlessness.

Watch below.
Psaki told reporters:

"I don't think any human being with a heart and soul would support efforts to profit off of people's agony and pain as they're trying to depart a country and fearing for their lives."
She was met with widespread agreement.
Meanwhile, Prince continues to be the most reviled person on the internet at the moment.
Court documents reveal that a former employee of Prince's said he "views himself as a Christian crusader tasked with eliminating Muslims and the Islamic faith from the globe."