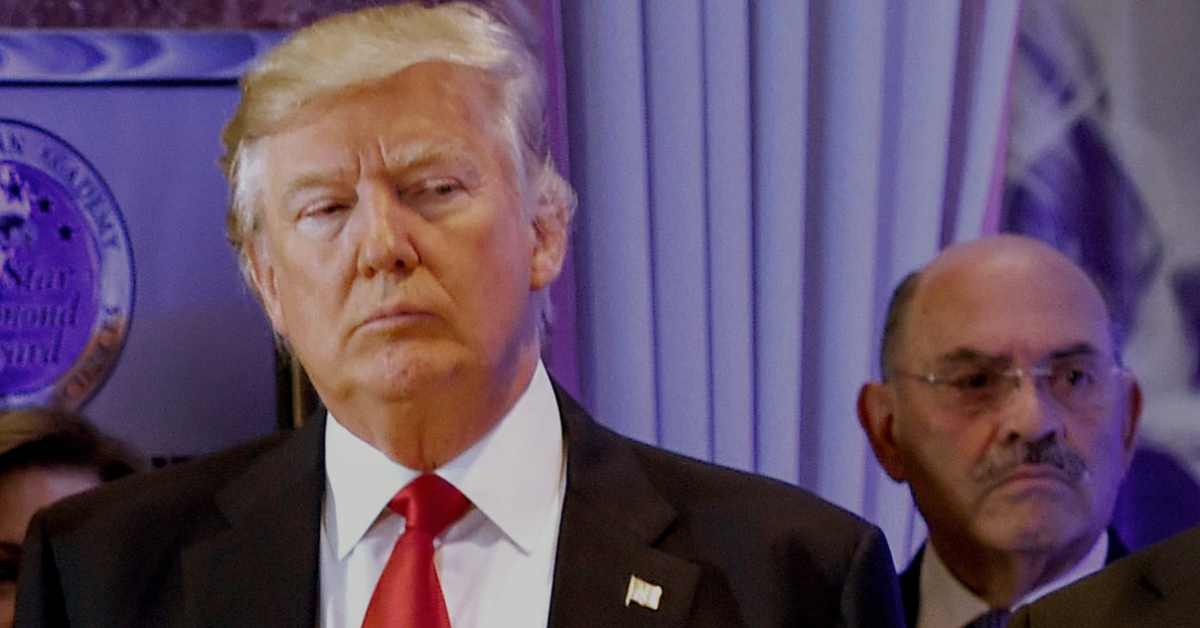 Timothy A. Clary/AFP via Getty Images
I need to vent.

Normally I try to answer questions about the law and to explain a fairly complex system I have studied carefully for decades.
But yesterday's sentencing of Allen Weisselberg, Trump's longtime CFO at the Trump Organization, rubbed me so raw that I need to ask a few questions of my own.
Why just five months?

We've known for some time Weisselberg was likely getting what amounts to a slap on the wrist, with a five month sentence he can complete in 100 days with good behavior, but it wasn't official until Tuesday.
And it still felt galling and wrong.
As many observers have noted, Weisselberg was facing up to 15 years for the 17 counts to which he pled guilty, including scheming to defraud, grand larceny, conspiracy and tax fraud. He had to pay over $2 million in taxes, penalties and interest, so this wasn't some small amount at issue.
It was huge, and he broke the law in so many massive ways.
And yet, at his sentencing hearing, the lawyers were left arguing about adding or subtracting months of jail time, not years. This was because Weisselberg had agreed to testify against his employer, the Trump Organization, in exchange for a more lenient sentence.
A deal is a deal, right?
The deal, frankly, sucked.
A jury convicted the Trump Organization in short order, and as a result the company will have to pay $1.6 million in fines. But so what?
This is more or less a rounding error for an entity that big. And everyone knows what didn't happen.
Weisselberg still refused to testify against his real boss, Donald Trump, even when it became clear Trump's fingerprints were all over the same conspiracy to defraud the government out of its tax dollars.
Weisselberg became the fall guy, and fall guys ought not to skate by for so little time. Why? Because letting them off easy sends a message to other witnesses that the price of loyalty to your mob boss is just a few months in prison.
And that's a terrible message.
Even the judge was irked.
He had agreed back in August to the five months of prison time worked out by the parties. But at sentencing, Judge Juan Merchan said had he not already promised a five-month sentence to Weisselberg, he would have issued a "much greater" sentence after hearing the evidence.
This included Weisselberg's fabrication of a fraudulent $6,000 payroll check, which he had cut to his wife so she could become eligible for Social Security benefits. Merchan singled this out among the most "offensive" of the crimes, given how ordinary people have to work hard to become eligible for that benefit.

Anyone who's heard of Rikers Island knows many innocent people have been held there, sometimes for years, for far lesser crimes.
As critics of the Weisselberg sentence noted, a teenage Kalief Browder from the Bronx was locked in Rikers for 700 days, often in solitary confinement, after being falsely accused of stealing a backpack.
He died by suicide after his release, likely driven by PTSD. Browder's "crime" was that he was poor and Black, and his family couldn't afford the $3,000 bail.
And so I must insist Weisselberg's light sentence be seen not just in terms of the case against the Trump Organization, but in the context of the larger system of unjust sentencing.
Many, including his lawyers at sentencing, cited his age and notoriety as reasons for leniency or special treatment within Rikers, but this just further normalizes such privileges for old, wealthy White men who commit big financial crimes.
In a more just world, the law would be applied irrespective of race, means or fame and committing fraud to the tune of millions of dollars would be far worse than allegedly stealing a backpack.
But even zooming into this case, the light sentence indicates the District Attorney's office simply isn't being aggressive enough. In all likelihood, based on how quickly the jury returned a verdict, they could have convicted the Trump Organization without Weisselberg's testimony, just on the numbers and records alone.
This reticence to proceed would perhaps be understandable if they were actually going after the former President, but since he was not even a defendant (yet), they should have been more assertive, sent the CFO to jail for years, and taken down the company based on the undisputed records that literally contained two sets of books.
Why are only the fall guys going to jail?
There's no way to sugarcoat this: Trump is still free and playing golf at Mar-a-Lago while his henchmen like Michael Cohen and Allen Weisselberg are receiving prison sentences, even if light ones as in Weisselberg's case.
The power to prosecute and convict Trump for certain crimes, and thus the responsibility for the fact he remains unindicted, lies with the Manhattan DA's office.
Everyone knows Cohen was telling the truth about election hush money payments to Stormy Daniels and Trump's cooked books and overinflated property values on financial statements. Yet the DA's office is still basically killing the cases by slow-walking them or under-resourcing them.
And everyone also knows there's no way Trump knew nothing about the undeclared perks such as the apartments, cars and tuition payments that are sending Weisselberg to Rikers. The prosecution even so much as said so during its closing arguments, and yet Trump is still not a defendant in any case.
When the big kahuna swims free while all the little fish get caught in the net, the story should be far from over. Yet DA Alvin Bragg doesn't seem to get it.
His public statement on Tuesday is appalling when you consider who isn't on his way to prison.
Bragg bragged:
"In Manhattan, you have to play by the rules no matter who you are or who you work for."
"These consequential felony convictions put on full display the inner workings of former President Trump's companies and its C.F.O.'s actions."
With all due respect, what the people want now, on full display, is his plan to make sure Trump faces a consequential felony conviction for failing to play by the rules.
That, so far, is nowhere to be seen.
What are they doing to fix this?
Bragg hasn't fully closed his investigations into false financial statements and possible election finance violations by Trump. There is a bit of life left in these matters and some renewed activity around them.
The optimistic me hopes, perhaps in vain, there is some kind of a larger chess game going on with Weisselberg, and the appallingly light sentence is merely meant to give him a taste of life in Rikers before seeing if he will finally flip on his former boss, say, on a claim of falsifying business records relating to the Stormy Daniels hush money payments.
Hold on, that old news?
Setting aside the fact no one cares any more about Stormy Daniels and the 2016 election, falsifying business records (for example, claiming Michael Cohen's election dirty work as a legal expense) is just a misdemeanor.
So this doesn't feel very important, unless prosecutors can turn it into a a felony by proving Trump did it to effect some larger criminal violation, such as an election finance violation.
A clue to support this lies here: The New York Timesreported back in November that "prosecutors are considering a new round of charges against Mr. Weisselberg in hopes of securing his cooperation against the former president" and that the "potential charges concern insurance fraud and are unrelated to the hush money."
The insurance fraud was discovered by the state attorney general's office as part of Letitia James' civil suit against the Trump Organization. Weisselberg apparently lied to an insurance underwriter in claiming the Trump Organization's real estate valuations had been assessed by an independent appraiser when in fact they had not been.
In theory, prosecutors could bring these charges while Weisselberg is in prison, potentially extending his time there. They absolutely should do this, but I'll believe it only if and when it happens.
In the meantime, I along with many others are running out of patience, of which I normally have a considerable store. An admittedly cynical and depressing possibility is Bragg is simply a coward who doesn't want to be the first office in the nation to bring charges against the ex-President.
That responsibility and attention may well fall to Fulton County District Attorney Fani Willis, whose investigative grand jury, as I wrote about on Tuesday, just completed its final report.
Perhaps if indictments roll out from her office, or even from the D.C. grand juries guided by special counsel Jack Smith, Bragg will find his spine and finally name Trump as a defendant.