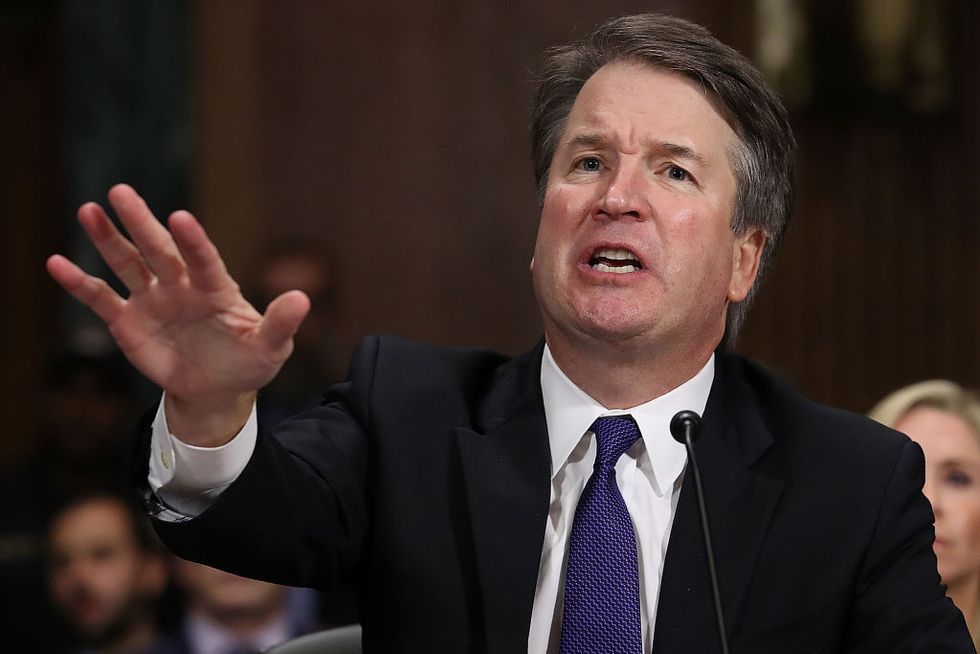 Judge Brett Kavanaugh testifies to the Senate Judiciary Committee during his Supreme Court confirmation hearing in the Dirksen Senate Office Building on Capitol Hill September 27, 2018 in Washington, DC. (Photo by Win McNamee/Getty Images)
In a Washington Post op-ed, Charles Ludington, Lynne Brookes, and Elizabeth Swisher, who attended Yale University from 1983 to 1987 with Supreme Court nominee Brett M. Kavanaugh, explain why they oppose his nomination, disputing his testimony before the Senate Judiciary Committee in the process.
"We were college classmates and drinking buddies with Supreme Court nominee Brett M. Kavanaugh," the three wrote, noting that they "each asserted that Brett lied to the Senate by stating, under oath, that he never drank to the point of forgetting what he was doing."
"We said, unequivocally, that each of us, on numerous occasions, had seen Brett stumbling drunk to the point that it would be impossible for him to state with any degree of certainty that he remembered everything that he did when drunk," they continued, noting that they "drank too much in college as well" and can attest that Kavanaugh did, contrary to what he's stated, drink to the point of "blacking out."
The three former classmates say they've received "numerous angry messages accusing us of attempting to ruin a man's life because of his drunken antics as a college student," that they've had their lives and those of their families disrupted; that one of them has had news reporters camp out in front of their home; that "we have received large amounts of hate mail, including threats of violence"; that they "have lost friendships"; and that "The work servers of one of us were hacked."
They conclude:
None of this is what we wanted, but we felt it our civic duty to speak the truth and say that Brett lied under oath while seeking to become a Supreme Court justice. That is our one and only message, but it is a significant one. For we each believe that telling the truth, no matter how difficult, is a moral obligation for our nation's leaders. No one should be able to lie their way onto the Supreme Court. Honesty is the glue that holds together a society of laws. Lies are the solvent that dissolves those bonds.

All of us went to Yale, whose motto is "Lux et Veritas" (Light and Truth). Brett also belonged to a Yale senior secret society called Truth and Courage. We believe that Brett neither tells the former nor embodies the latter. For this reason, we believe that Brett Kavanaugh should not sit on the nation's highest court.
Ludington, who cooperated with the FBI's investigation into the sexual misconduct claims against Kavanaugh brought to light by Dr. Christine Blasey Ford, who alleges Kavanaugh assaulted her at a high school party in the 1980s, recently came forward to say that Kavanaugh was "a frequent drinker, and a heavy drinker" who was "belligerent and aggressive" while under the influence.
"On one of the last occasions I purposely socialized with Brett, I witnessed him respond to a semi-hostile remark, not by defusing the situation, but by throwing his beer in the man's face and starting a fight that ended with one of our mutual friends in jail," he said in a full statement published in The New York Times.
Authorities have already begun to investigate that incident, which took place at a Connecticut bar in 1985. In the New Haven, Connecticut, police department report, a man named Dom Cozzolino said Kavanaugh had thrown ice on him. Cozzolino also said that Kavanaugh's friend Chris Dudley had thrown a glass that hit him on the ear.
Last month, Brookes said that the comments Kavanaugh made in his Fox News interview––that he had been a pious virgin who did not engage in drunken or lewd behavior with his fraternity––do not match the classmate she remembers.
"He's trying to paint himself as some kind of choir boy," said Brookes, who at one point lived on campus with Deborah Ramirez, who says Kavanaugh exposed himself to her at a fraternity party and recalled seeing Kavanaugh drunk at a fraternity event.
"You can't lie your way onto the Supreme Court, and with that statement out, he's gone too far. It's about the integrity of that institution."
Brookes told The Washington Post that she remembered seeing Kavanaugh "outside the Sterling Memorial Library, wearing a superhero cape and an old leather football helmet and swaying, working to keep his balance" and that he'd been "ordered to hop on one foot, grab his crotch and approach her with a rhyme." She still remembers the rhyme: "I'm a geek, I'm a geek, I'm a power tool. When I sing this song, I look like a fool."
"It's a funny, drunk college story that you remember — at least, I remember," Brookes said. Of watching Kavanaugh's career rise over the years, she said: "I thought it was so funny to think that's the Brett who sang that song."
Recalling Kavanaugh's drunken behavior with Delta Kappa Epsilon, Brookes said there was "no way" he remembered all of the behavior she observed. Fraternity brothers pressured pledges to get "ridiculously drunk" and do "ridiculous things," she said.
Swisher, who lived with Ramirez for three years, told the Post she was shocked that Kavanaugh denied drinking to the point of blacking out.
"Brett was a sloppy drunk, and I know because I drank with him. I watched him drink more than a lot of people. He'd end up slurring his words, stumbling," said Swisher, a Democrat and chief of the gynecologic oncology division at the University of Washington School of Medicine. "There's no medical way I can say that he was blacked out. . . . But it's not credible for him to say that he has had no memory lapses in the nights that he drank to excess."
This is only the latest blow to Kavanaugh, who yesterday in a Wall Street Journal op-ed designed to rehabilitate his image ahead of a Senate vote to confirm his nomination insisted that he is an "independent, impartial judge":
I was very emotional last Thursday, more so than I have ever been. I might have been too emotional at times. I know that my tone was sharp, and I said a few things I should not have said. I hope everyone can understand that I was there as a son, husband and dad. I testified with five people foremost in my mind: my mom, my dad, my wife, and most of all my daughters.

Going forward, you can count on me to be the same kind of judge and person I have been for my entire 28-year legal career: hardworking, even-keeled, open-minded, independent and dedicated to the Constitution and the public good. As a judge, I have always treated colleagues and litigants with the utmost respect. I have been known for my courtesy on and off the bench. I have not changed. I will continue to be the same kind of judge I have been for the last 12 years. And I will continue to contribute to our country as a coach, volunteer, and teacher. Every day I will try to be the best husband, dad, and friend I can be. I will remain optimistic, on the sunrise side of the mountain. I will continue to see the day that is coming, not the day that is gone.

I revere the Constitution. I believe that an independent and impartial judiciary is essential to our constitutional republic. If confirmed by the Senate to serve on the Supreme Court, I will keep an open mind in every case and always strive to preserve the Constitution of the United States and the American rule of law.
The White House is increasingly certain that Kavanaugh will be confirmed now that several Republican senators crucial to the final vote have expressed satisfaction with the findings of the FBI investigation.
Kavanugh's fate falls to a small group of undecided Republican senators.
According to Senator Susan Collins (ME), "it appears to be a very thorough investigation, but I'm going back later to personally read the interviews."
Senator Jeff Flake (AZ), who requested the investigation and delayed the vote following both Kavanaugh and Dr. Ford's testimonies before the Senate Judiciary Committee, told reporters that "we've seen no additional corroborating information."
By contrast, Senator Lisa Murkowski (AK), per one report, said "that she did not yet know whether the FBI had been thorough enough in its investigation or spoken to enough witnesses."
The Washington Post reported that the FBI's investigation had been "highly curtailed" and that it had focused primarily on Dr. Ford's allegations. The FBI did not interview Dr. Ford, deeming her Senate testimony sufficient.
The FBI did interview Deborah Ramirez, but Ramirez's legal team has no indication that the FBI interviewed any of the corroborating witnesses they provided. Nor did the bureau interview Julie Swetnick, who says Kavanaugh was present at a house party in 1982 where she alleges she was the victim of a gang rape,
Keep reading...Show less