Well played.
01 December 2018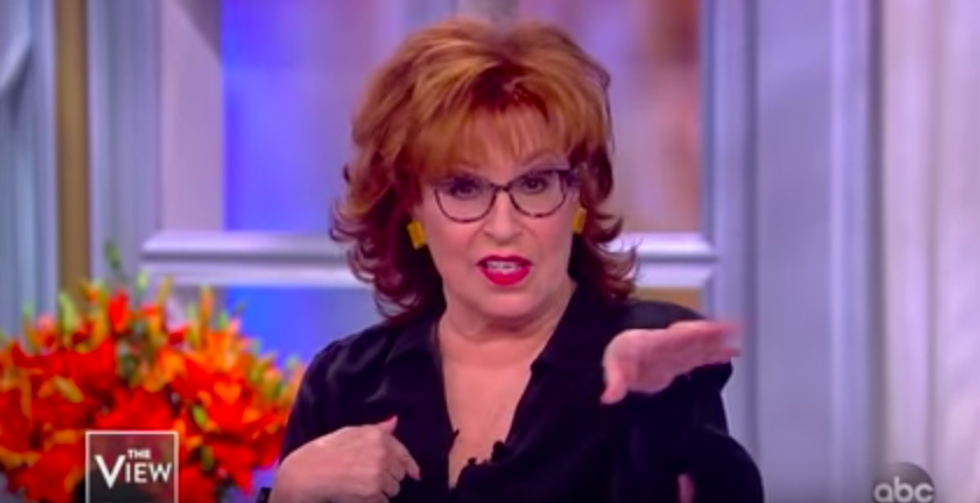 ABC
Despite backing a President whose greatest hits include "grab 'em by the p****y" and "knock the crap out of him," Trump supporters often chastise Democrats for not being palatable enough, calling them to respond to disagreements with civility.
So when musician and Trump supporter Kid Rock called Joy Behar a "bitch" live on Fox News, comedian and longtime co-host of The View did just that.
It all started when Fox host Steve Doocy interviewed Kid Rock at a Conservative gathering. Amidst calls for coming together and hearing different ideas, Rock said:
"I would say, Y'know, Love everybody. Except, I'd say screw that Joy Behar bitch."
As the crowd cheered on his comments, horrified Steve Doocy admonished him, the grinning Kid Rock corrected himself.
"I mean lady! I mean lady!"
The following day, Behar used her platform on The View to call him out:
"All I can say is this 'bitch' and these 'bitches' would be happy to have you on the show and have a beer."
Watch it all go down below:
Behar's co-hosts were quick to back her up as well, with Conservative strategist Ana Navarro saying:
"I'm happy to hash it out with him, but he's gonna have to do better than beer with me. If he's gonna call you a bitch, the least he can do is show up with blue label."
Twitter felt the same, praising Behar and roasting Rock.
@thehill GO JOY!!! 👍🏿🌟❤️🎉👊💪🏽🤗

— Cynthia A Campbell (@Cynthia A Campbell) 1543605314.0
@thehill Always looks like he needs a shower, some deodorant and a defense attorney.

— ChickenboneWatt (@ChickenboneWatt) 1543604831.0
Meanwhile, Republicans and Democrats alike were conflicted at whether The View should go through with it if Kid Rock were to agree.
I am torn whether or not I want Kid Rock to go on Behar's show. I want him to go but I don't want him to help them… https://t.co/rWfg2DSblZ

— Wayne Dupree 🎙🎥 (@Wayne Dupree 🎙🎥) 1543610211.0
@LarryOConnor @KidRock @TheView No lie, I would watch.

— Virginia Kruta (@Virginia Kruta) 1543620493.0
@thehill Keep in mind, there is no vaccine for Kid Rock. To prevent a health crisis everyone should avoid any place… https://t.co/MkdisNCzZc

— Eli Yates (@Eli Yates) 1543602128.0
As often happens on The View, the event opened up a passionate discussion.
After revealing that Kid Rock's real name is Bob, co-host Meghan McCain expressed confusion at his comments, pointing out that he appeared with her late father, Senator John McCain (R-AZ) at the Sturgis Biker Rally during McCain's 2008 presidential campaign.
"He's a big Republican. He actually did something with Sean Penn where he was talking about bringing the country together. So this is very off-tone for where he's been and I'm very surprised by it."
Could it be because the president he supports has emboldened him over the past couple of years?
Kid Rock is already feeling the consequences of his comments, with the Nashville Christmas Parade revoking his invitation to march as Grand Marshal after Tennessee's governor said he would refuse to participate if the musician was present.
Like that, @KidRock is out and @JamesShawJr9 is in as Grand Marshal of the Nashville Christmas Parade. Statement fr… https://t.co/bxvBPHCFBI

— Blake Farmer (@Blake Farmer) 1543619886.0
Conservatives weren't happy about it.
I think Kid Rock should lead the Nashville CHRISTMAS Parade, just to piss off all those whiny crybaby snowflake lib… https://t.co/LWIpn1Ol9B

— Josh Weyandt (1/1,024th Bacon Sandwich) (@Josh Weyandt (1/1,024th Bacon Sandwich)) 1543615992.0
We should all boycott the Christmas Parade if Kid Rock is not the Grand Marshall!!! #Nashville

— Tony B. (@Tony B.) 1543604020.0
@APSouthRegion @AP How dare you question an American Badass

— hamshooz (@hamshooz) 1543618476.0
If it was a liberal that said something mean spirited about a conservative, the Nashville mayor would have been mor… https://t.co/tr3aC0unsM

— Rep. Jeremy Faison (@Rep. Jeremy Faison) 1543622109.0
While Kid Rock will almost certainly dismiss the backlash, we can imagine him having a harder time than Behar at staying relevant.
Keep reading... Show less