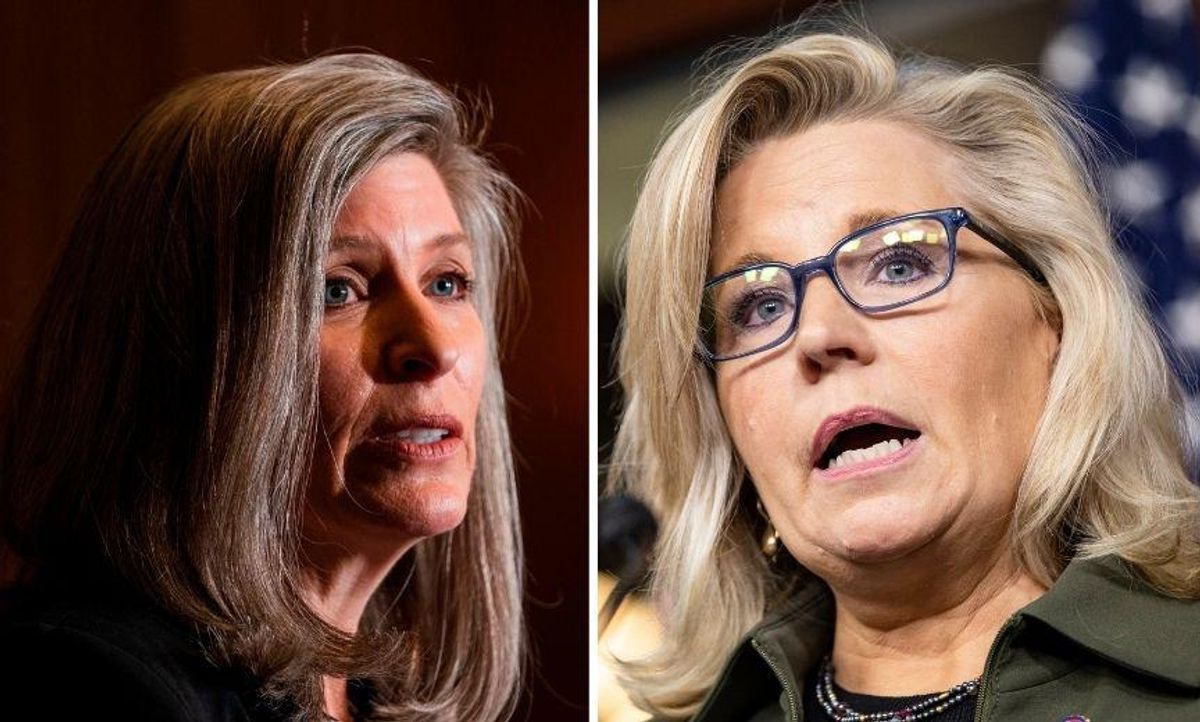 JIM LO SCALZO/POOL/AFP via Getty Images // Samuel Corum/Getty Images
Republican lawmakers, particularly in the House of Representatives, continue to embrace former President Donald Trump's conspiracy theory that the 2020 election was "stolen" by Democrats engaging in widespread election fraud.
The latest reflection of this is the increasingly imminent removal of Congresswoman Liz Cheney (R-WY) from her position as House Republican Conference Chair, the third-ranking Republican leadership position.
Cheney has faced intense backlash from within the party for her unequivocal rebuke of Trump's election lies, and her condemnation of the former President for inciting an insurrection against the United States Capitol .
On Monday, House Minority Leader Kevin McCarthy (R-CA) issued a statement agreeing that "it's clear we need to make a change" in House leadership, announcing a vote on the measure for Wednesday. Pro-Trump Congresswoman Elise Stefanik of New York, who has evaded questions on the legitimacy of the 2020 election, is expected to replace Cheney.
Republican Senator Joni Ernst of Iowa has criticized House Republicans' eagerness to remove Cheney for noting the basic truth that the 2020 election was not "stolen."
Ernst said to reporters:
"I feel it's OK to go ahead and express what you feel is right to express and, you know, cancel culture is cancel culture no matter how you look at it. Unfortunately, I think there are those that are trying to silence others in the party,"
"Cancel culture"—or the widespread voluntary condemnation of a person or entity for egregious actions—has emerged as a central tenet of the Republican party platform, with prominent members of the party erroneously accusing Democrats of canceling everyone from the former President to Dr. Seuss.
Some were underwhelmed by Ernst's comments.
This is what standing up for someone in the GOP looks like. It's pathetic and weak. https://t.co/WkpzxDFQIF

— Dixieann (@Dixieann) 1620685148.0
That seems watered-down. Doesn't actually seem like Ernst is standing up for Liz Cheney. https://t.co/Q2ML8uybme

— M Wilder 📚 (BookNerd) (@M Wilder 📚 (BookNerd)) 1620683072.0
Hardly a glowing endorsement https://t.co/tJvtgDCDxP

— Dr. MC Murphy (@Dr. MC Murphy) 1620685796.0
Others were pleasantly surprised to see the Senator using her party's own rhetoric to condemn its actions.
Nice to see a Republican admit there's "cancel culture" on the right. https://t.co/imvC2sAj3n

— Lisa Wetzelberger (@Lisa Wetzelberger) 1620683116.0
A novel approach. Use MAGA's own "cancel culture" schtick to defend Cheney. B+. https://t.co/zkLh4bISrj https://t.co/iZqoy0wcq7

— A.J. Delgado (@A.J. Delgado) 1620683410.0
The GQP is 100% cancelling @Liz_Cheney. 🤷🏻‍♂️ You couldn't script this level of hypocrisy. https://t.co/fWggLN0Z1n

— CM (@CM) 1620683579.0
The more people use this term, the less I know what it means -- and you know what, that's okay. :) https://t.co/l3XUyB7PnF

— Siddhartha Mahanta (@Siddhartha Mahanta) 1620684246.0
In addition to Ernst, another Republican Senator—Mitt Romney of Utah—has condemned the measure to remove Cheney.