Uh...You sure about that?
15 October 2019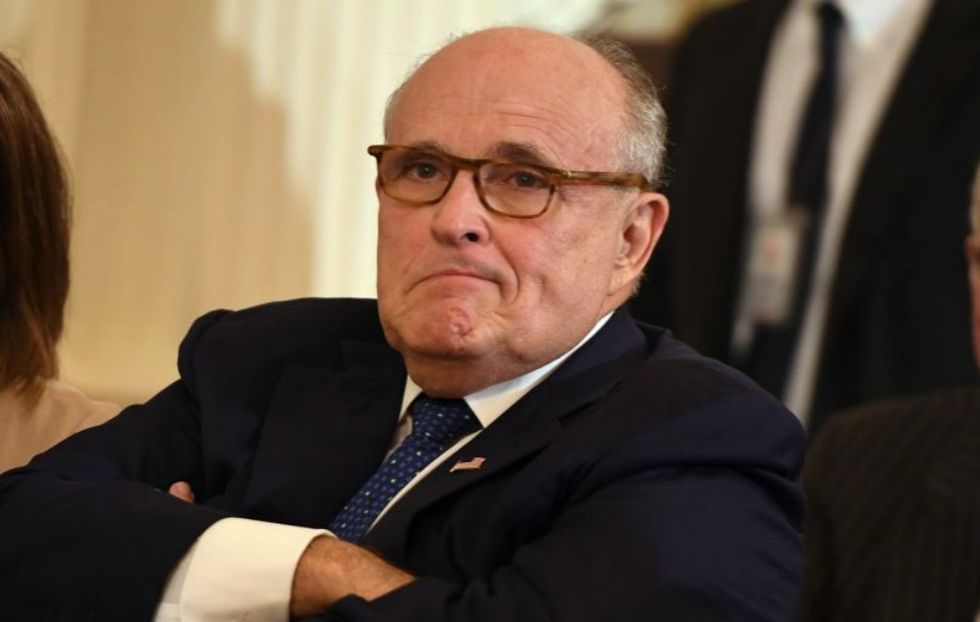 Lawyer of the US president Rudy Giuliani in the East Room of the White House on July 9, 2018 in Washington, DC. (Photo by SAUL LOEB/AFP/Getty Images)
President Donald Trump's personal lawyer, Rudy Giuliani, remains one of the most prominent figures of the ongoing impeachment inquiry against his client, but it's not because of the validity of his defense.
In fact, evidence is beginning to show that Giuliani is far from blameless. He's previously admitted to urging Ukrainian officials to open an investigation into Trump's possible 2020 opponent, former Vice President Joe Biden. Giuliani contends that he did so at the behest of the State Department, leading some to question the legality of the President's personal lawyer working with the State Department to open up investigations that personally benefit the President instead of the country.
Now, Giuliani seems determined to commit obstruction of justice as well. His lawyer, Jon Sale, told the select committees overseeing Trump's impeachment inquiry that Giuliani wouldn't comply with their "overbroad, unduly burdensome" subpoena for documents relating to his dealings with Ukrainian officials.
When asked about his refusal to comply with the subpoena, Giuliani said, "If [the Committees overseeing impeachment] enforce it, then we will see what happens." The challenge from Giuliani to the Committees could backfire if they vote to hold him in contempt.
After sending the letter to lawmakers, Giuliani's lawyer stepped down, which Giuliani says is fine, because he doesn't need a lawyer "at this time."
I will not participate in an illegitimate, unconstitutional, and baseless "impeachment inquiry." Jon Sale, who is… https://t.co/djFdHif4SE

— Rudy Giuliani (@Rudy Giuliani) 1571171275.0
People don't seem to believe this strategy is going to pay off for Giuliani.
@RudyGiuliani Have fun in prison.

— Thor Benson (@Thor Benson) 1571171831.0
@RudyGiuliani If you think following the Constitution is unconstitutional, oh lordy, you need a lawyer.

— Seth Masket (@Seth Masket) 1571172811.0
@RudyGiuliani Friends, try this next time you receive a lawfully issued summons or subpoena and see what happens...

— Merrill⭐️ (@Merrill⭐️) 1571171628.0
@RudyGiuliani When this is over, you will NOT be the hero, Rudy. Get a lawyer.

— Kay Zed (@Kay Zed) 1571171912.0
In fact, the Committees overseeing the impeachment inquiry could choose to hold Giuliani in contempt, and possibly even arrest him. An 1821 Supreme Court case found that Congress has "inherent authority" to arrest witnesses who don't comply with subpoenas, but the right hasn't been exercised since 1927, and experts don't expect it to make a comeback.
But given the numerous times Trump officials have defied subpoenas with no consequences, Americans across the country want Congress to toughen up—calling on the Sergeant at Arms to arrest Giuliani at the Yankees game he said he'd be attending instead of relinquishing the documents.
Giuliani says he won't comply with a congressional subpoena. Make all our dreams come true and arrest him at the Yankees game today.

— Nick Jack Pap-pass the Gravy (@Nick Jack Pap-pass the Gravy) 1571168319.0
This dumb son of a bitch has Yankees tickets, right? Go arrest him this afternoon. https://t.co/rNulv1fl26

— Robin Leigh (@Robin Leigh) 1571167614.0
arrest rudy giuliani at the ALCS put it on the jumbotron

— mallory (@mallory) 1571167550.0
On a scale from 1 to inherent contempt, this basically dares inherent contempt. At this point, if the House doesn'… https://t.co/7LBNWcPu0M

— Josh Huder (@Josh Huder) 1571165648.0
It's unclear how lawmakers intend to enforce the subpoena, now that Giuliani's made it clear he has no intentions to comply. Arrest would be a nuclear option.
Keep reading...Show less