Gavin Newsom clapped back at John Cornyn's tweet about California's '100 gun laws' with statistic about the higher gun death rate in Texas.
31 January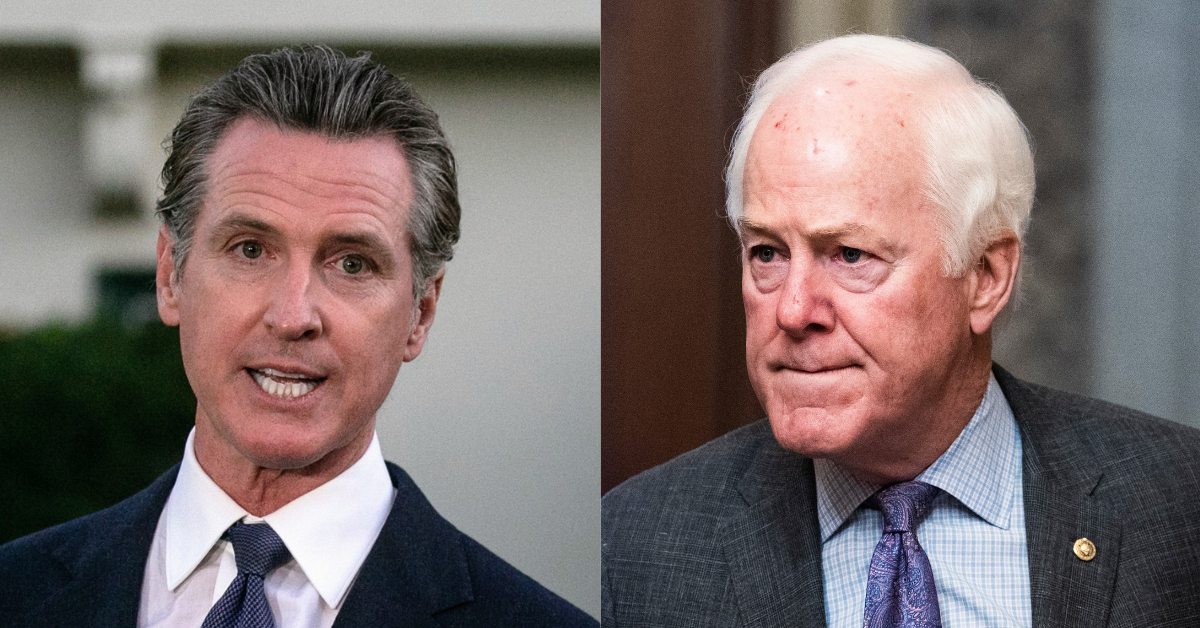 Jason Armond/Los Angeles Times via Getty Images; Tom Williams/CQ-Roll Call, Inc via Getty Images
Texas Republican Senator John Cornyn tried to make a bold claim California's strict firearms laws don't make any difference in preventing mass shootings. But California Governor Gavin Newsom shut down that argument with some simple statistics.
The topic of mass shootings has been at the forefront of many people's minds lately, as there have been a disturbing number of them in rapid succession since the beginning of the year—52 as of time of writing after only 31 days into 2023 according to the Gun Violence Archive.
Cornyn shared a New York Timesarticle about recent mass shootings and firearm regulations with the title:
"California Has More Than 100 Gun Laws. Why Don't They Stop More Mass Shootings?"
Cornyn declined to comment on the article in his tweet, seemingly thinking the title said all he wanted to say.
However, it seems likely he did not read the article, as it indicates greater regulation at the federal level—rather than each state having to come up with and enforce their own gun laws—is part of the answer to preventing mass shootings and other gun violence.

In response, Newsom quote-tweeted Cornyn's share of the article with a pretty clear statistic.
Texas has a higher gun death rate per capita than California.
Newsom was far from the only person disagreeing with Cornyn's apparent take on the situation.

Though Newsom didn't cite his source, it is likely he pulled his data from the Centers for Disease Control and Prevention (CDC) table of Firearm Mortality by State.
This table shows the number of firearms-related deaths in each state per 100,000 people.
In California, the rate is 8.5 deaths per 100,000, whereas Texas is 14.2 deaths per 100,000 people. This works out to about 67% more than California.
While it is likely true nobody has the perfect answer to ending gun violence, it is abundantly clear something must be done—and decreasing gun regulations definitely isn't the answer.