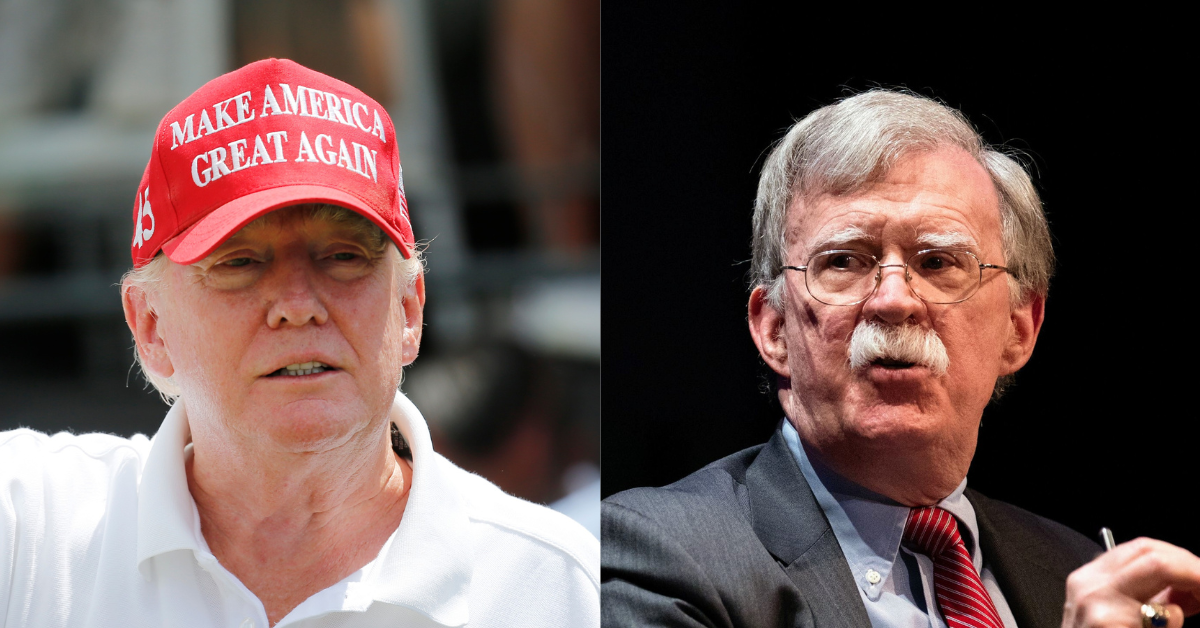 Jonathan Ferrey/LIV Golf via Getty Images; LOGAN CYRUS/AFP via Getty Images
Another of former Republican President Donald Trump's ride or die supporters—former Trump National Security Advisor John Bolton—is again speaking out to contradict his former boss.
After the Department of Justice (DoJ) issued a search warrant for Trump's Florida paid membership resort Mar-a-Lago—a warrant executed by the Federal Bureau of Investigation (FBI)—Trump and his allies have given a wide variety of responses and excuses.
The National Archives notified the DoJ they believed the prior return of documents—improperly taken to Mar-a-Lago for storage in an unsecured location by Trump—didn't include everything, with some missing documents possibly impacting national security.
In response, a search warrant was issued.
The FBI seized 11 sets of classified documents at Mar-a-Lago. While the resort has a hefty membership fee, reviews regarding national security are not part of the membership approval process. Mar-a-Lago can also be rented as an event space by anyone with the cash to pay the fees.
From the Trump camp claiming anything found was planted by the FBI to pointing fingers at former Democratic President Barack Obama to saying Trump declassified everything—a power that is not unlimited—the Trump response continues to evolve.
The current explanation hinges on an alleged standing order to automatically declassify any documents taken to Trump's properties.
On Friday evening, Trump's office stated:
"...in order to prepare for work the next day, [Trump] often took documents, including classified documents, to the residence."

"He had a standing order that documents removed from the Oval Office and taken to the residence were deemed to be declassified the moment he removed them."
But in an interview with The New York Times, Bolton said this latest excuse is "almost certainly a lie."
The former Trump administration member said:
"I was never briefed on any such order, procedure, policy when I came in."
"If he were to say something like that, you would have to memorialize that, so that people would know it existed."
National security experts concur with Bolton—such an order would have to be well documented and readily available for review.

Yet no one from the Trump camp has produced it to back their latest claim.

And regardless if such an order existed—even though its validity is questionable at best—Trump was required by law at the end of his presidency in January 2021 to turn over all White House records in his possession to the National Archives and Records Administration (NARA).