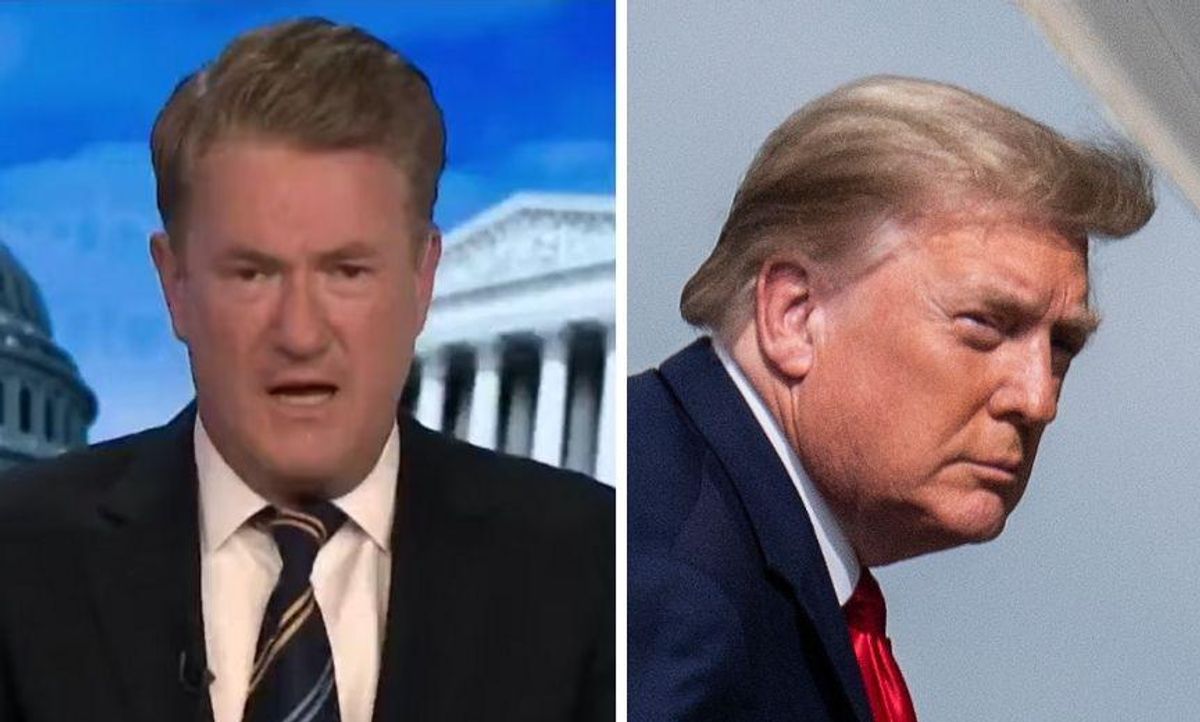 MSNBC // ANDREW CABALLERO-REYNOLDS/AFP via Getty Images
On Wednesday, the joint session of Congress overseen by Vice President Mike Pence to certify the 2020 election results was thrown into chaos when pro-Trump extremists stormed the U.S. Capitol, forcing Pence to evacuate and for lawmakers and press to hide in offices and behind chairs in the gallery.
The extremists walked freely through the Capitol, parading on the Senate floor and ransacking offices like that of House Speaker Nancy Pelosi (D-CA). By the time the Capitol was finally secure, four people were dead.
The unprecedented insurrection at the U.S. Capitol represented one of the darkest days for democracy in modern American history, and people know where to place the blame.
Just before the siege, Trump addressed the "Save America" rally organized by his supporters. He told them to "fight" and to walk to the Capitol to confront lawmakers, repeating his lies that the 2020 election was stolen by Democrats who orchestrated widespread election fraud that somehow tipped the 2020 election to President-elect Joe Biden.
The violence was a gruesome culmination of Trump's months-long smear campaign against American election integrity and of his capitulation to white nationalist militias like the Proud Boys.
MSNBC host Joe Scarborough excoriated Trump and his enablers for the chaos they fomented, and he didn't mince words in doing so.

Watch below.

First, Scarborough condemned the Capitol police, who can be seen in at least one video allowing protestors through barricades and onto Capitol grounds.

He shouted:

"So I want to know from the Capitol Hill police — what, is it just white people? Or is it Donald Trump supporters? Why do you scream at people for walking across the street three blocks away from the Capitol? Why are you known as these badasses around the Capitol? But then Trump supporters come in and you open the f***ing doors for them!"
Then he called for accountability from the President and his enablers, like bumbling lawyer Rudy Giuliani, who called for "trial by combat" ahead of the siege.
"That's insurrection against the United States of America and if Donald Trump Jr., Rudy Giuliani and Donald Trump are not arrested today for insurrection and taken to jail and booked ... if they are not arrested and brought to justice today — then we are no longer a nation of laws and we only tell people they can do this again."
People applauded Scarborough and agreed that the instigators and participants need to be held accountable.
Trump—whose Twitter account remains locked for fear that he'll incite further violence—is facing widespread calls for his resignation or removal.
Other than a statement attributed to him acknowledging the imminence of a transition, Trump has largely remained silent since being locked from his Twitter account.