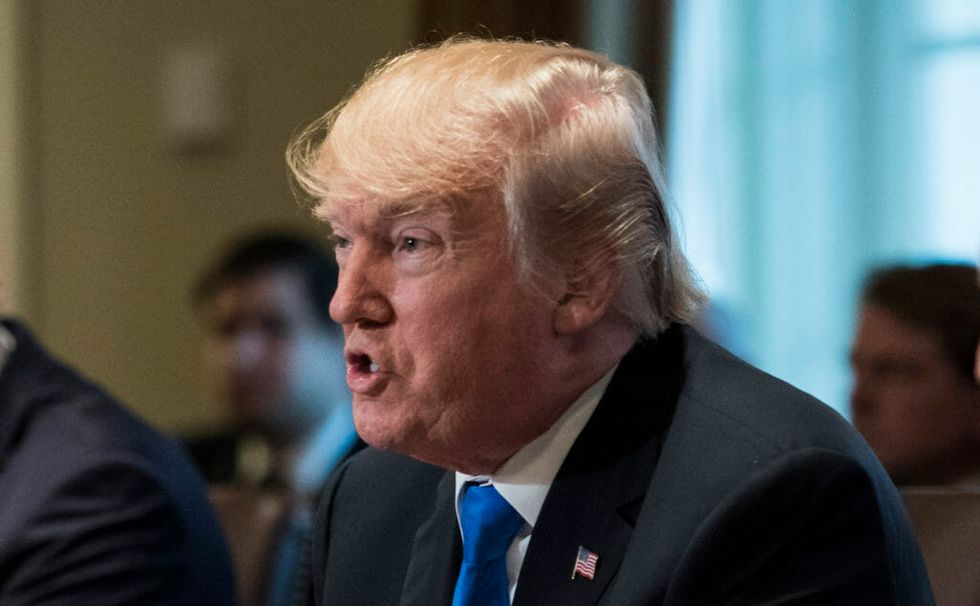 Jabin Botsford/The Washington Post via Getty Images
President Donald Trump threatens to cut off aid to any and all countries that vote in favor of a draft resolution before the United Nations, which calls for the United States to withdraw its decision to recognize the religiously-divided city of Jerusalem as Israel's capital. On Wednesday, Trump spoke to reporters at the White House:
"They take hundreds of millions of dollars and even billions of dollars, and then they vote against us. Well, we're watching those votes. Let them vote against us. We'll save a lot. We don't care," Trump told reporters at the White House.
At the request of Arab and Muslim member countries, led by Turkey and Yemen, the 193-member United Nations General Assembly will hold an emergency special session today to vote on the draft resolution. The United States vetoed the draft resolution on Monday in a meeting of the 15-member U.N. Security Council. The other 14 countries comprising the Security Council voted in favor of the Egyptian-drafted resolution.
While the draft resolution does not name Trump nor the United States, it does express "deep regret at recent decisions concerning the status of Jerusalem." It also calls on the General Assembly to declare Trump's move to place the United States-Israel embassy in Jerusalem as "null and void."
On Tuesday, United States Ambassador Nikki Haley penned a letter to several U.N. countries, essentially warning that she will be reporting back to Trump with the names of those who support the draft resolution. Haley writes:
"As you consider your vote, I encourage you to know the president and the US take this vote personally." She continues: "The president will be watching this vote carefully and has requested I report back on those who voted against us."
That same day, Haley echoed Trump and her own letter in a Twitter post:
At the UN we're always asked to do more & give more. So, when we make a decision, at the will of the American ppl, abt where to locate OUR embassy, we don't expect those we've helped to target us. On Thurs there'll be a vote criticizing our choice. The US will be taking names.
At the UN we're always asked to do more & give more. So, when we make a decision, at the will of the American ppl,… https://t.co/NfwD3sfd7d

— Archive: Ambassador Nikki Haley (@Archive: Ambassador Nikki Haley) 1513721296.0
Then on Wednesday, Haley issued a follow-up Tweet, where she once more echoed the president's threat: "Let them vote against us, we'll save a lot."
Referencing tomorrow's UN vote criticizing the US embassy move. In the words of the President, "Let them vote again… https://t.co/Vi8RlTXF2h

— Archive: Ambassador Nikki Haley (@Archive: Ambassador Nikki Haley) 1513805931.0
Several senior U.N. diplomats are not concerned that Trump's and Haley's threats will persuade any votes in the General Assembly. Instead, they suggest that the warnings are more likely meant to impress U.S. voters -- giving them something to remember the next time they are at the polls.
So how many countries receive financial aid from the United States? The answer is many, with the United States as the largest single donor country of foreign aid in the world.
According to figures from the U.S. government's aid agency USAID, in 2016 the United States provided $13 billion in economic and military assistance to countries in sub-Saharan Africa, $1.6 billion to states in East Asia and Oceania, $13 billion to countries in the Middle East and North Africa, $6.7 billion to countries in South and Central Asia, $1.5 billion to states in Europe and Eurasia, and $2.2 billion to Western Hemisphere countries.
This year, the United States spent $18.25 billion in economic aid to 92 recipients, and $18.23 billion in security aid to 143 recipients.
In terms of individual countries, the following currently receive the most economic aid from the United States: Israel's neighbor Jordan; Afganistan; and the African countries of Kenya, Tanzania, Uganda, Zambia, and Nigeria.
In a story earlier this year, via The Conversation, Georgia State University's Joannie Tremblay-Boire said cuts could have big impacts internationally.
"While taxpayers are spending just a few bucks each on ODA [official development assistance], the impact is profound, saving millions of people from hunger, averting the worst of natural disasters like droughts and flooding, tackling life-threatening diseases like tuberculosis and malaria, and more," Tremblay-Boire wrote.
"Military aid includes military financing, which our allies use to buy weapons, funding intended to advance counterterrorism and anti-narcotics initiatives, and money spent on efforts related to military operations in Iraq, Afghanistan and other nations."
But prior to the current issue with Israel and the United Nations, Trump had already proposed back in March to cut foreign aid by more than 30 percent. The U.N. draft resolution now provides him an easy excuse to do just that.
Keep reading...Show less