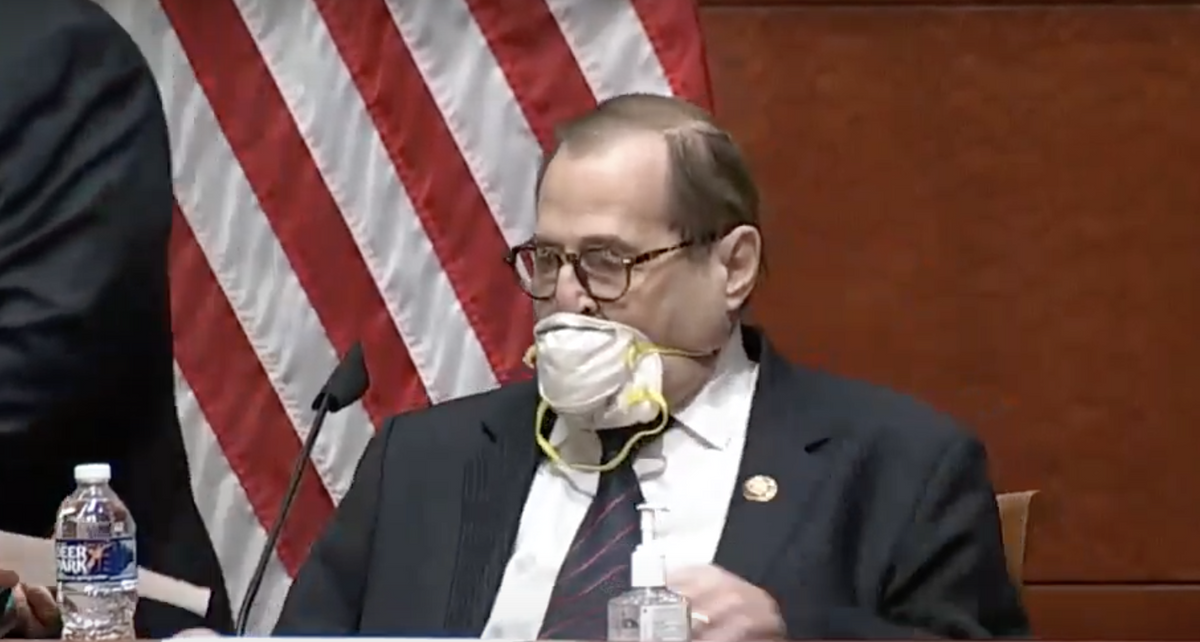 C-SPAN
The highly anticipated testimony of Attorney General William Barr on his work for President Donald Trump was held on Tuesday, but it looked quite different than the setup of other high profile congressional hearings during this time last year.
In the wake of the pandemic, the viewing area was largely empty, with the exception of other members of the Judiciary Committee. Hand sanitizer and other hygiene products were in view.
And House Judiciary Chair Jerrold Nadler (D-NY) announced at the beginning that he expected each member of Congress to wear a mask during the proceedings, except for when they're speaking.
It wasn't long into the hearing before Nadler reprimanded Ranking Member Jim Jordan (R-OH), Congressman Andy Biggs (R-AZ), and Congressman Mike Johnson (R-LA) for not wearing their masks as CDC guidelines recommend.
Watch below.
Nadler said:

"I would remind Mr. Jordan, Mr. Biggs and Mr. Johnson to stop violating the rules of the committee, to stop violating the safety of the members of the committee, to stop holding themselves out as not caring by refusing to wear their masks."
One member laughingly asked if it was permissible to drink coffee, to which Nadler replied, "It is not permissible."
The GOP representatives were accused of dismissing the importance of masks, similarly to President Donald Trump.
should it be a surprise that republican lawmakers are as immature and ill-informed as their orange cult leader is? https://t.co/0zcnpHi5JC

— c lewis silberman (@c lewis silberman) 1595963221.0
@thehill You da boss Jerry! Exert your power while you can!

— Rhee Sutton (@Rhee Sutton) 1595959730.0
Calls for Americans to wear masks have grown in the absence of a nationwide mask mandate that many experts say would help stop the virus in its tracks.
Every credible scientist and doctor tells us that wearing masks is critical to saving lives and stopping the spread of COVID-19.

But apparently the world-renowned health expert, Donald Trump Jr., thinks otherwise.

I'll stick with science and wear a mask, thank you very much. https://t.co/JmVog1poAe
— Bernie Sanders (@BernieSanders) July 28, 2020
Help us combat the spread of COVID-19 and wear a mask to fight for our Soldiers. #TNfights https://t.co/nsY7sul14x

— Tenn. National Guard (@Tenn. National Guard) 1595963527.0
1,773 new cases today. Missouri physicians remind you to: - social distance - wear a mask - practice good hygiene… https://t.co/biAiLMCyyx

— MO State Medical Assn (@MO State Medical Assn) 1595963693.0
after 2 weeks of being positive, i tested again yesterday for COVID-19 and tested negative!! thank you all for the… https://t.co/y0Cy8hkrXM

— Jonah • WHY DON'T WE (@Jonah • WHY DON'T WE) 1595960508.0
Medical experts have assured that collectively wearing masks can significantly slow person to person transmission.