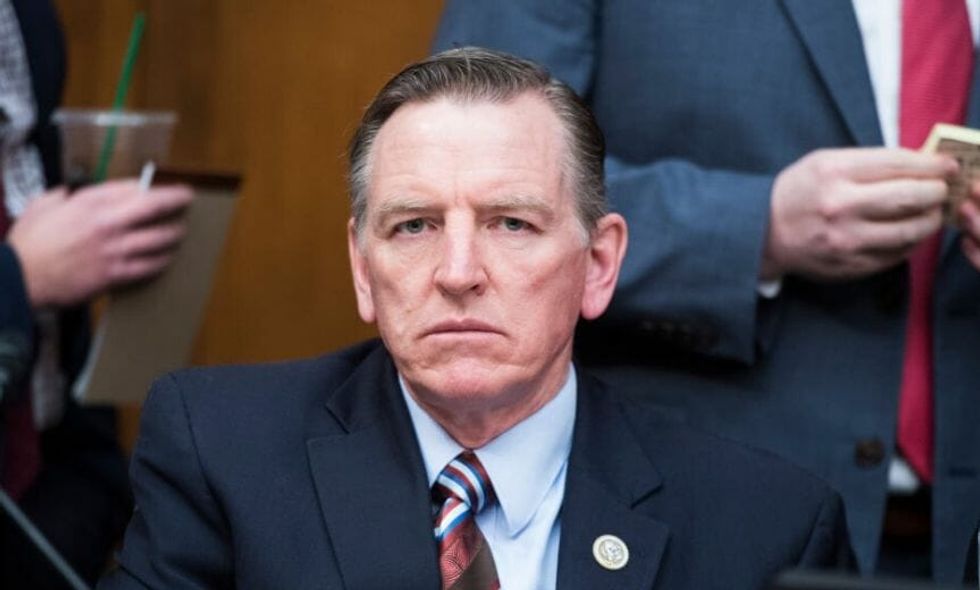 Tom Williams/CQ Roll Call
The death of billionaire and serial child rapist Jeffrey Epstein struck a huge blow to his victims hoping to see him face justice. Officials say that Epstein died by suicide, but due to the maximum security upgrade of his cell following a previous suicide attempt combined with his access to numerous celebrities, politicians, and other notable people, some are saying it's foul play.
In the months since his death, the conspiracy theory phrase "Epstein didn't kill himself" has become a popular meme.
Now, it's even reached the House of Representatives, with Congressman Paul Gosar (R-AZ) hiding "EPSTEIN DIDN'T KILL HIMSELF" in a series of tweets criticizing the impeachment inquiry against President Donald Trump.
Read the first letter of each tweet below.
Some Republican conspiracy theorists believe that the Clintons killed Epstein, citing that Epstein and former President Bill Clinton frequently associated. Some Democrat conspiracy theorists claimed Trump orchestrated the murder of Epstein for his own ties with the child rapist.
Former Congresswoman Katie Hill, who recently resigned from Congress after an abusive ex-husband shared nude pictures of her without her permission, called out Gosar for spreading conspiracy theories.
Gosar tried to shame her.
But Hill was having none of it and expertly took him to task.
People were puzzled by the Congressman's means of getting the message—accuracy aside—across.
Gosar continued to troll, pinning a tweet whose letters spell out AREA51.
Someone needs to sort out his priorities.
Keep reading...Show less