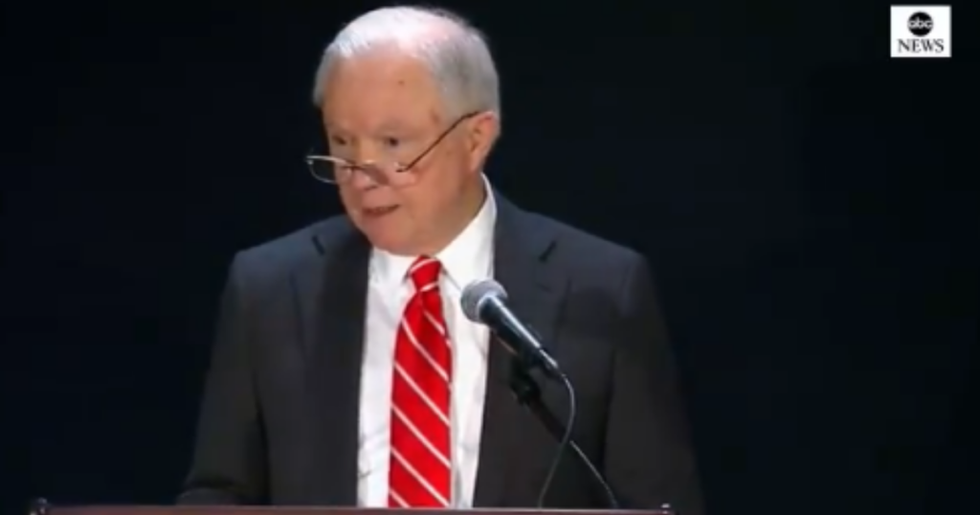 ABC News
Attorney General Jeff Sessions on Monday was heckled by religious protesters who blasted the Alabama Republican for his un-Christian treatment of undocumented immigrants.
Sessions was speaking to the Boston Lawyers Chapter of the Federalist Society when a member of the clergy in attendance stood up and recited Bible verse Matthew 25:43, which has to do with kindness to strangers. The man urged Sessions to "repent."
"Brother Jeff, as a fellow United Methodist I call upon you to repent," the Methodist pastor said, "to care for those in need, to remember that when you do not care for others, you are wounding the body of Christ."
Sessions defensively brushed off the pastor's remarks as an "attack."
"Well, thank you for those remarks and attack," Sessions responded, "but I would just tell you we do our best every day to fulfill my responsibility to enforce the laws of the United States."
Watch the clip below:
Shortly thereafter, a second man was met with boos and jeers of "go home!" from the audience when he tried to interrupt Sessions. He can be heard calling Sessions "hypocritical" for his approach to immigration as he was escorted out of the room.
Sessions defended his position by saying his job is to enforce the law.
"I don't believe there's anything in my theology that says a secular nation-state cannot have lawful laws to control immigration," the attorney general said, "not immoral, not indecent and not unkind to state what your laws are and then set about to enforce them."
Watch the clip below:
First, Twitter noticed that the crowd only booed one of the protesters - who happens to be black.
Indeed, although the real stir was caused by Sessions' use of the word "attack." Twitter wasn't having it.
The optics of tossing out religious leaders who were exercising their First Amendment rights are terrible, regardless of spiritual belief.
Sessions, a devout Methodist, is no stranger to being criticized by members of his own faith.
In June, hundreds of members of the United Methodist Church in Alabama signed a letter denouncing Sessions' support of President Donald Trump's family separation policy.
The United Methodist Church decried the policy as "antithetical to the teachings of Christ."
More than 600 worshippers and clergy members accused the attorney general of child abuse, racism, immorality, and "dissemination of doctrines contrary to the established standards of doctrines" of the United Methodist Church.
Keep reading...Show less