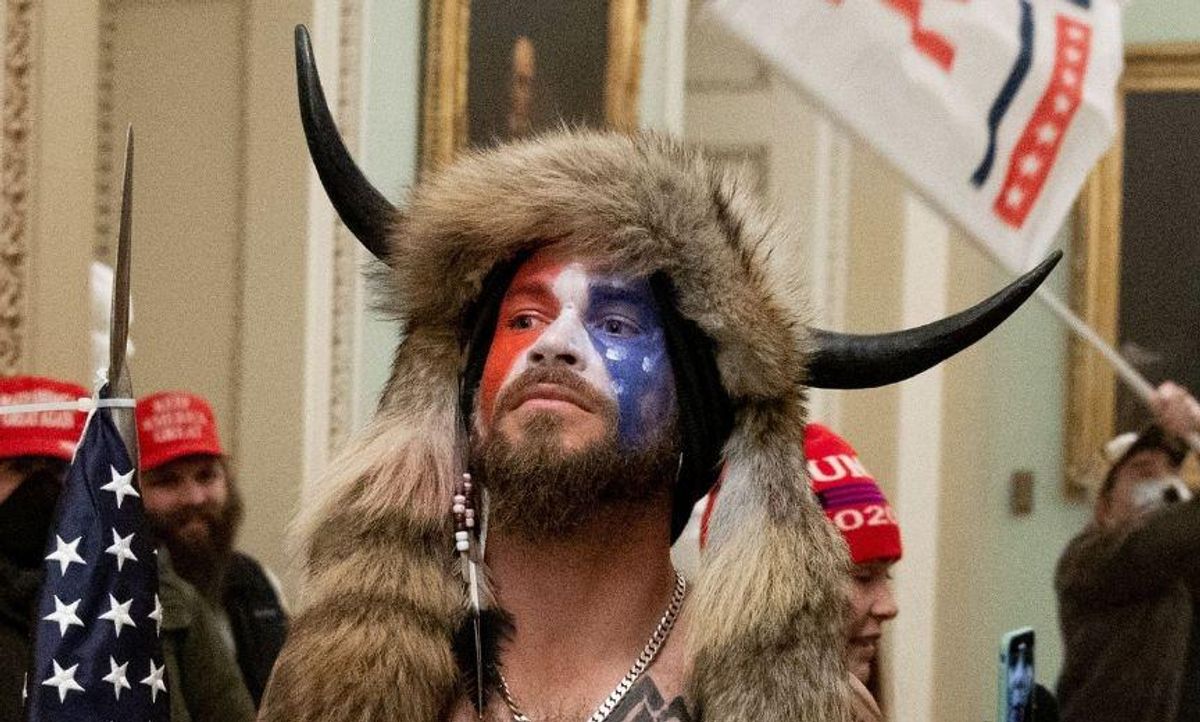 SAUL LOEB/AFP via Getty Images
On January 6, extremist supporters of former President Donald Trump stormed the United States Capitol in a deadly failed insurrection, fueled by his lies that the 2020 presidential election was "stolen" from him by Democrats.
The Federal Bureau of Investigation (FBI) has since made hundreds of arrests, but few have garnered as much attention as the arrest of Jacob Chansley, also known as the QAnon Shaman, whose photos parading around the evacuated Senate floor in a horned headpiece went viral.
Chansley has been using media appearances to sanitize his actions, claiming the siege was not an attack on the United States and that he was only there to sanctify the "sacred" space.
In response to Chansley's motion for release from prison, U.S. District Judge Royce C. Lamberth issued a scathing memo denying Chansley's request and further excoriating his arguments, along with his decision to embark on a media campaign to boost public sympathy.
Judge Lamberth wrote:

"Given defense counsel's decision to use what could have been a confidential videoconference on a media publicity stunt, that argument is so frivolous as to insult the Court's intelligence."
The judge was alluding to a recent interview Chansley gave on 60 Minutes+ last week, in which he claimed he didn't break into the Capitol, but was ushered in through open doors.
Lamberth also dismissed Chansley's arguments as "meritless" and "mistaken," writing:
"The statements defendant has made to the public from jail show that defendant does not fully appreciate the severity of the allegations against him. To the contrary, he believes that he — not the American people or members of Congress — was the victim on January 6th."
The judge was met with widespread agreement.
There are ubiquitous calls for the failed insurrectionists to be charged to the fullest extent.
The FBI is also investigating potential communications between rioters and members of Congress.