Jack Sweeney's @ElonJet Twitter account was suspended after Sweeney called out Elon Musk for shadowbanning the account.
14 December 2022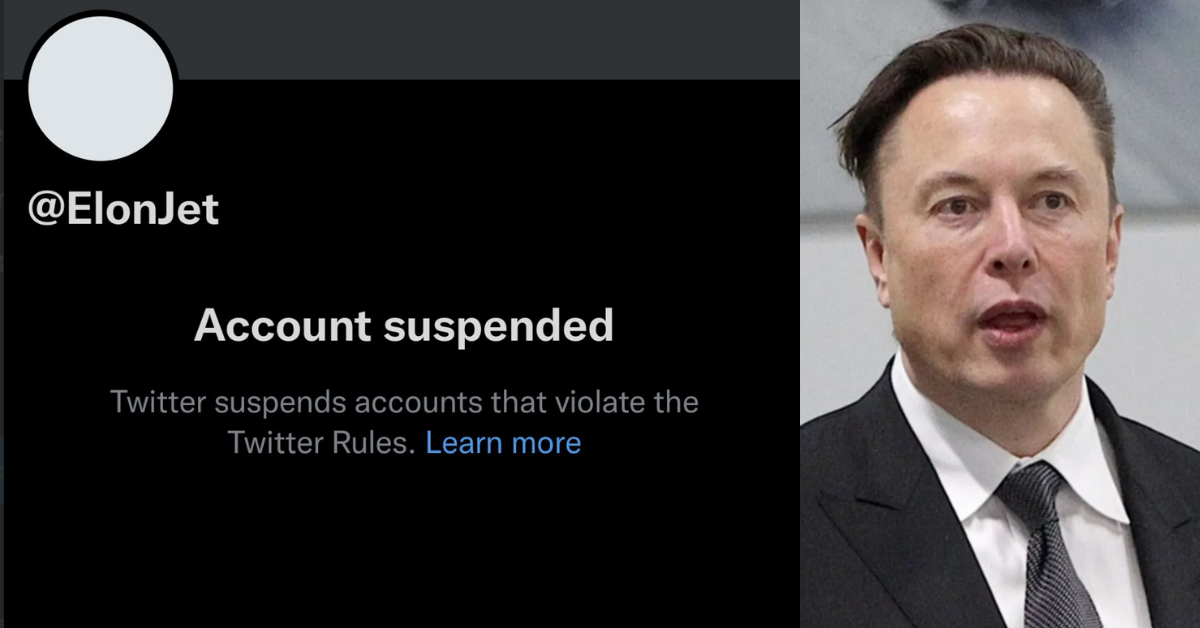 @elonjet/Twitter; Christian Marquardt/Pool/Getty Images
The Twitter account @elonjet—the brainchild of young programmer Jack Sweeney that tracks the itineraries of billionaire Elon Musk's private jet—has been officially suspended from the social media platform despite Musk's prior claim he would not move to suspend the account because of his "commitment to free speech."
Sweeney confirmed his account had been suspended in a post published to his official Twitter account, which included a picture showing his account had been suspended because it "broke the Twitter Rules" and is now "permanently in read-only mode."
The account's suspension comes mere days after Sweeney posted a thread on Twitter titled "My Twitter Files" in which he revealed he'd learned from an anonymous Twitter employee that his account had been subject to a shadow ban, which blocks users without their knowledge, typically by making their posts and comments no longer visible to other users.
Sweeney shared a screenshot of internal messages from Ella Irwin—who was recently appointed the head of Twitter's user content and safety policies—asking her team to apply "heavy VF," or visibility filtering, to @elonjet.

@JxckSweeney/Twitter
He later toldThe New York Post that he suspects Musk will justify the ban by claiming it is part of his pledge to purge Twitter of bot and spam accounts. Sweeney's flight tracker is operated by a bot that Sweeney created that mines publicly available flight data that tracks the movement of private jets.
Earlier today, Musk also suspended Sweeney from Twitter altogether.
The news of the account's suspension reflects poorly on Musk, who last month insisted his "commitment to free speech" prohibits him from banning @elonjet, even though the account poses "a direct personal safety risk."
Twitter has had to contend with one crisis after another since Musk took ownership of the company, and much of that controversy has revolved around the $8 monthly cost of Musk's newly announced and recently delayed blue checkmark verification subscription, which effectively allows anyone to create a verified account and impersonate whoever they wish.

Musk has repeatedly insisted that Twitter needs to go private if it wants to become a platform for free speech, though he has already come under fire for silencing his critics and spreading misinformation.
The suspension of @elonjet is no different—and he's facing harsh criticism as a result.
Earlier this year, well before Musk moved to acquire Twitter, Sweeney toldThe New York Post that the Orlando-based private charter flight firm Stratos Jet Charters was so impressed by his efforts tracking Elon Musk that they offered him a job on its tech development team.
Musk offered Sweeney $5,000 to shut down the account altogether, an offer Sweeney rejected. Sweeney counteroffered, requesting $50,000 and an internship to delete the account, a request Musk indicated he would consider. However, Musk later blocked Sweeney's personal Twitter account, angered by the public exposure.
Sweeney has previously made headlines for tracking the jets of Russian oligarchs.
A Twitter account called Russian Oligarch Jets until recently tracked the whereabouts of some of Russia's wealthiest, who've continued to travel in private jets and on yachts despite economic sanctions that have adversely impacted the Russian economy since President Vladimir Putin moved to invade Ukraine.
The account, which has also been suspended, offered a treasure trove of information for international authorities, who have pledged to identify and seize assets held by Russian oligarchs targed by the sanctions imposed by the European Union.