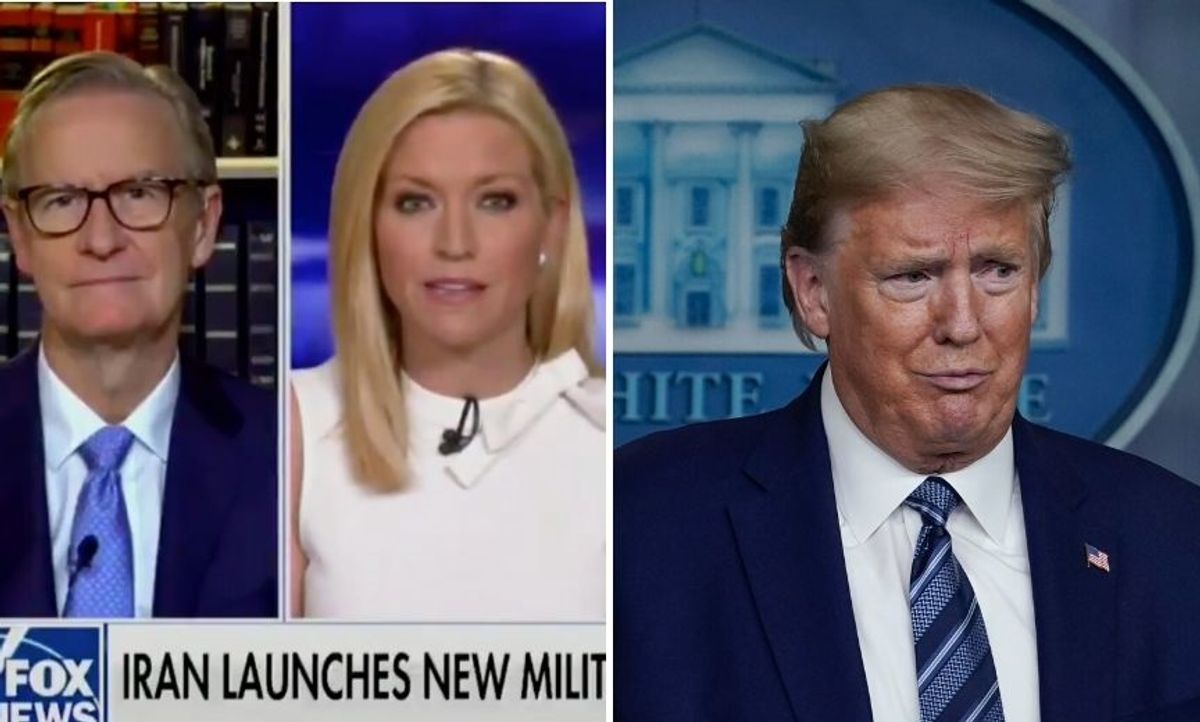 Fox News // Drew Angerer/Getty Images
Amidst the uncertainty of a global pandemic that's cost thousands of lives and millions of jobs in the United States, President Donald Trump announced an order that could accelerate the tensions between the United States and Iran.
Trump tweeted that he ordered the U.S. Navy to destroy Iranian gunboats deemed to be harassing its ships.
Trump posted the tweet at 8:08 in the morning.
With the country in the throes of a pandemic and subsequent financial crisis, the announcement likely seemed sudden to many of the President's Twitter followers.
But some internet sleuths began digging and think they know what prompted it.
One of the President's favorite shows, Fox and Friends, had discussed Iranian aggression just before Trump announced he'd ordered the Navy to shoot down Iranian boats.
Watch below.

The segment covered Iran launching its first military satellite into space, before pivoting to its efforts on the seas.
Fox and Friends' cohost Ainsley Earhardt said:

"At the same time Iran is bragging about the Navy's capabilities. Just last week, armed Iranian boats were caught on camera performing dangerous maneuvers around our warships in the Persian Gulf."
The tweet from the President comes months after tensions between the United States and Iran reached a boiling point when Iran conducted a ballistic missile strike against Iraqi military bases housing United States troops. That aggression was in response to aU.S. strike which killed high-ranking Iranian military official Qasem Soleimani.

Trump vaguely claimed that Soleimani was planning an operation that posed an immediate threat to the United States, though the evidence for that is shaky at best. Iran's subsequent strike on Iraqi bases inflicted numerous traumatic brain injuries on American soldiers, which Trump dismissed as unserious.
With tensions between Iran and the United States so high and the United States so vulnerable in the face of the pandemic, people found it inappropriate for Trump to dictate foreign policy based on what he heard on Fox and Friends.
Some think that Trump's latest war threat—along with a suspension on all immigration into the United States—is an attempt to enthuse his base in a distraction from the faltering economy.
A stable genius, indeed.
For a deeper look into the chaos of the Trump administration, check out A Very Stable Genius, available here.
Keep reading...Show less