Donald Trump suggested to reporters the January 6 attacks would not have happened 'had Pence sent the votes back to the [state] legislatures.'
14 March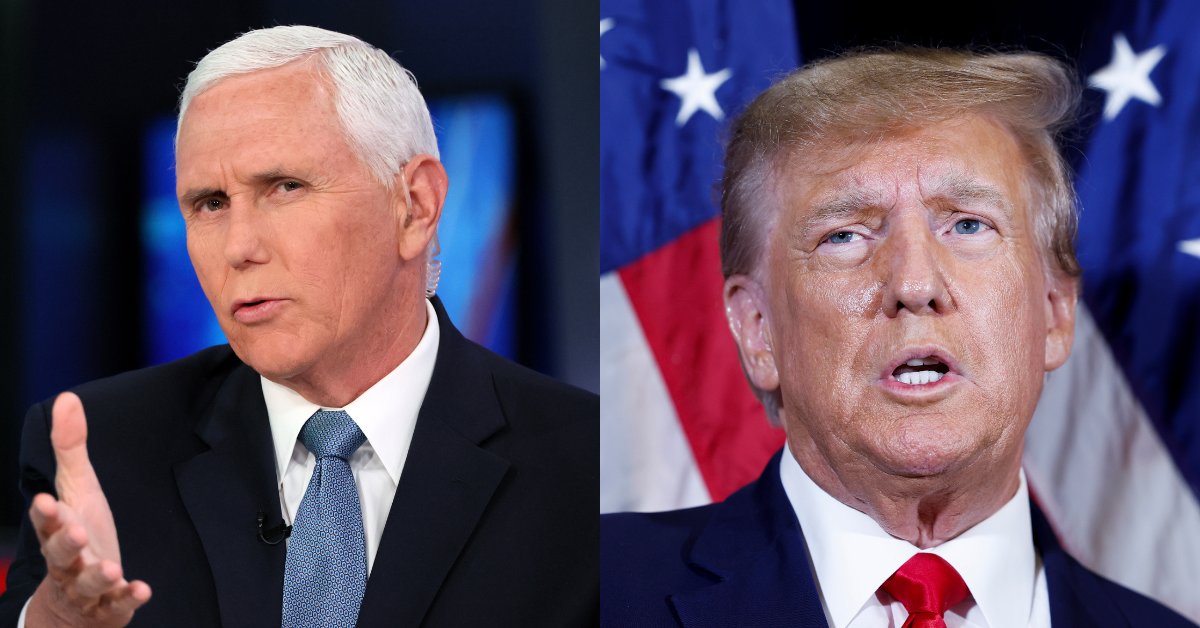 Dia Dipasupil/Getty Images & Anna Moneymaker/Getty Images
Former Republican President Donald Trump is now outright blaming former Vice President Mike Pence for the events of the January 6 insurrection—because of course he is.
Despite the fact Pence was actually the one endangered by Trump's supporters on January 6—who chanted "Hang Mike Pence" and even brought a noose and gallows—Trump claimed the whole thing was Pence's fault.
Trump spoke with reporters during a flight to a campaign stop in Iowa and told them Pence should have just "sent the votes back"—whatever that means.
He claimed Pence should have "sent them back" to various Republican controlled states to prevent the violence that ensued.
"Had he sent the votes back to the legislatures, they wouldn't have had a problem with Jan. 6, so in many ways, you can blame him for Jan. 6."
"Had he sent them back to Pennsylvania, Georgia, Arizona, the states, I believe, number one, you would have had a different outcome."
"But I also believe you wouldn't have had 'Jan 6' as we call it."
While the Vice President does preside over the very much ceremonial counting of the Electoral College votes, that doesn't give him any kind of authority to change the outcome of that count—or to "send votes back" to Republican state legislatures to change the outcome of the presidential election.

Although that was the message being peddled at the "Stop the Steal" rally Trump lead—along with several Republican members of Congress—which eventually lead to a violent mob attacking the United States Capitol leading to at least five deaths, over 140 injured law enforcement officers and millions of dollars in damages.
Twitter users were quick to call Trump out for his deflection attempt.
Pence wasn't the only one Trump went after during his stop in Iowa.
He also took the opportunity to rag on his likely opponent for the 2024 Republican presidential primaries, Florida GOP Governor Ron DeSantis.

Though DeSantis has not yet publicly announced his intention to run in 2024, the Washington Post reported people close to him said he has privately said he will run. Trump has been attacking DeSantis as though he assumed he would run against him for months.
Trump called DeSantis a "disciple of Paul Ryan" and said DeSantis reminded him of Mitt Romney and insinuated the similarity would lead to DeSantis losing the election.
He told the MAGA crowd at his rally:
"You have to remember, Ron was a disciple of Paul Ryan, who is a RINO [Republican in name only] loser who currently is destroying Fox [News] and would constantly vote against entitlements."
"But Ryan, Paul Ryan is a big reason Mitt Romney… lost his election. And to be honest with you, Ron reminds me a lot of Mitt Romney, so I don't think you're going to be doing so well here."
Though Trump seems not to think too highly of DeSantis now that he's a rival insteadof an acolyte, he's definitely not above using DeSantis' talking points in his speeches.
Trump spent time talking about how he will "end woke"—a phrase very close to the Stop-Woke act DeSantis tried to pass in Florida—during Trump's Iowa speech.