Steven Bannon called out the GOP House Speaker on his 'War Room' show for betraying Trump by making a debt ceiling deal with Biden and saying Trump might not be the 'strongest candidate.'
28 June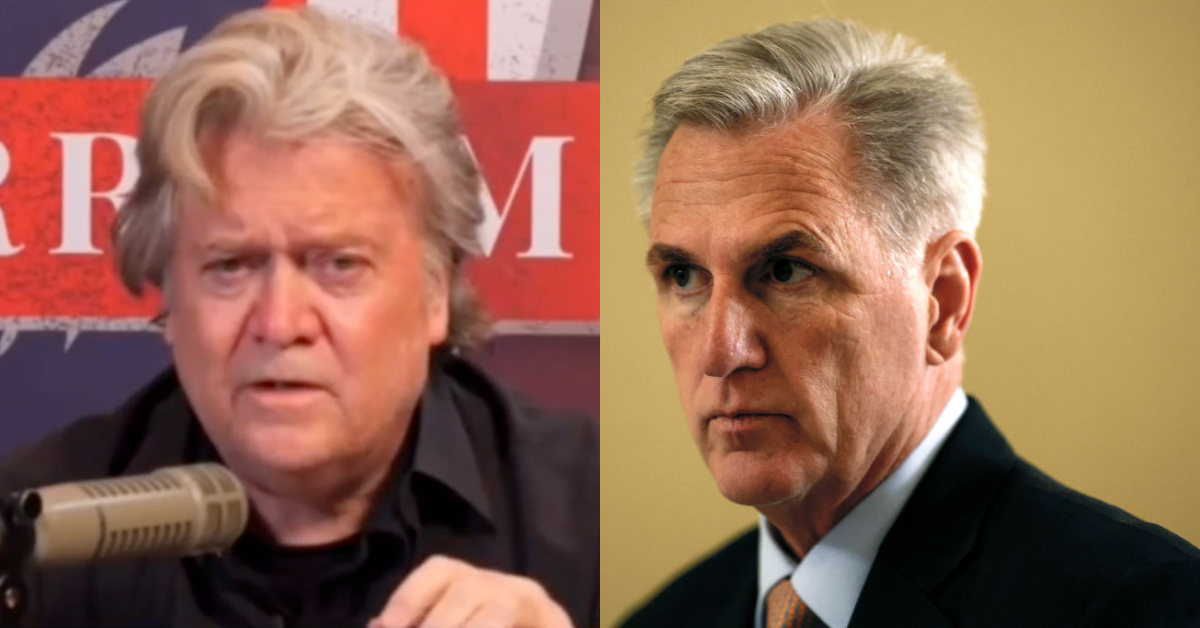 Real America's Voice; Anna Moneymaker/Getty Images
Conservative podcast host Steve Bannon launched a scathing tirade against House Speaker Kevin McCarthy on his War Room program, accusing McCarthy of disloyalty to former Republican President Donald Trump.
Bannon's anger stemmed from McCarthy's remarks suggesting that he favored Trump's policies but had concerns about his communication style. Bannon's heated response reflected his frustration over McCarthy's recent deal with President Joe Biden to raise the nation's debt ceiling, which Bannon believed was a betrayal of conservative principles.
Bannon vehemently disagreed with McCarthy's implication that Trump's policies were commendable while insinuating concerns about his communication approach.
Bannon's emotional outburst included shouting,
"Screw you! I'm going on a jihad!"
You can hear what Bannon said in the video below.
Bannon said:

"His policies are terrific; the implication is he's not. Screw you! I'm going on a jihad!"

"He gave two years unlimited [spending], no time duration, and no cap, and he did it on purpose."
Suggesting that McCarthy's deal with the Biden administration prevented "tax increases for the wealthy," Bannon said Trump had made a "mistake" by supporting McCarthy's exhaustive bid to become the Speaker of the House.
He concluded:

"He wasn't on the right side of the football in the first week in January, but, hey, you know stuff happens. That was a mistake."
"[McCarthy] is putting the shiv in every frickin' second of every day."
Bannon's remarks took Twitter by storm and he was swiftly criticized for calling for "jihad."
"Jihad" is defined as "a struggle or fight against the enemies of Islam," a rallying cry that has come to define the action of terrorist cells like the Islamic State (ISIS) and has served as fuel for Republican politicians and pundits who have stoked fears of Islamic influence on American society, particularly in the wake of the War in Iraq and other American operations in the Middle East.
Bannon's outburst was seen as yet another example of the extremism that has come to define the Republican Party over much of the last decade.
Bannon's outburst and disagreement stems from dissatisfaction of McCarthy's right-wing flank regarding his compromise with the Biden administration to avoid default and raise the debt ceiling.
The compromise, which did not include significant spending cuts, prompted the conservative faction—particularly members of the far-right Freedom Caucus—to revolt once again, earlier this month moving to block legislation and spurring more criticisms that McCarthy is unable to retain control over his party.
Florida Republican Representative Matt Gaetz has been one of McCarthy's harshest critics, suggesting that his support helped McCarthy secure the speakership and that the fundamental commitments of their agreement had been "violated" because of the deal with the Biden administration and House Democrats to pass the debt ceiling measure.