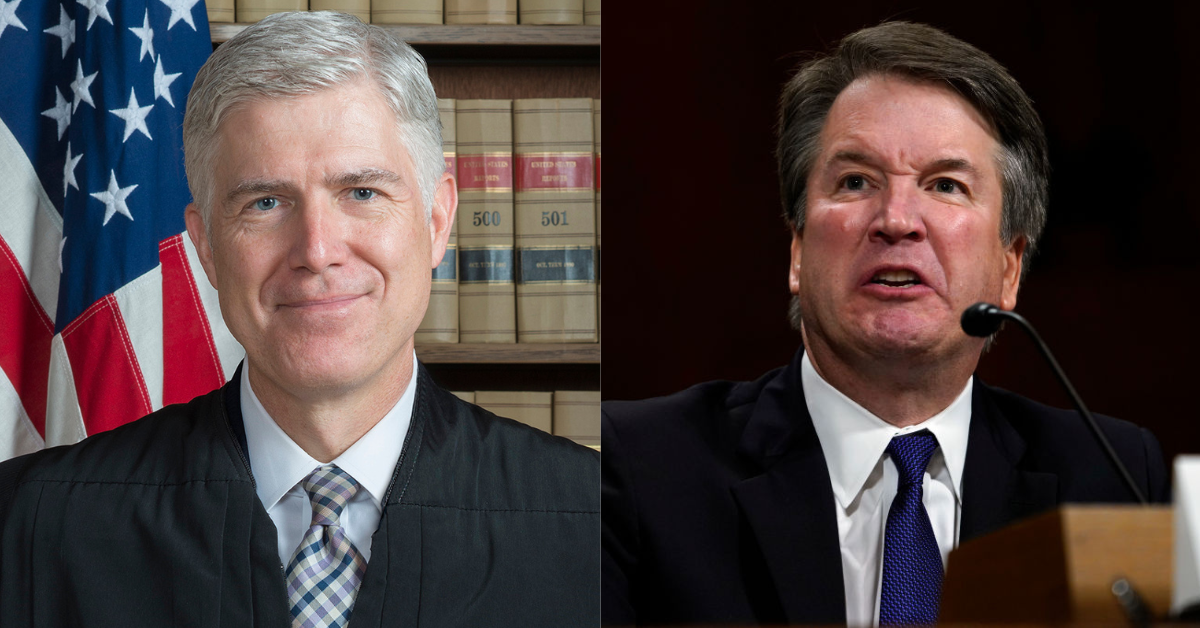 National Archives; Andrew Harnik - Pool/Getty Images
On Wednesday, the United States Supreme Court ruled 5-4 that states have jurisdiction concurrent with the federal government to prosecute crimes committed by non-Indigenous peoples against Indigenous peoples on tribal lands.
The decision led by the court's conservative theocratic majority is being cited as a clear attack on tribal sovereignty.
One critic of the decision was usually conservative Justice Neil Gorsuch.
Controversial Justice Brett Kavanaugh wrote the majority opinion joined by Chief Justice John Roberts and Justices Clarence Thomas, Samuel Alito, and Amy Coney Barrett.
Gorsuch joined the minority opinion with the court's three liberal Justices—Stephen Breyer, Elena Kagan, and Sonia Sotomayor.

Gorsuch wrote:
"Today the Court rules for Oklahoma."
"In doing so, the Court announces that, when it comes to crimes by non-Indians against tribal members within tribal reservations, Oklahoma may 'exercise jurisdiction'. Ante, at 4."
"But this declaration comes as if by oracle, without any sense of the history recounted above and unattached to any colorable legal authority. Truly, a more ahistorical and mistaken statement of Indian law would be hard to fathom."
He added:
"Tribes are not private organizations within state boundaries."
"Their reservations are not glorified private campgrounds."
"Tribes are sovereigns."
"And the preemption rule applicable to them is exactly the opposite of the normal rule. Tribal sovereignty means that the criminal laws of the States 'can have no force' on tribal members within tribal bounds unless and until Congress clearly ordains otherwise."
The Native American Rights Fund (NARF) and the National Congress of American Indians (NCAI) issued a joint statement on the ruling.
In a press release, they wrote:
"Today, the U.S. Supreme Court, in a 5-4 decision, overturned the long-held understanding that states do not have authority to prosecute non-Indians who commit crimes against Indians in Indian country."
"The Court, in Castro-Huerta v. Oklahoma, held that 'the Federal Government and the State have concurrent jurisdiction to prosecute crimes committed by non-Indians against Indians in Indian country', which strikes against tribal sovereignty and jurisdiction to protect tribal citizens."
"The consequences of the decision–for Tribal Nations, the federal government, and states–will take time to unravel."
NCAI President Fawn Sharp stated:
"The Supreme Court's decision today is an attack on tribal sovereignty and the hard-fought progress of our ancestors to exercise our inherent sovereignty over our own territories."
"It was only a few months ago that Congress loudly supported tribal sovereignty and tribal criminal jurisdiction with the passage of the Violence Against Women's Act, reaffirming the right of Tribal Nations to protect their own people and communities, but make no mistake, today, the Supreme Court has dealt a massive blow to tribal sovereignty and Congress must, again, respond."
NARF Executive Director John Echohawk said:

"Unauthorized and unconsented intrusions on tribal sovereignty are antithetical to tribal sovereignty and tribal treaty rights."
Gorsuch further stated:

"In the end, the Court cannot fault our predecessors for today's decision. The blame belongs only with this Court here and now."
"Standing before us is a mountain of statutes and precedents making plain that Oklahoma possesses no authority to prosecute crimes against tribal members on tribal reservations until it amends its laws and wins tribal consent."
"This Court may choose to ignore Congress's statutes and the Nation's treaties, but it has no power to negate them."
"The Court may choose to disregard our precedents, but it does not purport to overrule a single one."
"As a result, today's decision surely marks an embarrassing new entry into the anticanon of Indian law. But its mistakes need not—and should not—be repeated."
While on the surface, allowing local and state jurisdiction on tribal lands seems beneficial in prosecuting criminals, Kavanaugh's opinion effectively rules tribal lands are part of any state whose borders they fall within.
But tribal lands are held by sovereign nations through treaties with the United States government and most often predate the creation of the individual states. They also cross state and international borders.
Treaties with tribal nations should be honored in the same way as any other treaty the USA signed with another sovereign nation, such as Canada, Germany or Japan.
South Dakota Republican Governor Kristi Noem tried to force Indigenous nations within her state borders to ignore pandemic protocols, threatening to call out law enforcement or the National Guard.
A ruling such as Kavanaugh's gives credence to Noem's overreach.