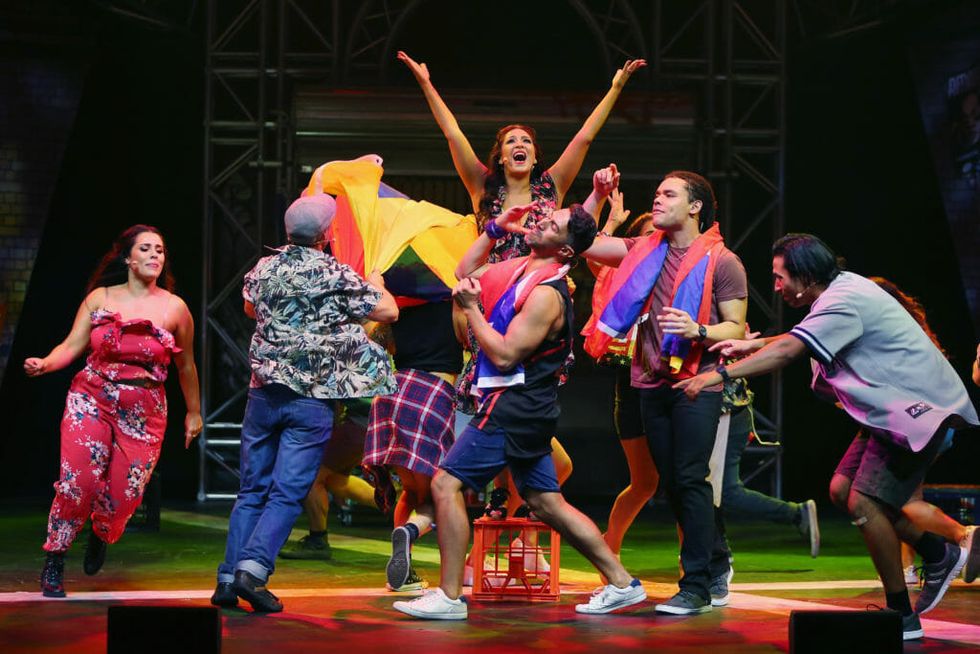 SYDNEY, AUSTRALIA - JANUARY 16: Olivia Vasquez (C) plays the role of Vanessa onstage during a media call for "In The Heights" at the Sydney Opera House on January 16, 2019 in Sydney, Australia. (Photo by Don Arnold/WireImage)
Broadway fans everywhere are clamoring for more information about the upcoming film adaptation of In the Heights—the 2008 Tony winner for Best Musical that thrust composer, lyricist, and star Lin-Manuel Miranda into the public eye.
The musical takes place in Washington Heights through the eyes of ambitious young Bodega owner Usnavi over the course of three days, as the neighborhood feels its way through a blackout and buzz of a lottery winner on the block.
Shooting has not yet begun and the film isn't due for release until next summer, but that doesn't mean we're completely in the dark.
Here's the tea so far:
At least one original cast member will be returning
The original Abuela Claudia—the warmhearted matriarch of the neighborhood—will be played by Olga Merediz, who was nominated for a Tony for the portrayal. Merediz is a theatre veteran, but she's no stranger to film either, with appearances on everything from Blue Bloods to Law and Order.
The actor playing Usnavi knows all about Lin-Manuel Miranda
Anthony Ramos already dazzled audiences for his role as Ramon in A Star is Born, but Ramos inspired Lin-Manuel Miranda long before that. In addition to playing Usnavi in the Kennedy Center production of In the Heights, Ramos also originated roles in Hamilton and a short 2014 Lin Manuel-Miranda musical called 21 Chump Street. We're sure Ramos will be just as entrancing as Usnavi in the film as he was in the nation's capital.
One notable RENT cast member might be signing on soon
Daphne Rubin-Vega's turn as the original Mimi in RENT catapulted her into the ranks of theatre legend. Rumor has it that the star is in talks to play salon owner and neighborhood gossip Daniela. But you didn't hear it from us.
The rest of the cast is stunning
While some casting announcements are yet to be made, the roles already announced are drumming up lots of excitement. Corey Hawkins of The Walking Dead will play aspiring businessman Benny, Jimmy Smits of NYPD Blue has signed on to play embattled father Kevin, singer Leslie Grace will play nostalgic student Nina, and actress Melissa Barrera will play Vanessa, Usnavi's love interest and discontent salon worker.
John Chu will be directing.
Chu recently enjoyed universal acclaim for his adaptation of Crazy Rich Asians, which took awards season by storm. We can't wait to see what he'll do with the adaptation of In the Heights. As you've seen, he's already making fantastic choices with casting.
You'll have to wait over a year to see the final product.
Fans of In the Heights are in for a bit of a wait. The film is slated for release on June 26, 2020. But have no fear: you can check Everything Broadway for all the latest!
Keep reading...Show less