immigrant children detention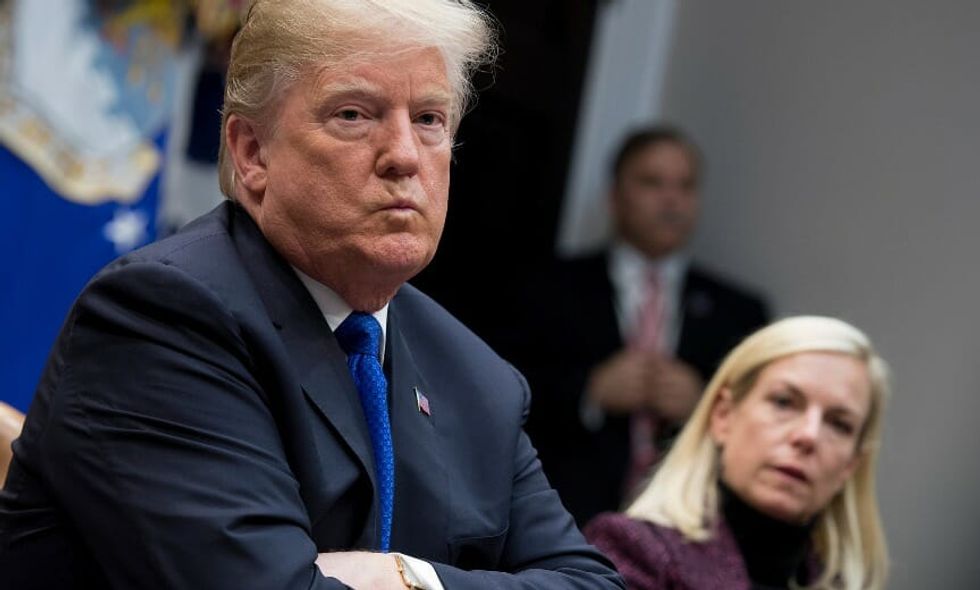 US President Donald Trump (L) listens with US Secretary of Homeland Security Kirstjen Nielsen during a meeting with Republican members of the Senate about immigration at the White House in Washington, DC, on January 4, 2018. / AFP PHOTO / JIM WATSON (Photo credit should read JIM WATSON/AFP/Getty Images)
The Trump administration is planning on cutting hundreds of millions of dollars from cancer and HIV research to cover the costs of keeping immigrant children in custody, Yahoo News reported on Wednesday.
HHS is diverting millions of dollars in funding from a number of programs, including the Centers for Disease Contro… https://t.co/hZEePsPO7T

— Yahoo News (@Yahoo News) 1537399712.0
Health & Human Services Secretary Alex Azar sent a letter to Senator Patty Murray (D-WA) earlier this month outlining the department's plan to "reallocate up to $266 million in Fiscal Year (FY) 2018 funding for the Unaccompanied Alien Children Program."
Azar also sent the letter to Senator Roy Blunt (R-MO) and Representatives Tom Cole (R-OK) and Rosa DeLauro (D-CT).
"Nearly $80 million of that money will come from other refugee support programs" within the Office of Refugee Resettlement, Yahoo said.
Additional funding will be redirected from services ranging from mental health, women's shelters, and substance abuse programs. As of Wednesday, there are currently 13,312 immigrant children in federal custody, according to ORR statistics obtained exclusively by Yahoo. ORR's facilities are at 92 percent capacity, Yahoo said.
CNN on Thursday broke down which essential programs were being slashed to pay for the incarceration of migrant children:
"The documents show a plan to take money from a variety of places, including $16.7 million from the child benefits program Head Start, $3.8 million from HIV programs as part of a bigger $16.7 million from the Centers for Disease Control and Prevention, $9.8 million from Medicare and Medicaid program operations, $2.2 million from maternal and child health programs, $5.8 million from the Ryan White HIV/AIDS program, $13.3 million from the National Cancer Institute and $87.3 million overall from the National Institutes of Health."
Earlier this month, the Department of Homeland Security shifted $10 million from FEMA to help cover the costs of immigrant detention - days before Hurricane Florence pounded the Carolinas and Virginia.
HHS said in a statement that such requests are routine and the shifting of funds for migrant detention facilities can be traced back to 2012.
"HHS is utilizing the Secretary's transfer and reprogramming authorities to provide additional funds for the care of unaccompanied alien children," said HHS Deputy Secretary Eric Hargan. "The funding will now likewise be used for increases in caseloads and unexpected surges in children needing care from our program. Unfortunately, the need for additional funds has grown since FY 2011, due to the continual increase of unaccompanied alien children at the border. These transfers are only a temporary solution to the sad consequence of a broken immigration system."
Since Congress is controlled by Republicans, the departments should face little resistance in their efforts.
Senator Chris Van Hollen (D-MD) told Yahoo on Wednesday that "we support making sure ORR gets all the resources they need to help kids," but that he and other key Democrats remained concerned over "a troubling pattern of chaotic, ideologically driven and opaque policymaking."
Van Hollen questioned whether the need for increased funding is arising from an increase in border crossings or because of President Donald Trump's family separation policy. He also requested information on how the programs being cut will be impacted by the shift in budgeting and how the reallocated money will be used.
What are "the reasons for the need for additional money and how much of it is because you have more UACs coming across the border and how much is due to the Trump administration's family separation policy?" the Maryland Democrat wants to know. He added that "the American public is entitled to the facts behind the policies here."
Van Hollen is not the only one concerned over the potential consequences of siphoning off resources from essential services.
California Lieutenant Governor Gavin Newsom (D) asked the president how he is able to sleep at night by cutting "programs to pay to INCARCERATE CHILDREN."
The Trump administration is diverting MILLIONS of dollars from cancer research, women's shelters, HIV/AIDS, substan… https://t.co/Yj5M2CtGjM

— Gavin Newsom (@Gavin Newsom) 1537409063.0
California Democratic Senate candidate Kevin de Leόn, who is challenging incumbent Diane Feinstein from the left, tweeted to voters that the "choice is yours" on how our tax dollars are spent. Translated: VOTE.
How would YOU want @realDonaldTrump to spend your hard-earned 💰: locking children in cages, or funding cancer resea… https://t.co/RrAlCvJVJS

— Kevin de Leόn (@Kevin de Leόn) 1537465006.0
They weren't alone.
Donald Trump's cruel zero-tolerance policy is not only tearing children from parents, but tearing funding from canc… https://t.co/hEWy1o7hDW

— Menendez for NJ (@Menendez for NJ) 1537454724.0
With more immigrant children in detention, HHS cuts funds for other programs — like cancer research. https://t.co/zFEkUbfECN

— David Cay Johnston (@David Cay Johnston) 1537420460.0
The Trump admin is literally shifting money from cancer research to immigrant children detention. https://t.co/qfuSsW7UXB

— Eric Umansky (@Eric Umansky) 1537403888.0
HHS is ransacking funding for cancer research, HIV/AIDS patients, & Head Start to finance the detention of immigran… https://t.co/AwyLqB2O5Z

— Jesse Lehrich (@Jesse Lehrich) 1537425708.0
Republicans are literally taking money from cancer research to expand concentration camps for children. https://t.co/NyPwBigVws

— Alex Wild (@Alex Wild) 1537421580.0
"These people are monsters."
This makes me so mad. We should be better than this as a county #SaveTheChildren https://t.co/9mrSd93281

— Stop Trump 🍷 (@Stop Trump 🍷) 1537449908.0
Twitter is harshly criticizing the move. People are appalled at the lengths to which the administration is going to jail children.
"Barbaric imbecility or imbecilic barbarism. You decide."
Barbaric imbecility or imbecilic barbarism. You decide. Either way, we are the shithole nation. https://t.co/3DFoSZAI0o via @YahooNews

— David Simon (@David Simon) 1537439246.0
Where are our values as a country, some asked?
I'm of the opinion that how you spend your money is a reflection of your values. Well, the Trump administration is… https://t.co/7LfHir0UH5

— Matt Fuller (@Matt Fuller) 1537412923.0
HERE'S YOUR MORALLY BANKRUPT GOP: Diverting funds that pay to care for children to cover the cost of kidnapping an… https://t.co/FgJikyBxfr

— Peter Daou (@Peter Daou) 1537444784.0
"Parade of horrors."
The latest update from the parade of horrors that is the Trump administration: HHS is reportedly reallocating more… https://t.co/7pjOxsNvGO

— Public Citizen (@Public Citizen) 1537459262.0
Are you OK with this? Trump's HHS diverting funds from NIH, CDC to pay for the increased number of migrant childre… https://t.co/nmgfCyOdVd

— LnF Dog Rescue (@LnF Dog Rescue) 1537452713.0
First, they took money for HIV/AIDS prevention to lock up migrant kids. Now, they're taking money from cancer res… https://t.co/S145wJWhBp

— Dr. Steven W. Thrasher (@Dr. Steven W. Thrasher) 1537454262.0
The Trump administration is doing two things at once: jailing children and starving cancer research, early educatio… https://t.co/m5YLcp02pU

— National Immigration Law Center (@National Immigration Law Center) 1537414083.0
Where does it end?
Keep reading... Show less